Overview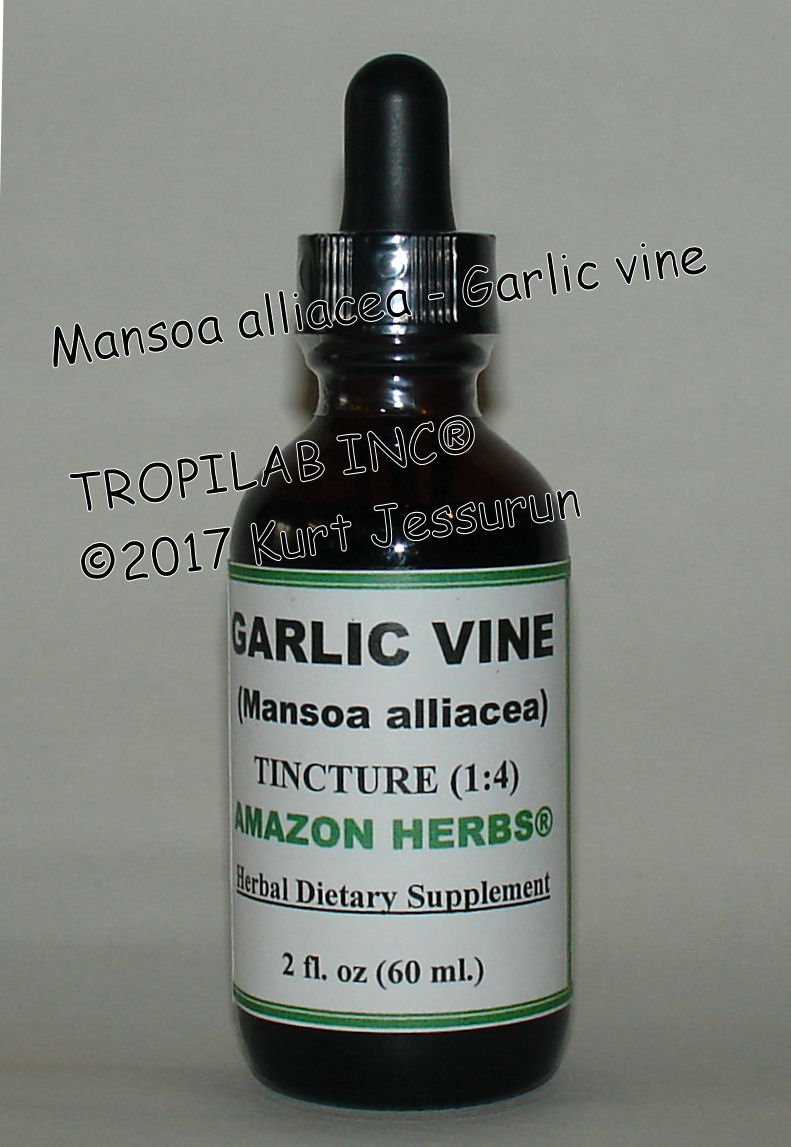 This is an evergreen shrubby tropical vine from the Amazon rainforest; also known as Sacha ajo (False garlic).
It has high concentrations of chemicals that are associated with the suppression of tumor growth. Additionally, this plant has been reported to possess analgesic, anti-fungal, and anti-bacterial properties. All parts of this plant are used, and are anti-rheumatism, muscle aches, injuries and pain. It is often used to help against "smoker's cough".
In Suriname Traditional Medicine, used against colds, fever, rheumatic complaints, vermifuge. Also used as a tonic in the last month of pregnancy. Decoction, infusion and tincture of the bark used against general weakness.
This plant is used medicinally; it is considered by the indigenous people as analgesic and anti-inflammation.


Constituents
Beta sitosterol, stigmasterol, daucosterol, fucosterol. Lapachone chemical, several of the main sulfur compounds that garlic also has.


Pharmacology
A current investigation was carried out to evaluate the antibacterial potential of different extracts of the leaves of Mansoa alliacea (family Bignoniaceae), against 2 Gram-positive bacteria and 2 Gram-negative bacteria. It suggested that this plant can be used as bioactive natural products to inhibit the growth of pathogenic bacteria.

To treat mucosal leishmaniasis (infectious disease causing skin lesions, which can persist for months, sometimes years), the Indians in Peru use the juice extracted from the leaves and stem of Mansoa alliacea.


Dosage
Tincture: 1 - 2 full droppers daily.
Herbal tea: 1 - 2 cups daily.


Safety & Warnings
None.


Reference
Evaluation of antibacterial activity of leaf extracts of Mansoa alliacea (Lam.)
Sundas Iltaf, Zaheer-Ud-Din Khan, Rizwana Rafique, Anjum Parveen.
Department of Botany, GC University, Lahore, Pakistan.
Center for Plant Conservation, University of Karachi, Pakistan.

Medicinal plants of the Achuar (Jivaro) of Amazonian Ecuador: Ethnobotanical survey and comparison with other Amazonian pharmacopoeias.
Giovannini, P., (2015).
Journal of Ethnopharmacology 164(4), pp 78-88.



The above presentation is for informational and educational purposes only.
It is based on scientific studies (human, animal, or in vitro), clinical experience, or traditional usage.
For many of the conditions discussed, treatment with prescription or over - the - counter medication (OTC) is also available.
Consult your doctor, practitioner, and/or pharmacist for any health problem and before using dietary supplements or before making any changes in prescribed medications.