AMARANTHUS TRICOLOR - AMARANTH.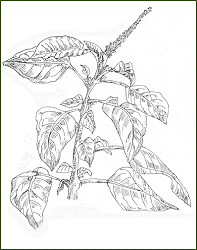 Common name
Amaranth, chinese spinach, klarun, selasih bayem, careless weed, bayem, amarantos, amarans, amaranis, pigweed, tampala, Joseph's coat, ala de Perico, marsa, African spinach, Surinam spinach, spinach grass, wild beet, wild blite, bledo espinoso, careless weed, Hon-toi-moi, pakai kuku.
Family
Amaranthaceae (Pigweed family).

Overvieuw
Amaranth is an erect tropical annual with long - stemmed leaves and small black seeds growing up to 5' tall.
The leaves, up to 5 inch long, are notched or rounded at the tips.
The flowers are whitish - green while the seeds are very small, black or red-brown.
Amaranthus tricolor is very closely related to the species Amaranthus spinosus, hybridus and dubius.
The leaves of the Amaranthus species are used as vegetable in Suriname; even very young children can eat these!
They are rich in minerals (calcium, iron, magnesium, phosphorus, potassium, zinc, copper and manganese) and vitamins (vitamin A, vitamin B6, vitamin C, riboflavin and foliate).

Medicinal applications
Used against external inflammation, diuretic; treatment for bladder distress.

Hardiness
USDA zone 9B -11.
Propagation
Seeds.
Culture
Full sun, soil must be rich and well drained.
Can be grown as a perennial in summer, up to zone 7.