TROPICAL RAINFOREST PALM SEEDS


ABOUT OUR PALMSEEDS
All our herbs, plants, rhizomes and seeds are wild harvested in the Amazon Rainforest of Suriname and 100% organic. This means that they are free of contaminants, such as synthetic fertilizers, pesticides, herbicides and preservatives, GMO'S (genetically modified organisms) and animal products.
They are thoroughly inspected on quality before being used in the manufacturing process.
TROPILAB® uses GACP guidelines (Good Agricultural and Collection Practices) as proposed by ©EMEA and WHO.

Palms are among the most beautiful species found in the tropics.
There are some 3,800 known palm species.
The great majority grows deep in the rainforest and perhaps never sees the sun, certainly not as young plants.
All the seeds are wild harvested and after a selecting process, immediately stored to keep them viable so that they can germinate easy when they arrive at our customers!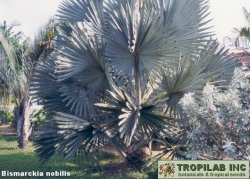 If you are not satisfied with the seeds when they arrive, you may return them unopened to us within 2 weeks for a full refund.
The seeds are collected in such a way that there is no danger of damage to the trees, plants or the environment.
For assistance with germination see: palm seed germination.

To check-out the growing conditions concerning minimum temperature in your area, go to the USDA - and the AHS website.

For hardiness zones of Europe, Canada and Australia go to these links.

For the right freight rate, please visit our Webstore page!

NOTE: minimum order: $10.00, shipping & handling excluded, when ordering online.

We are adding regularly new species to our seed list but if you cannot find a particular seed that you are looking for, please send us an e mail.
We might just find it for you!
TROPILAB® INC.
P.O.BOX 48164
St.Petersburg, Florida 33743 - 8164. USA.
Phone: (727) 344 - 7608.