Cyperus tincture:

Overview: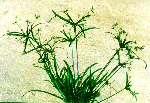 Phytochemicals:
1,8-cineole, 4alpha,5alpha-oxidoeudesm-11-en-3-alpha-ol, Alkaloids, Alpha-cyperone, Alpha-rotunol, Beta-cyperone, Beta-pinene, Beta-rotunol, Beta-selinene, Calcium, Camphene, Copaene, Cyperene, Cyperenone, Cyperol, Cyperolone Cyperotundone D-copadiene, D-epoxyguaiene, D-fructose, D-glucose, Eo, Flavonoids, Gamma-cymene, Isocyperol, Isokobusone, Kobusone, Limonene, Linoleic-acid, Linolenic-acid, Magnesium, Manganese, Mustakone, Myristic-acid, Oleanolic-acid, Oleanolic-acid-3-o-neohesperidoside, Oleic-acid, P-cymol, Patchoulenone, Pectin, Polyphenols, Rotundene, Rotundenol, Rotundone, Selinatriene, Sitosterol, Stearic-acid, Sugeonol, Sugetriol

Applications:
Cyperus is mainly used for digestive disorders. It is an anti-emetic (suppresses vomiting); useful in reducing the symptoms of morning sickness during pregnancy. Because it gives the body a general feeling of warmth, Cyperus is sometimes used as a sedative, generally in connection with suppressing nausea.
Cyperus is also used to relieve gas in the stomach and intestines.
In Amazonia, the indigenous people use it to treat infection and in Africa it is used to treat epilepsy.

Dosage:
Tincture: 2 – 3 ml daily (2 – 3 full pipettes)
Infusion: 1 - 2 cups daily

Reference:
Inhibitory effects of methanol extract of Cyperus rotundus rhizomes on nitric oxide and superoxide productions by murine macrophage cell line, RAW 264.7 cells.
Seo WG, Pae HO, Oh GS, Chai KY, Kwon TO, Yun YG, Kim NY, Chung HT.
Department of Microbiology, Wonkwang University School of Medicine, Iksan, 570-749, Chonbuk, South Korea.