CYPERUS ROTUNDUS L. - NUTGRASS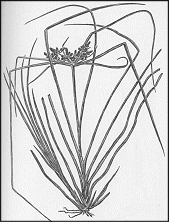 Common name
Musta, mustaka, ko - bushi, nutgrass, tirirca, nutsedge, purple nutsedge, adru, coco-grass.
Family
Cyperaceae (Sedge family).

Overview
Nutgrass is a common perennial weed in Suriname; herbaceous perennial with purple - brown, bisexual flowers.
The fruits are achenes; purple nutsedge grows up to 2½' tall.
The leaves are dark green, grass-like, with a prominent vein on the underside.
It has red-brown spikelets with up to 40 individual flowers.
Triangular stems bear tufts of leaves atop; strong clumps of many stems are formed under good conditions.
The dried tuberous roots are collected, dried and used in traditional medicine.
The young white tubers are bitter but they are edible and have nutritional value.
It is called Rhizoma Cyperi.
In India, nutgrass is used in hair - and skin care products. It stimulates sebaceous glands near hair roots.
Also interesting is that the oil, an amber viscous liquid, extracted from this plant is used in perfumery.

Pharmacology
The rhizome contains: flavonoids, alkaloids, saponins and fatty oils (glycerides).
In Indian traditional medicine, extract from the tubers has wound healing activity.
In China it is used as a painkiller, aphrodisiac, bactericide and tonic; it is a sedative with a calming effect on the stomach.

Suriname's traditional medicine
It is used against fever, to treat nausea and is also for diarrhea.

Action & uses
Stimulant, tonic, demulent, diuretic, anthelmintic, stomache, carminative, diaphoretic, astringent, emmenagogue and vermifuge.
Visit also our APPLICATION & DOSAGE -, CHOLESTEROL -, DIABETES - , HYPERTENSION - and TINCTURE pages.

Hardiness
USDA zone 9 - 11.
Propagation
Seeds and rhizomes.
Culture
Full sun, every soil type; plant in frost free spots.
Be careful though; this is a very invasive weed.