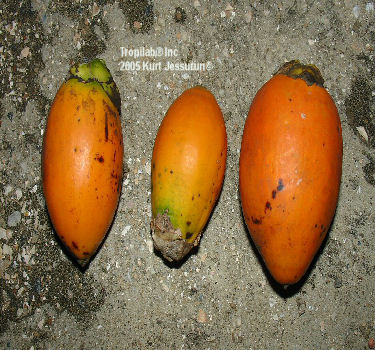 Overview

Areca (or Betelnut) is a well known herbal tranquilizer in Asia.
Chewing on the nut gives a euphoria and feeling of well being.
It is an excellent but mild stimulant for the Central Nerve System (CNS).
For a milder effect it is also possible to add a teaspoon of the Betel nut powder in a cup of coffee or hot water.
Areca nut is also used in Ayurvedic medicine to manage headaches, stomach pains, venereal disease, fever and rheumatism.
Locally known as 'paan', the leaf is widely chewed in India as an aid to digestion (natural appetite stimulant).
The Betel nuts are chewed slowly over several hours and are often combined with tobacco.
In Asia, India and the Pacific it is a very popular herbal stimulant (actually a psychoactive drug); the most commonly used drug in the world after tobacco, alcohol (ethanol) and caffeine!
It possesses strong astringent properties.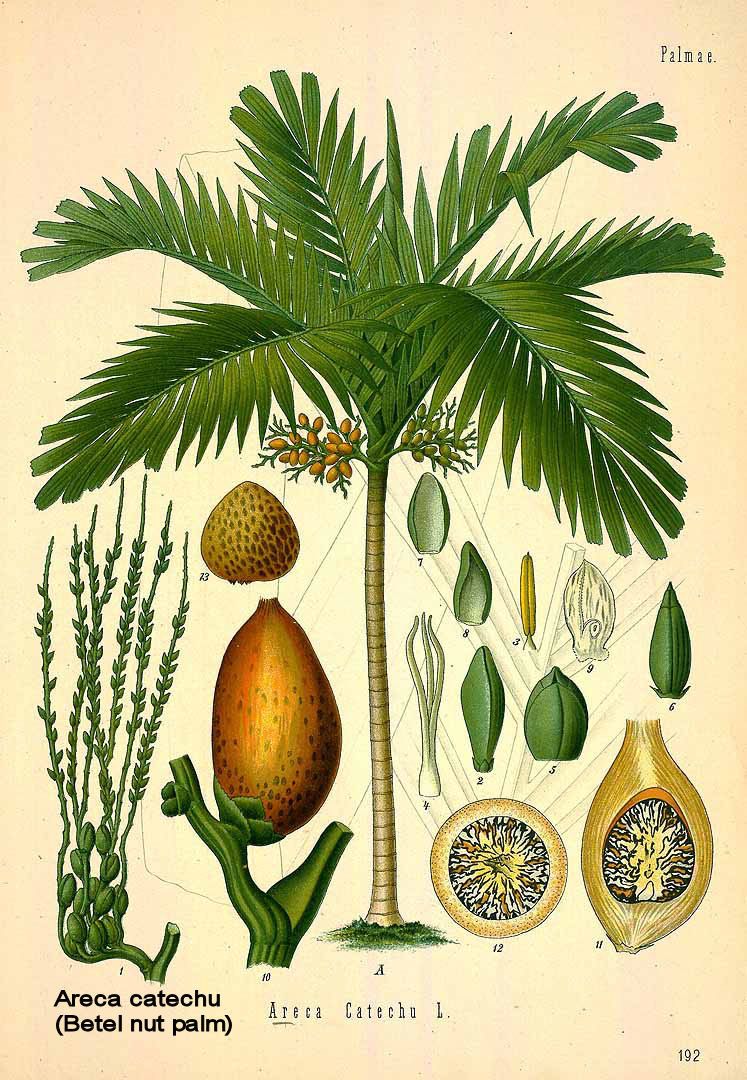 Constituents

Tannin, gallic acid, catechu, phenolic compounds (hydroxychavicol and saffrole12), Alkaloids (arecoline, arecaidine, guvacoline and guvacine).
The active principles of the Areca nut are the alkaloids, mainly arecoline, which is a strong stimulant.


Pharmacology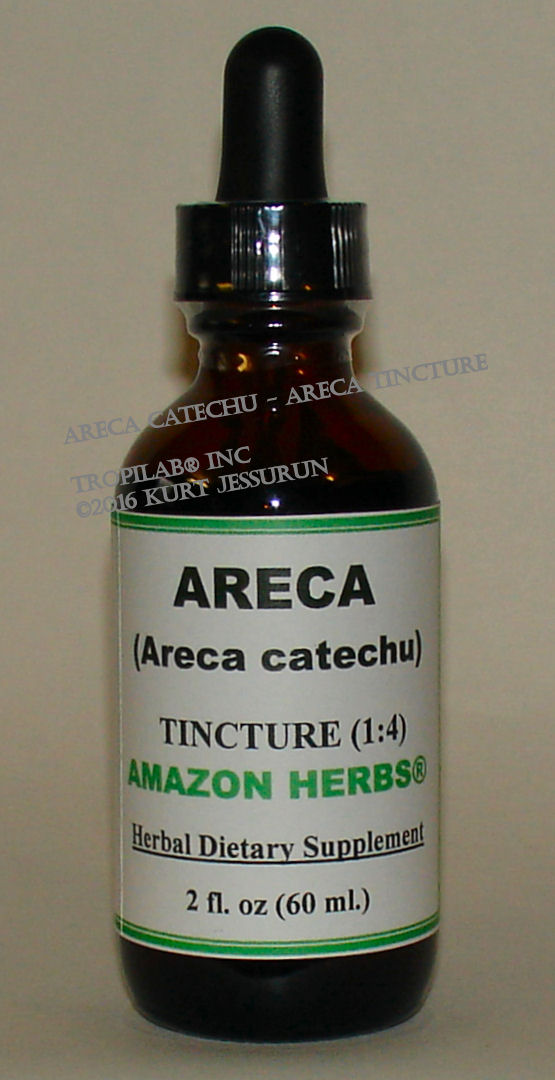 Arecoline resembles Pilocarpine (a para-sympathomimetic alkaloid) in its effects.
It has para-sympathomimetic properties acting on both the muscarinic and nicotinic receptors. It induces a cardio-acceleratory response in humans; this leads to heightened alertness.
Other effects from the Arecoline are salivation increased stamina and euphoria.
Betel nut alkaloids include potent muscarinic cholinomimetics: recent research suggests that these agents may be therapeutic in schizophrenia (a chronic and severe mental disorder).
A decrease in positive symptoms among men with this disorder was attributed to betel nut consumption.

Since one of the hallmarks of Alzheimer's disease is a cognitive decline, arecoline may be used as a therapy to slow down this process. Arecoline administered intravenously did show modest verbal and spatial memory improvement in Alzheimer's patients. However, due to the possible carcinogenic properties, it is not the first choice for this degenerative disease.

Areca extract increases proliferation of human fibroblast cells; the collagen synthesis is also increased. The therapy with extracts improves skin hydration, the skin elasticity, and skin wrinkles. It is suggested that certain extracts can be used as a new anti-aging component for cosmetics.

The tannin Areca II-5-C, isolated from seeds of Areca catechu, showed antihypertensive activity.
Tests showed that at certain doses, these are comparable to those of a potent ACE inhibitor, Captopril (Capoten). This is a pharmaceutical prescription drug used primarily for the therapy of hypertension. The maximum antihypertensive effect of this tannin at an intravenous administration dose of 15 mg/kg, was about 5 times as large as that of captopril at the same dose.
Oral administration of Areca II-5-C produced a lasting, dose-related antihypertensive effect.
It is suggested that Areca II-5-C has favorable properties as an herbal hypotensive drug through its ability to inhibit the pressor responses to both angiotensin 1 and 2.


Applications

Tranquilizer (stimulates the Central Nerve System).
Homeopathic: used in Helminthiasis (infestation with one or more intestinal parasitic worms). The alkaloid, Arecoline contracts the pupil; used for glaucoma as such. Acts also as a salivatory (stimulating the production of saliva) like Pilocarpine.
Pilocarpine is mainly used in the therapy of chronic open-angle glaucoma and acute angle-closure glaucoma).
Areca due to the stimulant effect, also increases the amplitude of pulsations of the heart.


Dosage

Tincture: 1 - 3 ml / day (1 - 3 full droppers).


Precautions

Use of betel nut tincture may be unsafe during pregnancy.
Excessive consumption should be avoided during therapy with neuroleptic drugs (major prescription tranquilizers) affecting cholinergic transmission.
Individuals prone to asthma and those taking asthma medications, should avoid excessive consumption of the Betelnut.


Reference

1. Chitra, S., Ashok, L., Anand, L., Srinivasan, V., and Jayanthi, V. Risk factors for esophageal cancer in Coimbatore, southern India: a hospital-based case-control study. Indian J Gastroenterol. 2004;23(1):19-21.
2. Deng, J. F., Ger, J., Tsai, W. J., Kao, W. F., and Yang, C. C. Acute toxicities of betel nut: rare but probably overlooked events. J Toxicol Clin Toxicol 2001;39(4):355-360.
3. Huang, Z., Xiao, B., Wang, X., Li, Y., and Deng, H. Betel nut indulgence as a cause of epilepsy. Seizure. 2003;12(6):406-408.
4. Jeng, J. H., Chang, M. C., and Hahn, L. J. Role of areca nut in betel quid-associated chemical carcinogenesis: current awareness and future perspectives. Oral Oncol. 2001;37(6):477-492.
5. Kuruppuarachchi, K. A. and Williams, S. S. Betel use and schizophrenia. Br.J.Psychiatry 2003;182:455.
6. Lee, C. N., Jayanthi, V., McDonald, B., Probert, C. S., and Mayberry, J. F. Betel nut and smoking. Are they both protective in ulcerative colitis? A pilot study. Arq Gastroenterol. 1996;33(1):3-5.
7. Liao, C. T., Chen, I. H., Chang, J. T., Wang, H. M., Hsieh, L. L., and Cheng, A. J. Lack of correlation of betel nut chewing, tobacco smoking, and alcohol consumption with telomerase activity and the severity of oral cancer. Chang Gung.Med.J. 2003;26(9):637-645.
8. Mannan, N., Boucher, B. J., and Evans, S. J. Increased waist size and weight in relation to consumption of Areca catechu (betel-nut); a risk factor for increased glycaemia in Asians in east London. Br J Nutr 2000;83(3):267-273.
9. Phukan, R. K., Ali, M. S., Chetia, C. K., and Mahanta, J. Betel nut and tobacco chewing; potential risk factors of cancer of oesophagus in Assam, India. Br J Cancer 2001;85(5):661-667.
10. Shiu, M. N., Chen, T. H., Chang, S. H., and Hahn, L. J. Risk factors for leukoplakia and malignant transformation to oral carcinoma: a leukoplakia cohort in Taiwan. Br J Cancer 2000;82(11):1871-1874.
11. Stoopler, E. T., Parisi, E., and Sollecito, T. P. Betel quid-induced oral lichen planus: a case report. Cutis 2003;71(4):307-311.
12. Sullivan, R. J., Allen, J. S., Otto, C., Tiobech, J., and Nero, K. Effects of chewing betel nut (Areca catechu) on the symptoms of people with schizophrenia in Palau, Micronesia. Br J Psychiatry 2000;177:174-178.
13. Tsai, J. F., Chuang, L. Y., Jeng, J. E., Ho, M. S., Hsieh, M. Y., Lin, Z. Y., and Wang, L. Y. Betel quid chewing as a risk factor for hepatocellular carcinoma: a case-control study. Br J Cancer 3-2-2001;84(5):709-713.
14. Tung, T. H., Chiu, Y. H., Chen, L. S., Wu, H. M., Boucher, B. J., and Chen, T. H. A population-based study of the association between areca nut chewing and type 2 diabetes mellitus in men (Keelung Community-based Integrated Screening programme No. 2). Diabetologia 2004;47(10):1776-1781.
15. Yin, X. M., Peng, J. Y., and Gao, Y. J. [Clinical study on the relationship between tooth abrasion and the habits of chewing betel nut]. Hunan.Yi.Ke.Da.Xue.Xue.Bao. 2003;28(2):171-173.
Life Sci. 1986 Apr 14;38(15):1375-82. Related Articles, Links
16. Antihypertensive substance in seeds of Areca catechu L.
Inokuchi J, Okabe H, Yamauchi T, Nagamatsu A, Nonaka G, Nishioka I.



The above presentation is for informational and educational purposes only.
It is based on scientific studies (human, animal, or in vitro), clinical experience, or traditional usage.
For many of the conditions discussed, treatment with prescribed (RX) or over-the-counter medication (OTC) is also available.
Consult your doctor, practitioner, and/or pharmacist for any health problem and before using dietary supplements or before making any changes in prescribed medications.