EUPHORBIA HIRTA L. - ASTHMA WEED.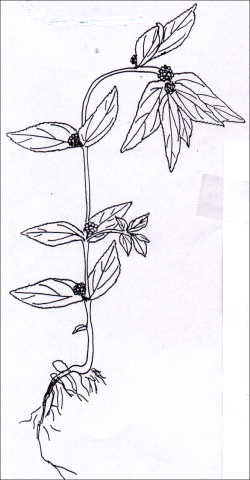 Synonym
Euphorbia pilulifera.

Common name
Cats hair, asthma weed, basri dudhi, chara, malnommee, pill - bearing spurge, patikan kerbau, patikan kebo, fei yang cao, gelang susu, amampat chaiarisi, erva de santa luzia, fei-yang ts'ao, Dugudhika, snakeweed.

Family
Euphorbiaceae (Spurge family).


Overview
Asthma weed is a very common annual herb in Suriname.
This hairy plant grows up to 2' in height; it has numerous small flowers, clustered together with opposite oblong leaves, which have a toothed margin.
The young yellow fruit is a small hairy capsule with 3 reddish - brown wrinkled seeds.
The plant flowers and fruits all year long; there is milky latex in all parts of the plant.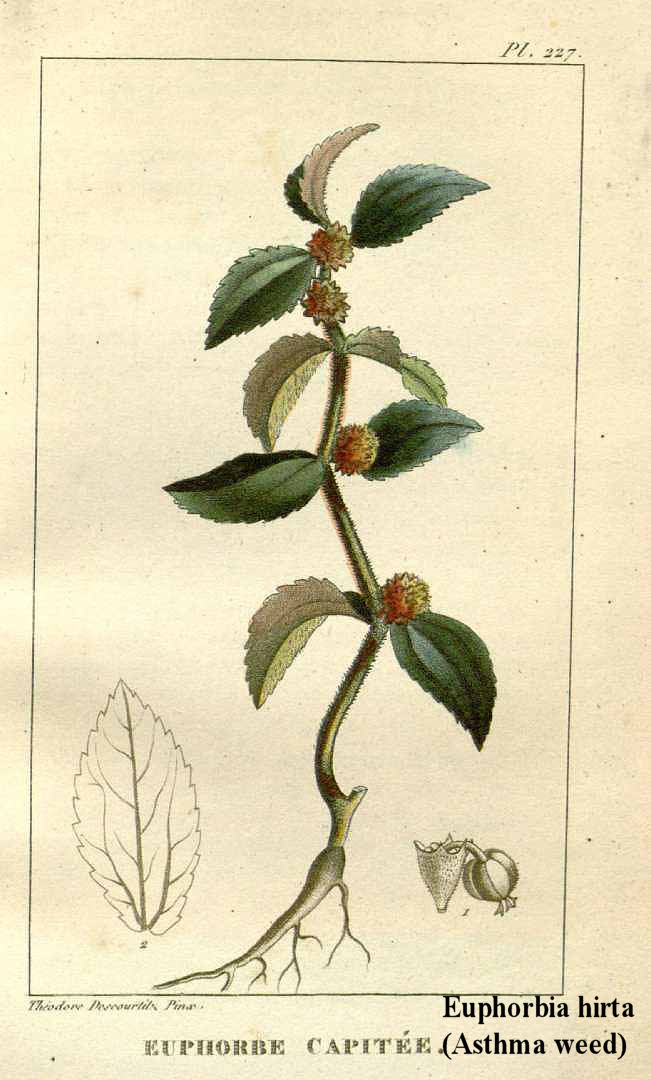 There are the following phytochemicals in asthma weed: sterols, alkaloids, tannins, quercetin, glycosides, triterpenoids, alkenes, phenolic acids, choline, shikimic acid.
This plant is used in traditional medicine for conjunctivitis, ulcerated cornea, bronchitic asthma, bronchitis, laryngeal spasm, upper respiratory catarrh and other respiratory ailments.
In modern herbal medicine it is more used as a remedy for intestinal amoebic dysentery.
Asthma weed has antiviral and - bacterial properties.


Other uses include: In dysentery, worms, amoebic dysentery, syphilis and bowel complaints.
The plant has lactogenic properties; it is known for increasing milk flow in women, due to its milky latex, and is used for other female complaints.


Pharmacology
An alcoholic extract of Euphorbia hirta leaves is highly adequate against gram positive bacteria and moderately effective against gram negative bacteria.
The diuretic effects of leaf extracts were assessed using Acetazolamide (Diamox) and Furosemide (Lasix) as standard diuretic drugs. It produced time-dependent increase in urine output and electrolyte excretion was also significantly affected by the plant extracts. This study suggests that the active component(s) in the water extract of E. hirta leaf had similar diuretic spectrum to that of acetazolamide.
These results validate the traditional use of Asthma weed as a diuretic agent.


Suriname's Traditional Medicine
Asthma weed is used against asthma, bronchitis, worm infestation, conjunctivitis and dysentery. The latex of the plant is used for warts and cuts.
Asthma weed may also be effective against dengue by increasing the dwindling platelet count, a usual symptom of this mosquito-borne disease (without notable effects in red blood cell and white blood cell counts).

Visit our CHOLESTEROL -, DIABETES - , HYPERTENSION - , TINCTURE - and APPLICATON & DOSAGE pages.


Hardiness
USDA zone 9 B - 11.

Propagation
Seeds and cuttings.

Culture
Full sun / partly shade, grows on all types of soil.
Plant in frost free spots.