BIDENS PILOSA L - PICÃO PRETO.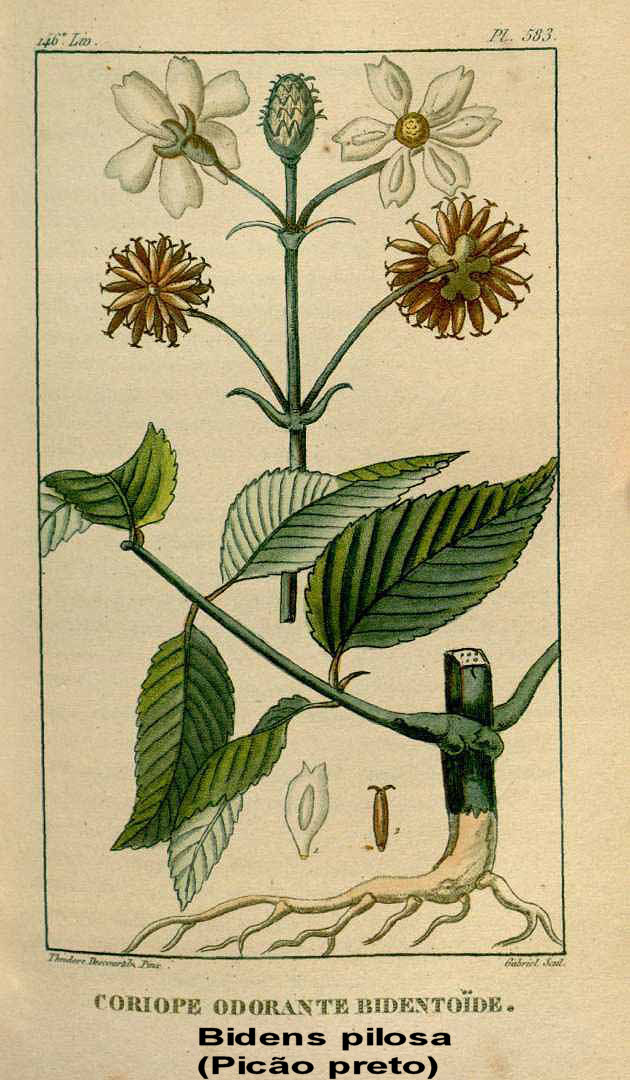 Synonym
Bidens odorata, Bidens pilosa L. var. pilosa.

Common name
Acetillo, Beggar-ticks, Bident hérissé, Cobbler's pegs, Devil's needles, Spanish needle, Xian feng cao.

Family
Asteraceae, aka Compositae (Aster family).

Overview
This plant is indigenous to the Americas. It grows aggressively and often becomes weedy; the young leaves are sometimes eaten (raw or steamend). In the tropics this plant flowers year around and all plant parts are used in folk medicine.
In Traditional Chinese Medicine (TCM), it is considered a medicinal herb.
In Suriname's Traditional medicine it is used against chronic hepatitis, common cold dysentery, urinary tract infections and bacterial infections.

Constituents
Almost two hundred compounds have been isolated from B. pilosa, especially polyacetylenes and flavonoids. It contains chalcone, okanin and ethyl caffeate (a hydroxycinnamic acid).
To date, 201 compounds comprising 70 aliphatics, 60 flavonoids, 25 terpenoids, 19 phenylpropanoids, 13 aromatics, 8 porphyrins, and 6 other compounds, have been identified.

Hardiness
USDA Zone 9-11.

Propagation
Seeds.

Culture
Full sun/partial shade.