CARICA PAPAYA L. - PAPAYA.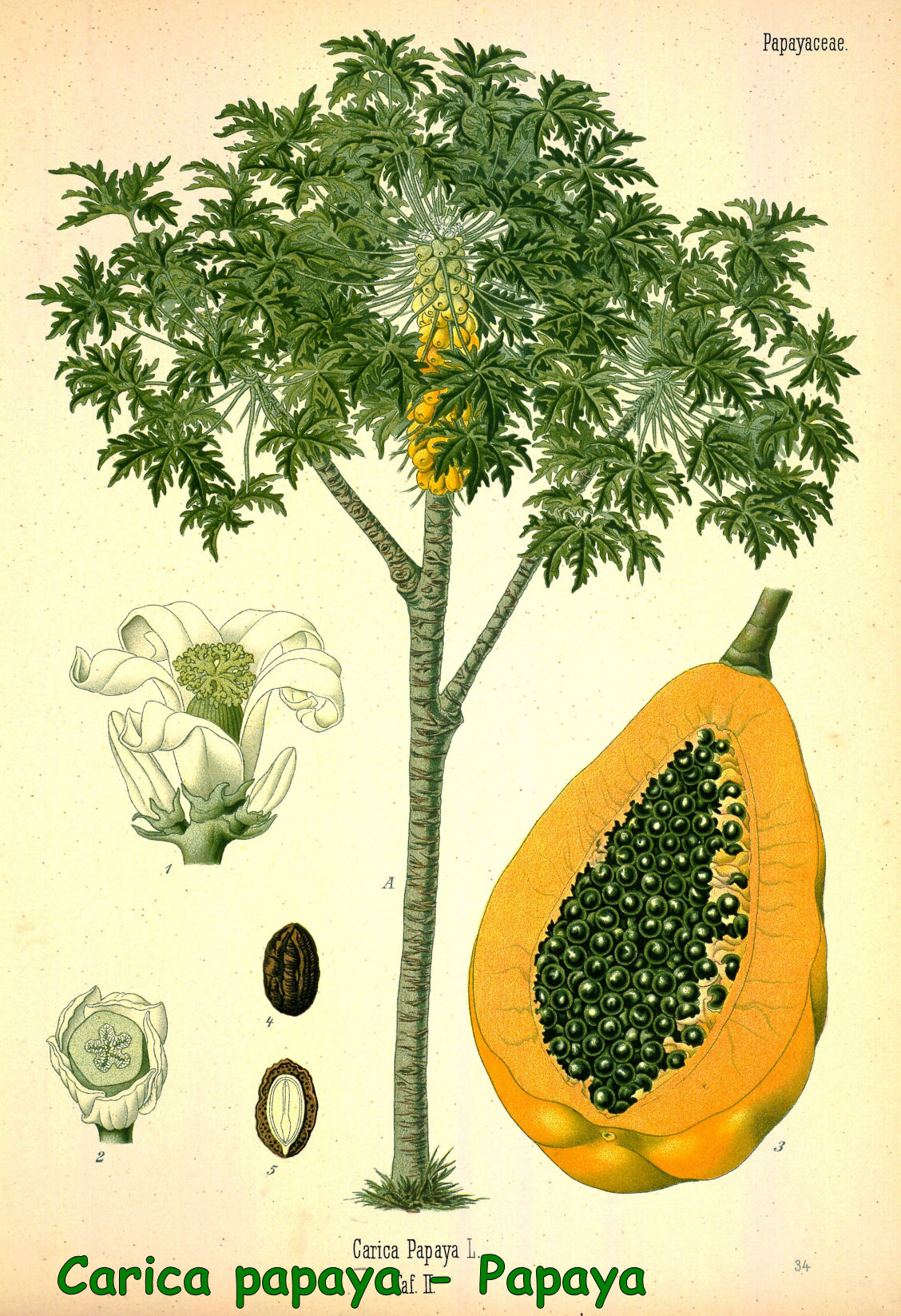 Common name
Papaya, paw paw, kates, papaw.
Family
Caricaceae (Papayaceae).

Overview
Papaya is a tropical tree, growing up to 21' tall.
It has an erect, branchless trunk with scars from old leaf stems.
Widely grown, in tropical regions, for its edible fruit and known as papaya. It is really only a very coarse and robust herb with leaves reaching sometimes nearly 3' across. The leaves of papaya are divided into several lobes, which radiate like the fingers of the hand.
It's an excellent quality fruit, high in vitamin A; is consumed fresh when ripe while the green fruits are grated in salads or boiled like squash.
The fruit can weigh up to 20 lbs.
The green fruit of papaya and the latex of the herbaceous tree are the source of the proteolytic enzyme papain, which is used in meat tenderizers and many other biologically active phytochemicals.
In Suriname, Indonesia and the Philippines, the meat is wrapped in young leaves to tenderize it.
There are male, female and hermaphrodite trees.
The papaya tree starts bearing fruit after about 11 months; it flowers and bears all year long.

In Suriname's traditional medicine, the boiled green leaves of papaya are used against malaria and as an anthelmintic (fruit, seeds, latex, and leaves also contains carpaine, an anthelmintic alkaloid). The seeds as a vermifuge and tea of the fallen leaves against hypertension. Eat half of a ripe fruit against constipation.
Papaya has contraceptive and abortifacient capability; the seeds have contraceptive effects.

Visit also our APPLICATION & DOSAGE - CHOLESTEROL -, DIABETES -, HYPERTENSION - and TINCTURE pages.

Other uses
Stimulates stomach secretions and releases histamines from body tissues. It is also used as a treatment for intestinal parasites.


Hardiness
USDA zone 9B - 11.
Propagation:
Seeds.
Culture
Needs protection from frost (serious damage at 28° F.);
full sun / light shade, regular water, well drained soil.