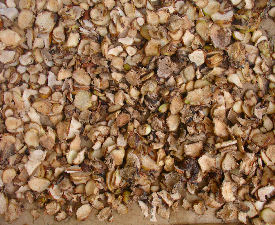 Other names:
Galang, Galanga Maior, Galangaro, Greater galangal, Havlican, Kulanjan, Laos, Lenkuas, Naukyo, Siamese ginger.

Appearance: powdered and sliced

Color: light brown

Remarks: store dry (not in the refrigerator)

Origin: South-east Asia

Tastes somewhat like ginger but more aromatic with a hot peppery flavor. It has a distinct fragrance.
Much used in the Thai, Indonesian and Indian cuisine.
Try in fish- and shellfish recipes in combination with garlic, ginger, chili, and lemon.
In Indonesian dishes, e.g. Nasi Goreng (sliced or whole), in Rendang (a spicy buffalo stew).
Dried and ground for flavoring fresh cheese.
In Laksa (curry soup from Malaysia); also in Thai soups (Tom yam gung).

Galanga also has medicinal applications.