LEONOTIS NEPETIFOLIA - LION'S EAR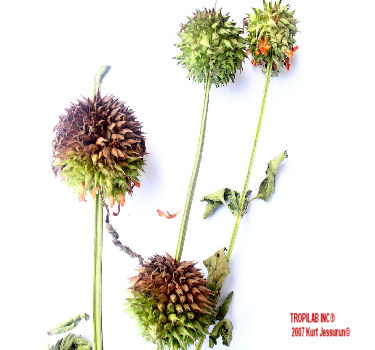 Common name
Annual lion's ear, lion's ear, klip dagga, grantiparani, flor de mundo, mota, Christmas candlestick, shandilay, bradi-bita.

Family
Lamiaceae (Mint family).

Overview
An erect tropical annual, growing up to 8 feet (2.4 m) tall; originally from Africa but growing also abundantly in Suriname.
The stem is angled (square); smooth leaves with toothed margins and the orange flowers are borne in spiny clusters.
This plant is a favorite of hummingbirds and butterflies.
Closely related to Klip Dagga is Wild Dagga (leonotus leonurus).
The dried foliage (herb) of Leonotis (Wild Dagga and Klip Dagga) has psychoactive properties and is used as a legal substitute for marijuana (ganja, cannabis,hemp).
They are mildly narcotic- and have many medicinal properties.
Smoking this dried herb gives an euphoric-like effect and exuberance due to one of the active components, the mildly psychoactive alkaloid leonurine (4-guanidino-n-butyl syringate) and other diterpenes (leosibiricine, leosiberine, isoleosiberine).
The flowers are the most potent part and can also be smoked or used as a calming tea.
This herb does not contain any controlled substances.
The Nepetifolia species contains more Leonurine than any other strain of Wild Dagga.

Constituents
alkaloids (leonurine and stachydrene), iridoid glycoside (leonuride), iridoid glycosides (leonurin and leonuridine), diterpenoids (leocardin), flavonoids (rutin, quercetin, hyperoside, apigenin), volatile oil, tannins, vitamin A.

Medicinal applications
The different alkaloids, flavonoids, diterpenoids, polyphenolics, iridoid glycosides and other constituents of Leonotis may be involved in the observed antinociceptive, antiinflammatory, and antidiabetic effects of the plant's extract. However, results suggest that the aqueous leaf extract possesses antinociceptive, anti-inflammatory, and hypoglycemic properties, and thus lend pharmacological credence to the suggested folkloric uses of this herb in the management and/or control of painful, arthritic, and other inflammatory conditions, as well as for type-2 diabetes mellitus.

Suriname's Traditional Medicine
It is used as anti-asthmatic and has anti-diarrhea properties.

In Trinidad's Traditional Medicine, an infusion is used against fever, coughs, womb prolapsed and malaria.
The group of plants, called Leonotis, are also called Motherwort; they posses some similar properties.
Leonotis nepetifolia and leonurus are excellent heart tonics; they able to calm palpitations, tachycardia and irregular heartbeats.
They are used for heart conditions associated with anxiety and tension.
These plants have an effect on the uterus; depending on the dose, they stimulate- or suppress the menstruation.

Visit our TINCTURE and MEDICINAL TEA pages also!

Hardiness
USDA zone 8 - 11.

Propagation
Seeds.

Culture
Full sun / light shade, moist soil; needs humidity.
This plant is drought tolerant when established.
Plant in frost free locations.