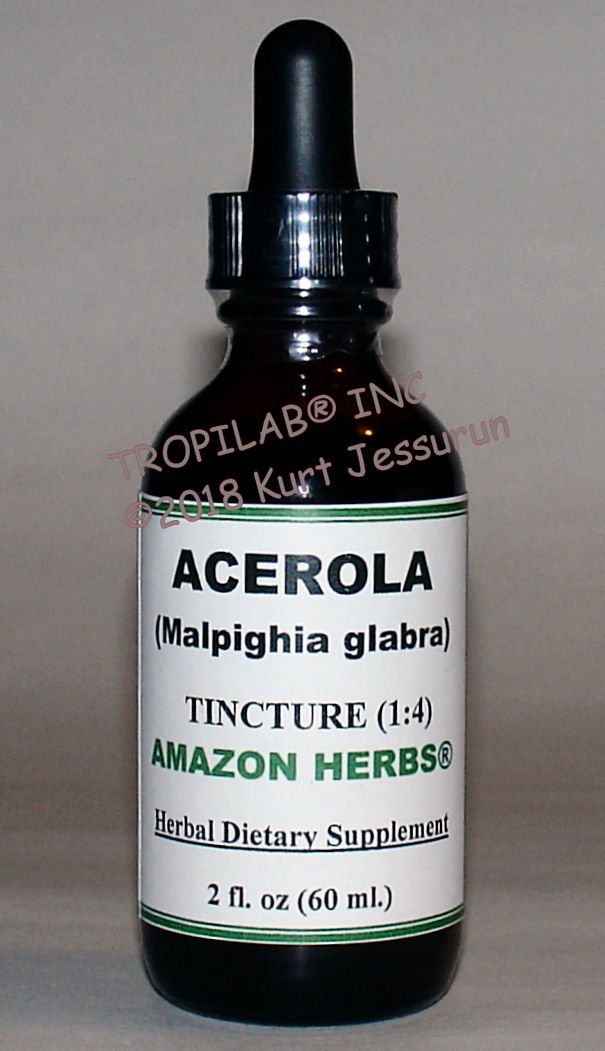 Overview

Acerola (Barbados cherry), is indigenous to tropical South- and Central America; it has a very high natural vitamin C content which is a powerful Immune System and Energy Booster. Thereby it helps to prevent and cure colds and flu.
Since Acerola has excellent antioxidant and antifungal properties, it also helps to boost the immune system and also supports the respiratory system.
Can reduce low-density lipoprotein (LDL or "bad") cholesterol.
Improves physical performance and muscle strength in older people.
It has a sweet pleasant taste and is used in Traditional Surinam Medicine against cough, colds, dysentery, diarrhea and liver ailments such as hepatitis.


Constituents

Vitamin A, vitamin C (ascorbic & dehydroascorbic acids) iron, calcium, magnesium, niacin, phosphorus, anthocyanins, potassium, riboflavonine, thiamine, protein, fiber and zinc.
Also: 3-methyl-3-butenol, dehydroascorbic acid, dextrose, diketogulonic acid, fructose, furfural, hexadecanoic acid, limonene, l-malic acid and sucrose.


Pharmacology

Acerola (Malpighia glaba L.) has many different therapeutic properties such as immunostimulant, detoxifying due to the very high content of vitamin C in the fruit.
Deficiency of this vitamin results in scurvy (vitamin C deficiency).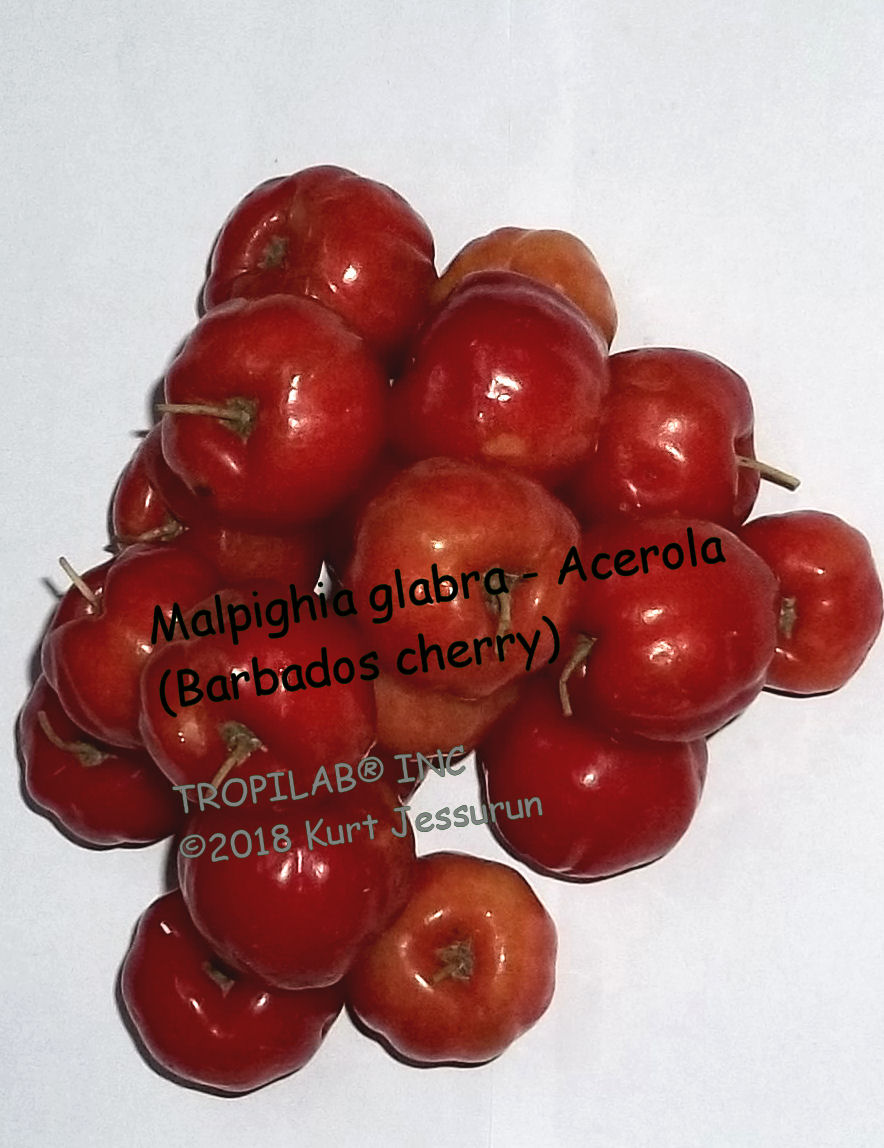 The tumor specific cytotoxic activity and multidrug resistance (MDR) reversal activity of Barbados cherry may suggest its possible application for cancer therapy.
Vitamin C may help lower blood pressure; reduces systolic blood pressure (upper value) and diastolic blood pressure (lower value).
Research shows that taking vitamin C might shorten the course of the cold by 1 to 1.5 days.

Ripening improved fruit physicochemical; however, total vitamin C and total soluble phenols contents declined during development, which resulted in a lower total antioxidant activity. Despite this decline, the anthocyanin and yellow flavonoid content increased (cyanidin 3-rhamnoside and quercetin 3-rhamnoside).
There were outstanding results for vitamin C, phenols, and antioxidant enzyme activity. Antioxidants are used in the food and herbal supplement industry; immature green fruit would be the best harvest stage for the medicinal purpose side.
For the consumer's market, fruit should be eaten ripe.


Dosage
Tincture: 1 - 3 ml (1 -3 full droppers) daily.


For more information on Acerola, go to the BARBADOS CHERRY page.


Reference

Antioxidant Metabolism during Fruit Development of Different Acerola (Malpighia emarginata D.C) Clones.
Luciana De Siqueira Oliveira†, Carlos Farley Herbster Moura§, Edy Sousa De Brito§, Rosa Virgínia Soares Mamede§, and Maria Raquel Alcântara De Miranda*†

Biological activity of Barbados cherry (Acerola fruit) extracts and fractions.
Motohashi N, Wakabayashi H, Kurihara T, Fukushima H, Yamada T, Kawase M, Sohara Y, Tani S, Shirataki Y, Sakagami H, Satoh K, Nakashima H, Molnár A, Spengler G, Gyémánt N, Ugocsai K, Molnár J.

Evaluation of the Content of Vitamin C in Malpighia glabra L. (Acerola)
Center for Pharmaceutical Research and Drug Development (CIDEM). Ave. 26 # 1605 e/ Boyeros y Puentes Grandes. Havana, Cuba.
García CM, Martínez V, García L, Nogueira A, González ML, Rivera MM, Sánchez P, Rodríguez C, Díaz M.


The above presentation is for informational and educational purposes only.
It is based on scientific studies (human, animal, or in vitro), clinical experience, or traditional usage.
For many of the conditions discussed, treatment with prescription or over - the - counter medication (OTC) is also available.
Consult your doctor, practitioner, and/or pharmacist for any health problem and before using dietary supplements or before making any changes in prescribed medications.