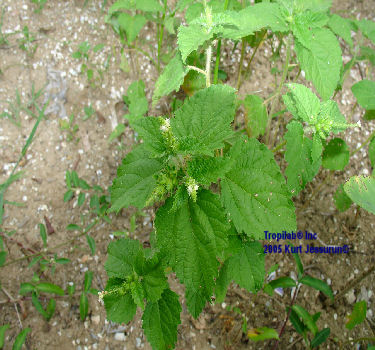 Overview

Ageratum is a small annual tropical plant with whitish flowers and hairy stems.
It has bioactivity with insecticidal- and nematocidal activity; it is widely utilized in traditional medicine by various cultures worldwide.
Extracts of this plant have antibacterial action against Staphylococus aureus, Bacillus subtilis, Eschericichia coli, and Pseudomonas aeruginosa.

Phytochemicals

Ageratum conyzoides contains many bio-active compounds including flavonoids, alkaloids, cumarins, chromenes, terpenoids and tannins.
6,7-dimethoxy-2,2-dimethylchromene, 6-demetoxyageratochromene, 6-vinyl-demethoxy-ageratochromene, ageratochromene, alpha-cubebene, alpha-pinene, alpha-terpinene, beta-caryophyllene, beta-cubebene, beta-elemene, beta-farnesene, beta-myrcene, beta-pinene, beta-selinene, beta-sitosterol, cadinene, caryophyllene-oxide, conyzorigin, coumarin, dotriacontene, endo-borneol, endo-bornyl-acetate, ethyl-eugenol, ethyl-vanillin, farnesol, friedelin, HCN, hexadecenoic-acid, kaempferol, kaempferol-3,7-diglucoside, kaempferol-3-o-rhamnosylglucoside, linoleic-acid, quercetin, quercetin-3,7-diglucoside, and quercetin-3-o-rhamnosylglucoside.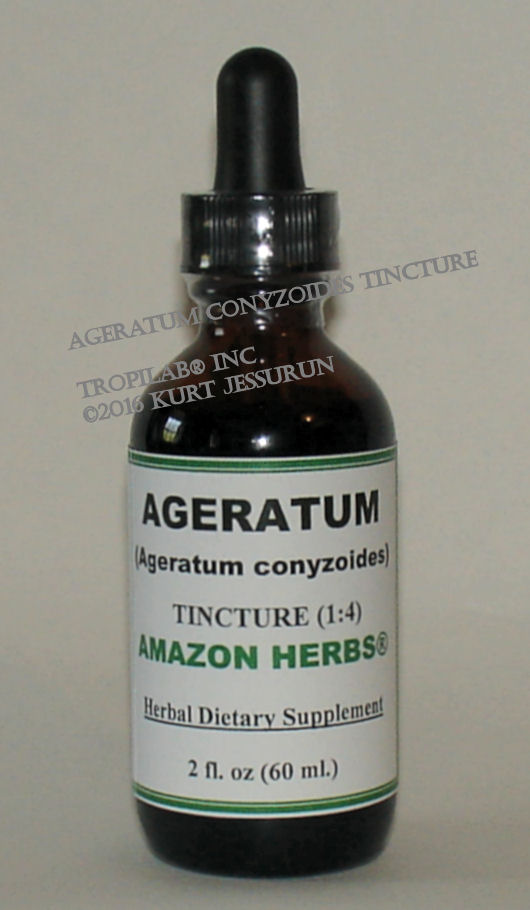 Applications

It is used in Traditional Medicine in Suriname.
An infusion or herbal tincture is prepared from the leaves or the entire plant and applied to manage colic, colds and fevers, diarrhea, rheumatism, spasms; it is also used as a tonic.
Recommended for burns and wounds; also used for its antibacterial properties, for many infectious conditions and bacterial infections.
Ageratum has quick and effective action on burn wounds; it is highly recommended as such by The Brazilian Drugs Central.

This herb is also used as an anti-rheumatic natural medicine.
Effective against arthrosis (chronic wear of the cartilage in a joint, associated with an imbalance between the production and degradation of bone cells); a decrease in pain and inflammation or improvement in articulation mobility was seen in patients.

Pharmacology

Research confirmed its traditional use for wound handling.
In a bid to test the wound handling effect of methanol extracts of Ageratum conyzoides, it was concluded that extracts had better wound handling enhancing action compared with normal saline treated controls. This effect may be due to the antimicrobial properties of this plant.
Ageratum caused significant greater wound contraction than the controls.
Healed scar sections of wounds dressed with the herb extract showed more fibrosis and had significantly fewer fibroblasts.
The wound handling properties of methanolic extracts of Ageratum conyzoides leaves compared with those of honey showed fewer inflammatory cells.
The crude extract of the whole ageratum plant has been reported to be superior to Vaseline Gauze as a wound dressing material.
Acute and chronic toxicity studies conducted in Brazil showed that ageratum was non-toxic at all dosages tested externally.
The leaf extract showed strong toxicity against the fungi causing ringworm, E. floccosum, T. mentagrophytes and M. gypseum. In a study, it was found that wounds handled with aqueous leaves extract in combination with honey and with Solcoseryl® ointment, significantly accelerate the wound handling process and the rates of wounds sterility compared to wounds handled with honey alone.

Assays realized in Kenia, with aqueous extracts of the whole plant, demonstrated muscle relaxing activities, confirming its popular use as an antispasmotic (relieving spasm of involuntary muscle).

Dosage

Tincture: 1 - 3 ml. daily (1 - 3 full droppers)
Infusio (herbal tea): 1 - 2 cups daily

For more information on Ageratum, go to the "AGERATUM CONYZOIDES" page.

References

A comparative study of the wound healing properties of honey and Ageratum conyzoides. Oladejo OW, Imosemi IO, Osuagwu FC, Oyedele OO, Oluwadara OO, Ekpo OE, Aiku A, Adewoyin O, Akang EE.

Evaluation of the radioprotective effect of Ageratum conyzoides Linn. extract in mice exposed to different doses of gamma radiation.
Jagetia GC, Shirwaikar A, Rao SK, Bhilegaonkar PM.

Ageratum conyzoides L. (Asteraceae).
Okunade AL.

Effects of the water soluble fraction from leaves of Ageratum conyzoides on smooth muscle. Silva MJ, Capaz FR, Vale MR.
Department of Biology, Center of Sciences, Federal University of Ceara (UFC), Fortaleza, Ceara, Brazil.

Antiinflammatory and chronic toxicity study of the leaves of Ageratum conyzoides L. in rats.

Moura AC, Silva EL, Fraga MC, Wanderley AG, Afiatpour P, Maia MB.
Laboratory of Natural Products, Department of Physiology and Pharmacology. Federal University of Pernambuco, Cidade Universitaria, CEP 50.000, Recife-PE, Brazil.


The above presentation is for informational and educational purposes only.
It is based on scientific studies (human, animal, or in vitro), clinical experience, or traditional usage.
For many of the conditions discussed, treatment with prescribed (RX) or over-the-counter (OTC) medication is also available.
Consult your doctor, practitioner, and/or pharmacist for any health problem and before using dietary supplements or before making any changes in prescribed medications.



For the right freight rate, shipping charges, conditions and delivery service, please visit our Webstore page!