AGERATUM CONYZOIDES L. - BILLY GOAT WEED.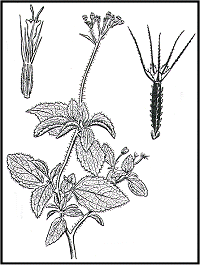 Synonym
Ageratum album, ageratum cordifolium, ageratum latifolium, ageratum obtusifolium, ageratum odoratum.

Common name
Baume, billy goat weed, bouton, bulak manok, chick weed, chuva, cúrt lo'n, goat weed, erva de Sao Joao, floss flower, menstrasto, ramput tahi ayam, sereno, tropical whiteweed, tuinbalsem, white weed.

Family
Compositae (Asteraceae).


Overview
Tropical Whiteweed is a common tropical annual herbaceous weed in Suriname. Grows up to a height of 3 feet; it has little white flowers and opposite leaves.
The stem is often red and has long white hairs; it has white flowering heads borne in dense terminal corymbs. The weak aromatic unpleasant smelling leaves are also covered with fine hair.
The dark seeds have scales and ends in a needle-like shape.
In alternative medicine, ageratum is used against epilepsy and wounds, it is also used as an insect repellent.


Pharmacology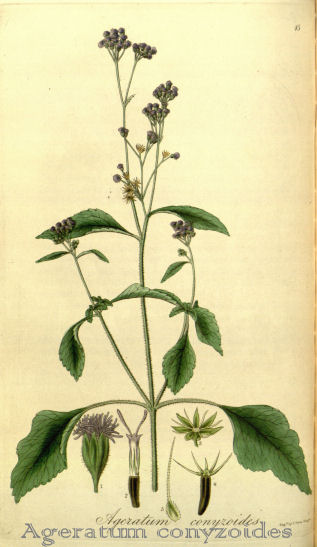 The phytochemicals in tropical whiteweed include alkaloids (pyrrolizidine alkaloids lycopsamine and echinatine), cumarins, essential oils, flavonoids, saponins and tannins.
Ageratum shows promising results for anti-inflammatory and antioxidant activity due to the flavonoid fraction in it.


Suriname's Traditional Medicine
The leaves are applied to cuts, burns and sores (styptic) and externally for body rash. They are also used against sore throat, spasms, diarrhea and epilepsy.
The juice of the fresh plant, or an extract of the dried plant, is used in the therapy of allergic rhinitis and sinusitis.


Visit also our APPLICATION & DOSAGE -, CHOLESTEROL -, DIABETES - , HYPERTENSION - and TINCTURE pages.


Hardiness
USDA zone 9 B - 11.

Propagation
Seeds and cuttings.

Culture
It needs full sun, light (sandy), medium (loamy) and heavy (clay) soils. The plant is not frost hardy, although it can be grown as a summer annual in zones 7 to 9.