VIROLA SPECIES - BABOEN

Synonym
Myristica surinamensis, Palala surinamensis.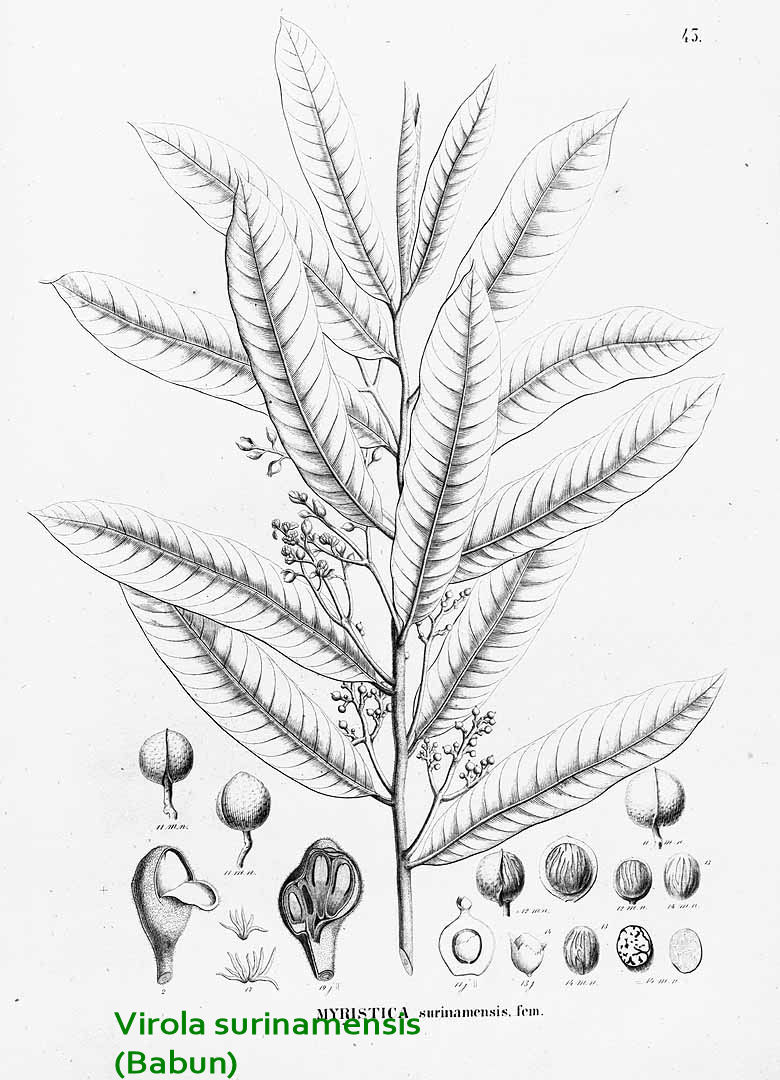 Common name
Cumala, Cumala blanca, hoja parda, Yakoana, Rebalsero, Parika, Parikabaum, ucuba, banak, yaya madou, ucuuba branca, baboen, babun, wild nutmeg, chalviande.

Family
Myristicaceae (Nutmeg family).

Overview
Babun is a medium-sized tree grows to 15 -30 meter tall; it is indigenous to Suriname and closely related to other Myristicaceae species such as the Nutmeg. This is a common tree in the lowlands (coastal areas) of Surinam. It has glossy leaves with clusters of tiny yellow flowers and has a pungent odor.
The seeds are partly covered by a red-orange aril.
The resin (obtained by cuts on the bark) is a folk remedy for the treatment of ulcer and gastritis, inflammation.
The dark-red resin of the tree bark contains hallucinogenic alkaloids*.
Also present are: beta-carboline, harmala alkaloids and MAOIs**.


Suriname's Traditional Medicine
The cambium is used as a hallucinogen.
Also used as an ingredient for psychedelic snuffs; this is called Ebene, Epena or Yakawana.
It is considered to induce a very powerful legal "high".
Other applications are against rheumatism, arthritis, stomach aches due to gases, malaria, bladder problems, bacterial infections from wounds and dyspepsia.
When used, it gives a feeling of euphoria and a rushing sensation for several hours.
The dark red sap or resin from the bark has also antifungal properties, used against infected skin (cures ringworm and other serious skin infections).
Amerindians in Suriname and Brazil use an infusion of the bark against hemorrhoids.
There are closely related species: Virola sebifera, Calophylla and Theiodara.

Visit also our TINCTURE page.


*Unlike other psychoactive drugs (stimulants and opioids) the hallucinogens do not just amplify familiar states of mind, but rather induce experiences that are qualitatively different from those of ordinary consciousness. These experiences are sometimes compared to non-ordinary forms of consciousness such as trance, meditation, conversion experiences, and dreams.

** Monoamine oxidase inhibitors are a powerful class of antidepressant drugs.

For more information on Virola, go to the "MEDICINE FROM NATURE" page.


Pharmacology
The active hallucinogenic agents, 5-etoxi-N, N-dimetilpritmamine and other triptamines, are powerful hallucinogens.
Phytocehmicals (7-hydroxyflavanone and 7-hydroxy-4'-methoxyisoflavone) in the root of Virola exhibited an antifungal activity 10-fold higher than the positive control Nystatin brand name: Mycostatin (an antifungal).

Hardiness
USDA zone 9 - 11.

Propagation
Seeds.
Due to recalcitrant nature of the seeds, they have a short viable life, can not be dried well and can not withstand low temperatures.

Culture
Full sun / partial shade, moist soil; needs humidity.
Plant in frost free locations.
Virola can be planted in a large container for a few years.