Overview

Diabetes and herbal dietary supplements.

Banaba (Lagerstroemia speciosa), is a tropical medicinal plant with a long history; is used as a natural remedy in the therapy of diabetes mellitus (type 2) and Impaired Glucose Tolerance (IGT). It is high in corosolic (colosolic) acid, a triterpenoid compound, which is used in many drugs for diabetes. It acts as a glucose transport activator.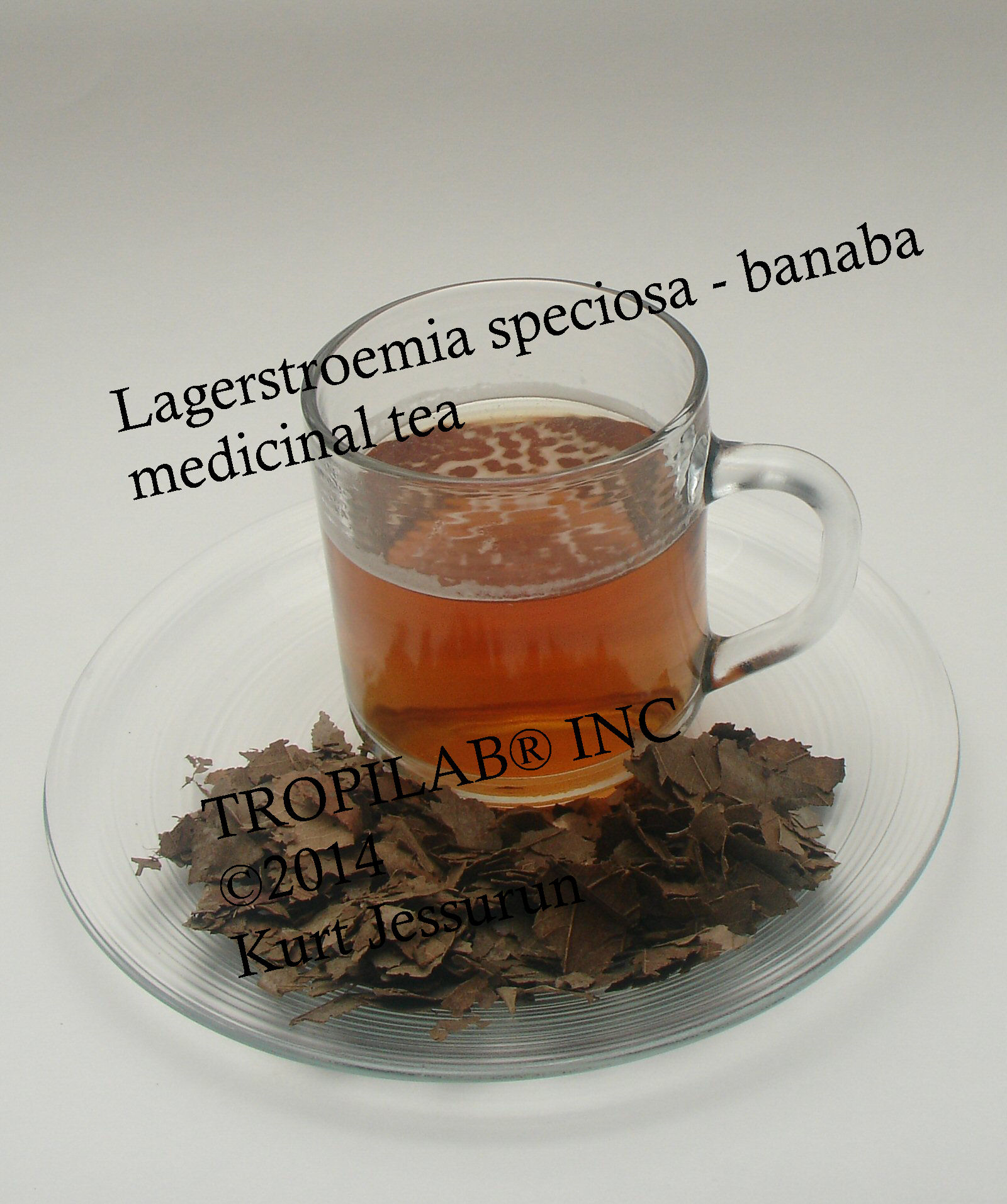 Traditional uses include an infusion from the leaves, as a therapy for hyperglycemia (elevated blood sugar). The hypoglycemic (blood sugar lowering) effect of Banaba leaf extract (tincture or infusion), is similar to that of insulin* but the mechanism is different.
This effect induces glucose transport from the blood into body cells and is responsible for lowering of the blood glucose level.
In humans with type 2 diabetes, Banaba herbal tincture and infusion (herbal tea) have been shown to be adequate in reducing blood sugar levels and maintaining tighter control of blood sugar fluctuations.
It also improves kidney functions without side effects.
For best results, use together with exercise and diet.

Banaba is also successfully used in weight control. The blood sugar control can assist weight loss at 2 - 4 pounds per week by impeding the rise in carbohydrate storage.
As such it may be useful in the impediment and therapy of obesity in type 2 diabetes in a natural way. It is also a safe and popular ingredient in weight loss nutritional supplements (fat burners) and products for detoxifying the body (detox).
The leaves are known to be diuretic and purgative (cleanse the liver) as well; other effects include the lowering of blood cholesterol levels, kidney (anti inflammation and moderation of liver lipid levels) and urinary problems.
The decrease of liver lipids is due to a reduction in the accumulation of triglycerides.
Triglycerides are actually fat (almost 95% of the fat intake is in this form).
Excess triglycerides can increase insulin resistance in some people; those with diabetes, who have high triglycerides, are at greater risk for heart attack or stroke.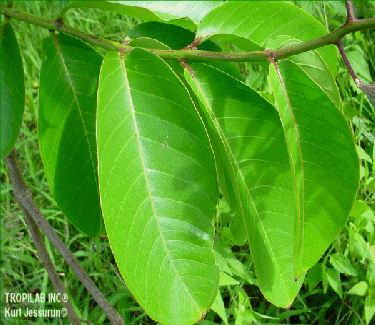 The leaves also contain Valoneic Acid Dilactone (VAD) that can be employed in the therapy of gout**. It is used as an inhibitor*** of xanthine oxidase to lower uric acid levels.
Extracts from the leaves seems to be more adequate for this purpose than the prescription drugs**** and without the side effects associated with these.


For more information about the natural therapy of gout with Banaba and other herbal dietary supplements, go to the GOUT PAGE.

*insulin: produced in the pancreas; it is a polypeptide hormone that regulates the carbohydrate metabolism.
**Gout: disease (painful form of arthritis) in which a defect in uric acid metabolism causes the acid and it's salts to accumulate in the blood and joints, causing pain and swelling of the joints accompanied by fever and chills.
***inhibitor: substance that binds to an enzyme and decreases its activity.
****ZYLOPRIM® (Allopurinol), Indocin (Indomethacin) and Colcrys® (Colchicine) are prescribed in this regard.


Constituents

Triterpenoids such as Colosolic acid (2alpha-hydroxyursolic acid), 3beta, 23-dihydroxy-1-oxo-olean-12-en-28-oic acid; Ellagitannins lagerstroemin, flosin B and reginin A.
Lagertannins, beta-sitosterol, stigmasterol, campesterol, Lageracetal (1,1-Dibutoxybutane), 1-pentanol, ellagic acid, 16 amino acids, pyrogallol tannins, lipids valoneaic acid (VAD), dilactone.
High concentrations of dietary fiber and minerals (zinc and magnesium).


Pharmacology

Banaba and insulin behave in much the same way; it even enhances the activity of insulin.
It is very useful in blood-glucose regulation; it may even be superior to insulin in most cases since it does not cause fat to form, in contrast to insulin.
Corosolic acid stimulates glucose uptake via enhancing insulin receptor phosphorylation; it showed a significant glucose transport-stimulating activity, at a concentration of 1 mM.
Recent studies have shown that the entire herb is useful in lowering blood sugar, and that corosolic acid (glucose transport activator) is not the only active ingredient in the leaves.
Others with insulin-like actions but with a different mechanism are the active ellagitannins (Lagerstroemin, Flosin B and Reginin A).
Banaba extract exhibit an insulin-like glucose transport inducing activity; gallotannins were identified in the extract as components responsible for the activity, not corosolic acid. Penta-O-galloyl-glucopyranose (PGG) was identified as the most potent gallotannin. Indications are that PGG has a significantly higher glucose transport stimulatory activity than Lagerstroemin.
The combination of glucose uptake and anti-adipogenesis (anti-formation of fat or fatty tissue) activity is not found in the current insulin mimetic drugs and this may indicate a great therapeutic potential of PGG.

Xanthine oxidase (XOD) is a key enzyme playing a role in hyperuricemia (a level of uric acid in the blood that is abnormally high), catalyzing the oxidation of hypoxanthine to xanthine and then to uric acid.
XOD inhibitors from the leaves of Lagerstroemia Speciosa namely valoneic acid dilactone (VAD) and ellagic acid (EA) have a very strong effect; stronger than that of Allopurinol, a drug used for XOD inhibitor, with a non-competitive mode for the enzyme with respect to xanthine as the substrate). This may explain and support the herbal dietary use of the extract from Banaba leaves for the impediment and therapy of hyperuricemia.

Banaba extract shows a significant decrease in total hepatic lipid contents; this decrease is due to a reduction in the accumulation of triglyceride.


Dosage
Take just before meals.

Tincture: 2 - 3 ml daily (2 - 3 full droppers daily)
Infusion (herbal tea): 1 - 2 cups daily


Safety And Warnings

No known toxic- and side effects but:
Children, pregnant women and nursing mothers should avoid using tincture and infusions. Those with diabetes should be cautious about using Banaba in combination with other hypoglycemic drugs, such as sulfonylureas Glipizide (Glucotrol&reg) and Glyburide (Diabeta&reg, Micronase&reg).
Also be cautious with complementary and alternative medicines (CAM) that have hypoglycemic activity.
Possible additive effects with diabetic drugs; the blood glucose should be monitored closely.

Also visit our DIABETIC page for more information on controlling this disease naturally.


Reference

Xanthine oxidase inhibitors from the leaves of Lagerstroemia speciosa (L.) Pers.
Unno, T., Sugimoto, A., Kakuda, T.,

Ellagitannins from Lagerstroemia speciosa as activators of glucose transport in fat cells.
Hayashi T, Maruyama H, Kasai R, Hattori K, Takasuga S, Hazeki O, Yamasaki K, Tanaka T.

A new triterpenoid isolated from Lagerstronemia speciosa (L.) Pers.
Okada Y, Omae A, Okuyama T

Activation of insulin receptors by lagerstroemin.
Hattori K, Sukenobu N, Sasaki T, Takasuga S, Hayashi T, Kasai R, Yamasaki K, Hazeki O.

An extract of Lagerstroemia speciosa L. has insulin-like glucose uptake-stimulatory and adipocyte differentiation- inhibitory activities in 3T3-L1 cells.
Liu F, Kim J, Li Y, Liu X, Li J, Chen X.

Hypoglycemic effect of extracts from Lagerstroemia speciosa L. leaves in genetically diabetic KK-AY mice.
Kakuda T, Sakane I, Takihara T, Ozaki Y, Takeuchi H, Kuroyanagi M.
Central Research Institute, Itoen, Ltd., Sagara-cho, Haibara-gun, Shizuoka, Japan.

Screening of plant constituents for effect on glucose transport activity in Ehrlich ascites tumour cells.
Murakami C, Myoga K, Kasai R, Ohtani K, Kurokawa T, Ishibashi S, Dayrit F, Padolina WG, Yamasaki K.
Institute of Pharmaceutical Sciences, Hiroshima University School of Medicine, Japan.

Isolation and quantitative analysis of the alpha-amylase inhibitor in Lagerstroemia speciosa (L.) Pers. (Banaba)
Hosoyama H, Sugimoto A, Suzuki Y, Sakane I, Kakuda T.

An Extract of Lagerstroemia speciosa L. Has Insulin-Like Glucose Uptake–Stimulatory and Adipocyte Differentiation– Inhibitory Activities in 3T3-L1 Cells1.
Fang Liu, Jae-kyung Kim, Yunsheng Li, Xue-qing Liu, Jing Li and Xiaozhuo Chen.

Antiobesity activity of extracts from Lagerstroemia speciosa L. leaves on female KK-Ay mice.
Suzuki Y, Unno T, Ushitani M, Hayashi K, Kakuda T.
Source: Central Research Institute, Itoen, Ltd., Shizuoka, Japan.

Antidiabetes and Anti-obesity Activity of Lagerstroemia speciosa.
Guy Klein1, Jaekyung Kim2, Klaus Himmeldirk3, Yanyan Cao4,5 and Xiaozhuo Chen1,2,4,5,6
1College of Osteopathic Medicine, 2Edison Biotechnology Institute, 3Department of Chemistry and Biochemistry, 4The Molecular and Cellular Biology Program, 5Department of Biological Science and 6Department of Biomedical Science, Ohio University, USA.



The above presentation is for informational and educational purposes only.
It is based on scientific studies (human, animal, or in vitro), clinical experience, or traditional usage.
For many of the conditions discussed, treatment with prescribed (RX) or over - the - counter medication (OTC) is also available.
Consult your doctor, practitioner, and/or pharmacist for any health problem and before using dietary supplements or before making any changes in prescribed medications.