BIXA ORELLANA - ANNATO.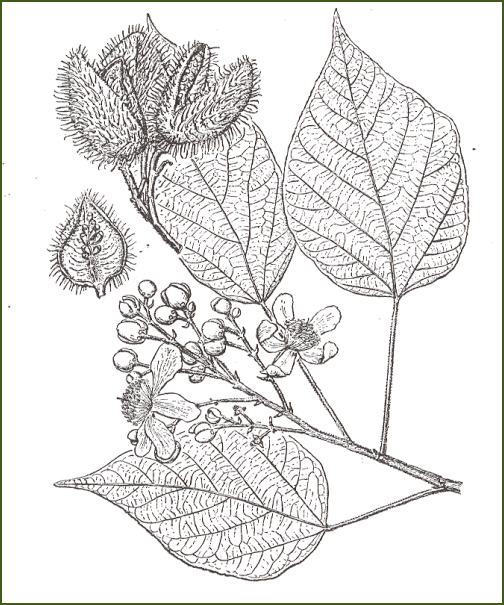 Synonym
Bixa acuminate, Bixa Urucurana, Bixa acuminata, Bixa Americana.
Common name
Acafroeira da terra, achiote, achuete, anato, annatto, Hong mu, Jarak belanda, Kesumba, Kesumba kling, Kunyit jawa, kuswé, orleaanboom, orleansbaum, roucou, rocouyer, urucu, urucum.
Family
Bixaceae (Achiote family)

Overview
This plant (a tropical shrub), stands alone in its family; a profusely fruiting shrub, reaching 6 - 20 feet tall and age up to about 50 years.
Annato has pointed leaves and pink, white - or pinkish - white flowers.
The small reddish-orange seeds, inside a prickly heart-shaped pod, are crushed and used as food coloring. Approximately 50 seeds grow inside of the pod.
Depending on the color of the flowers, the seedpod is either green or red; the seeds have the same coating in both.
The red color is due to apo-carotenoids that are in the seed epidermis.
These seeds are processed to obtain the orange-yellow pigments, bixin and norbixin (carotenoids), as dye for the food -, cosmetic - and soap industries.
This spice (the dye) is used to color the cheddar cheese and is also used for the flavoring and coloring of food (rice).
The used part is the dried pulp of the fruit.
See recipes from the Surinam Cuisine.

Phytochemicals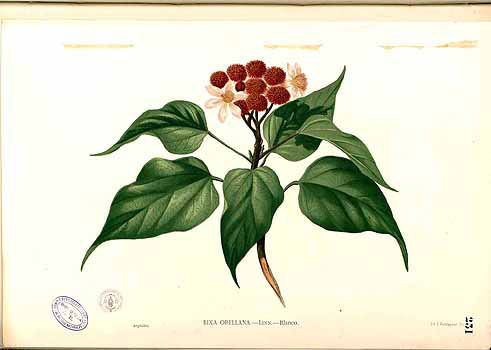 In the plant are tannins, saponins, mono - and sesquiterpenes.
Besides the mentioned bixin and norbixin, other phytochemicals present are bixaghanene, bixein, bixol, crocetin, ellagic acid, ishwarane, isobixin, phenylalanine, salicylic acid, threonine, tomentosic acid, and tryptophan.
The indigenous people in Suriname have used the anatto seeds for many centuries as body paint during festivities, as a fabric dye, as a sunscreen and against insect bites.
Annatto oil is emollient and the content has antioxidant properties.
In Brazil it is used for heartburn and as a mild diuretic.

Suriname's Traditional Medicine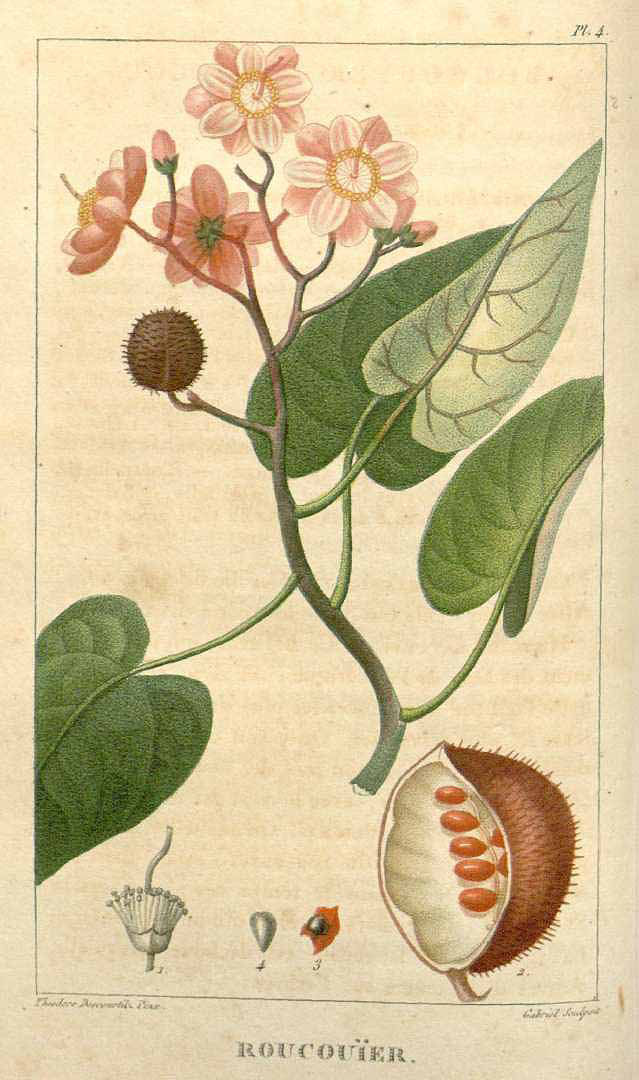 The entire plant is used against fever and dysentery.
A decoction of the leaves is used to halt vomiting and nausea; also used to manage heartburn, prostate and urinary difficulties, and stomach problems.
The seeds against: sinusitis, asthma, constipation, high cholesterol, hypertension and skin disorders.
It also works against uteritis (female disease; slight prominence on the wall of the bladder at the entrance of the ureter).

Visit also our APPLICATION & DOSAGE -, CHOLESTEROL -, DIABETES - , HYPERTENSION - , SPICES - , and TINCTURE pages.


Hardiness
USDS zone 9B - 11.
Propagation
Seeds and cuttings.
Culture
Full sun; needs protection from wind. Moist rich soil, although it can grow on poor acid soils and has some tolerance for drought.
It needs regular watering. No special problems where frost is not a hazard.
Achuete will also do great indoors or in the greenhouse.