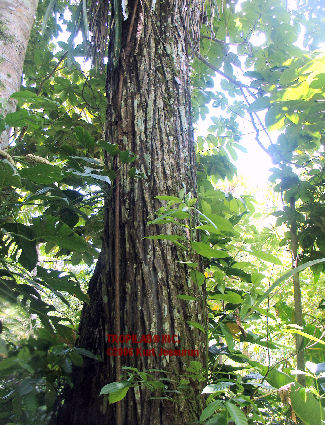 Overview

Cedrela (Spanish cedar) has many applications and medicinal benefits.
The wood is aromatic and naturally termite- and rot-resistant. The bark of this tropical tree is employed in our herbal tincture; it is very bitter, and is said to be febrifuge (reduce fever), vermifuge (causes the expulsion of worms or parasites from the body) and anti-epileptic.
The resin from the bark is employed in the treatment of bronchitis.
In Traditional Medicine in Suriname, it is also used in the treatment of malaria and diabetes.
In Traditional Medicine in Brazil, a bark infusion (medicinal tea) is used as a remedy for diarrhea, fever, anti-inflammation, vomiting, hemorrhage, and indigestion.
In Africa, the decoction of the bark is used against malaria and fever.


Constituents

Cedrela odorata is characterized chemically by the presence of tetranortriterpenoids (limonoids).
Sesquiterpene hydrocarbons: [alpha]-copaene, [delta]-cadinene, [alpha]-muurolene, [beta]-caryophyllene and calamenene, : 6-acetoxycedrodorin, 6-deoxy-9alpha-hydroxycedrodorin, 9-alpha-hydroxycedrodorin, angolensic-acid-methyl-ester, cedrelanol, cedrodorin, mexicanolide, gedunin, odoratol, odoratone, and photogedunine.

Pharmacology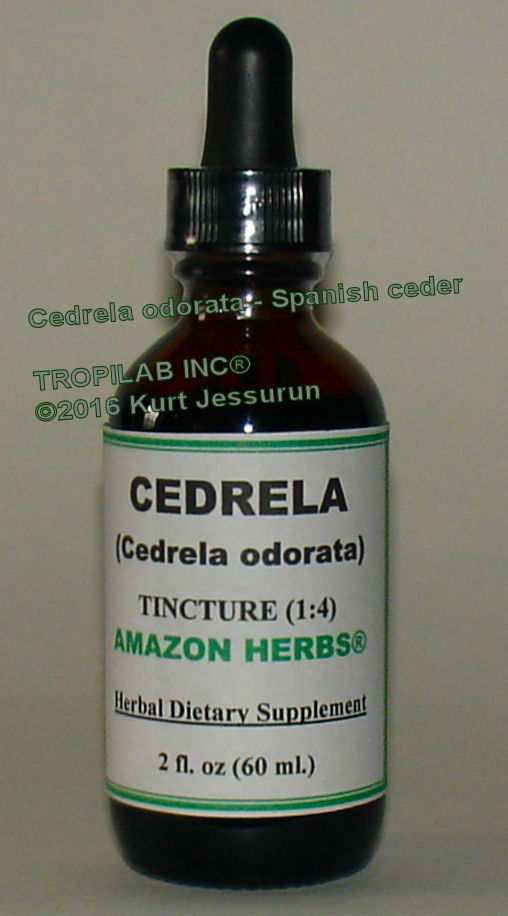 A quantitative ethnobotanical approach to antimalarial drug discovery led to the identification of Lansium domesticum (Meliaceae) as an important antimalarial used by Kenyah Dyak healers in Indonesian Borneo. Triterpenoid lansiolides with antimalarial activity were isolated from the bark and shown to have activity in both in vitro bioassays with Plasmodium falciparum, and in mice infected with P. berghei.
A survey of African and tropical American Meliaceae species led to further development of the limonoid Gedunin from the traditionally used medicinal plants, tropical cedar, Cedrela odorata L., and Neem (Azadirachta indica). Gedunin has significance in vitro activity but initially showed poor in vivo activity. In vivo activity was improved by:
(1) incorporation into an easy to absorb suspension,
(2) preparation of a more stable compound, 7-methoxygedunin, and
(3) synergism with dillapiol, a cytochrome P450 3A4 inhibitor.
The results show the potential for both an antimalarial drug and phyto-medicine development from traditionally used plants.

Applications

Stomachic, tonic; for arthritis, diarrhea, dysentery, ear infections, fevers, lack of appetite, skin ulcers, clears the lungs from mucus, malaria and diabetes.

Dosage

Tincture: 1 - 4 ml. (1 - 4 full droppers) daily.
Infusio (herbal tea): 1 - 2 cups daily.

Reference

Constituents of the leaf essential oil of Cedrela odorata L. from Nigeria.
O. T. Asekun, O. Ekundayo*
Department of Chemistry, University of Ibadan, Ibadan, Nigeria
Correspondence to O. Ekundayo, Department of Chemistry, University of Ibadan, Ibadan, Nigeria

Essential Oils of Toona and Cedrela Species (Meliaceae): Taxonomic and Ecological Implications
Beatriz H.L.N.S. Maia(a), José R. de Paula(a), Josué Sant'Ana(a), M. Fátima das G.F. da Silva(a), João B. Fernandes(a), Paulo C. Vieira(a), Merilene do S.S. Costa(b), Orlando S. Ohashi(b) and José Natalino M. Silva(c)
a Departamento de Química, Universidade Federal de São Carlos, CP 676, 13565-905 São Carlos, SP, Brazil
b Faculdade de Ciéncias Agrárias do Pará, Belém, PA, Brazil
c Empresa Brasileira de Pesquisa Agropecuária, Belém, PA, Brazil

The above presentation is for informational and educational purposes only.
It is based on scientific studies (human, animal, or in vitro), clinical experience, or traditional usage.
For many of the conditions discussed, treatment with prescribed (RX) or over - the - counter (OTC) medication is also available.
Consult your doctor, practitioner, and/or pharmacist for any health problem and before using dietary supplements or before making any changes in prescribed medications.