MELIA AZEDARACH - CHINABERRY.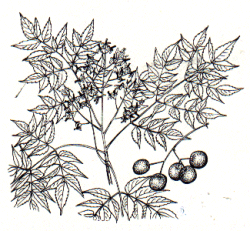 Common name
Chinaberry tree, Persian lilac, pride of India, bead tree, lilac tree.
Family
Meliaceae (Mahogany family).

Overview
Chinaberry tree is originally from India and brought to Suriname by immigrants.
It does not grow up very large in Suriname due to the strictly tropical climate in this country.
Persian lilac does flower and bears fruit and has toothed leaflets.
This deciduous tree produces purplish fragrant flowers, afterwards followed by yellow fruits (berries), that are very poisonous.
The hard seeds are easily dispersed by birds; these seeds are also very poisonous.

Suriname's Traditional Medicine
Bark - and fruit extract is used to kill parasitic roundworms.

Hardiness
USDA zone 7 - 11.
Propagation
Seeds.
Culture
Full sun; partial shade; tolerates drought well.
Chinaberry tree can withstand some frost.