COFFEA ARABICA L. - COFFEE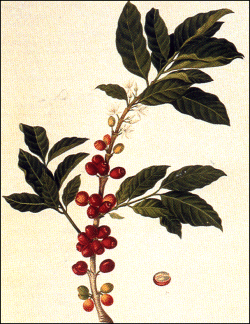 Common name
Arabian coffee, brazilian coffee, Coffee, kofi, koffie.
Family
Rubiaceae.(Bedstraw Family)

Overview
The coffee tree is an tropical evergreen small tree growing up to 15' tall.
The leaves are dark green and elliptical.
It has fragrant - white flowers in clusters; the fruit is an oval - elliptic drupe, yellow to crimson, when ripen and black up on drying.
The tree comes into bearing 3 - 4 years after planting; full bearing, 7 - 8 years.
Unroasted coffee beans contain high level of polyphenols (antioxidants).
These protect against heart disease and cancer.

Medicinal applications
Analgesic, cardiotonic, CNS stimulant, nervine, stimulant and hypnotic.

Visit also our APPLICATION& DOSAGE -, CHOLESTEROL -, DIABETES - , HYPERTENSION - and TINCTURE pages.



Hardiness
USDA zone 10 - 11.
Propagation
Seeds and cuttings.
Due to recalcitrant nature of the seeds, they have a short viable life, can not be dried well and can not withstand low temperatures.
Culture
Partial shade, moist soil.
Protect from frost.