MORINDA CITRIFOLIA - NONI.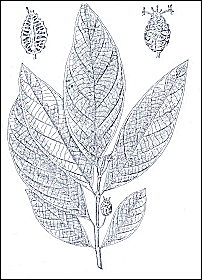 Common name:
Indian mulberry, noni, dibri-apra, patjé, mengkudu, mora de la India, ruibarbo caribe, wild pine, nono, aal, great morinda, cheezefruit.
Family:
Rubiaceae (Madder family).

Overview
Although Noni is not indigenous to Suriname; it is found abundantly in this country.
Indian mulberry is a tropical evergreen shrub or small tree, often no more than 30 feet tall, with large dark - green opposite shiny leaves.
The small flowers are creamy-white and appears as globose heads.
The fruits are creamy white, edible, but when ripe they have a very unpleasant taste and smell.
Noni bears fruit year-round and one fruit has well over 100 seeds.
These brownish seeds are oblong-triangular, and have a conspicuous air chamber which lets them float in water!
This plant has a long history of medicinal applications.
It is successfully used to treat among others: inflammation, swellings, filariasis, elephantiasis, tuberculosis, high blood pressure, diabetes, arthritis, menstrual cramps and conditions of aging. It has also shown very promising, anti-cancer activity.
Noni helps in several ways preventing- and protecting different cardiovascular diseases.
The fruit is shaped as a potato with pineapple-like spots and it gets from green to white as it ripens. It is the most used part of the plant but every other part of it, (seeds, roots, flowers, bark and leaves) can be used medicinally.
The ripe noni fruit tastes and smells awful and is used only as one feels really ill.
The fruit contains morindin, proxeronine and the enzym proxeronase.
Proxeronine and proxeronase produce xeronine after taking noni orally.
The seeds are flat and dark-brown; dispersed by bats.
The dyes from the stem - and root bark is used in Java, Indonesia to make batik.

Visit our CHOLESTEROL -, DIABETES - , HYPERTENSION -, TINCTURE - and
APPLICATION & DOSAGE pages.

Visit also other links.

Suriname's Traditional Medicine
The leaves of this plant are used to treat muscle - and joint pains; it is also used as a general pain reliever.
The raw green fruit however has a completely neutral taste and smell; it is used in salads.

Hardiness:
USDA zone 9B - 11.
Propagation:
Seeds and cuttings.
Culture:
Full sun / moist-dry soil; can withstand some drought, protect from frost.
Can be planted in a container and will start bearing fruit in 12 (twelve) months.