ECLIPTA ALBA - ECLIPTA.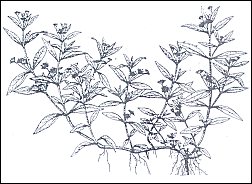 Synonym
Eclipta prostata L., Eclipta erecta.
Common name
Eclipta, bhringaraj, false daisy, bringraj, han lian cao, takasaburou, yerba de tago, congo lanna.
Family
Asteraceae (Sunflower family).



Overview
This tropical annual is a creeping and moisture-loving herb; it has a short, flat or round, brown stem and small white flowers on a long stalk. It grows 3" tall; the leaves are opposite and lance-shaped.
Eclipta grows abundantly in the tropics and is used with much success in Ayurvedic medicine.
In India the juice of the leaves is used as a remedy for liver cirrhosis, hepatitis and infective hepatitis.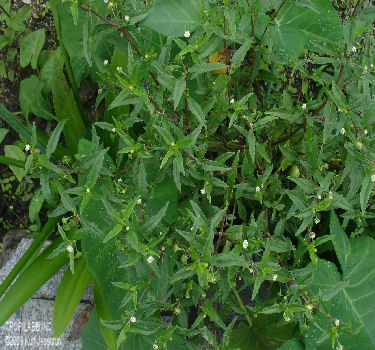 Also used for liver enlargement, jaundice and other ailments of the liver, spleen and gall bladder.
In scientific studies, Eclipta alba also shows excellent antifungal activity.
The plant tops are used for skin diseases (inflammation).
A mixture of Eclipta and mineral oil (USP) keeps the hair dark and lustrous; when applied to the scalp it promotes hair growth.

Constituents
Ecliptine, wedelolactone, dimethyl wedelolactone, wedelic acid, eclepitine apigenin, luteolin, b-amyrin, mono-, di- and trithiophene acetylenes, a-terthenyl, thiophene acetylenes, ascorbic acid.

Pharmacology
Eclipta is rich in amino acids and essential fatty acids.
It has bio-active steroidal alkaloids but it the also possesses weak cyto-toxity against certain cells.
An ethanol extract of Eclipta has a neutralizing effect on the venom of South American rattle snakes.

Suriname's Traditional Medicine
This plant has a range of therapeutic properties such as promoting heart health by lowering high blood pressure and cholesterol levels; boosting immunity.
It is also an adequate natural painkiller.
Eclipta is used against anemia, dysentery, eye diseases, asthma, insomnia, headaches and liver cirrhosis.
It rejuvenates the hair (external use).
The juice of Eclipta together with honey, is used to handle upper respiratory congestion in children.

Visit our APPLICATION & DOSAGE -, CHOLESTEROL -, DIABETES - , HEPATITIS - , HYPERTENSION - and TINCTURE pages.

Hardiness
USDA zone 5 - 11.
Propagation
Seeds (best temperature for germination is 95 F.).
Culture
Full sun / partial shade, tolerate high altitude conditions.
Needs moisture; plant in frost free locations.