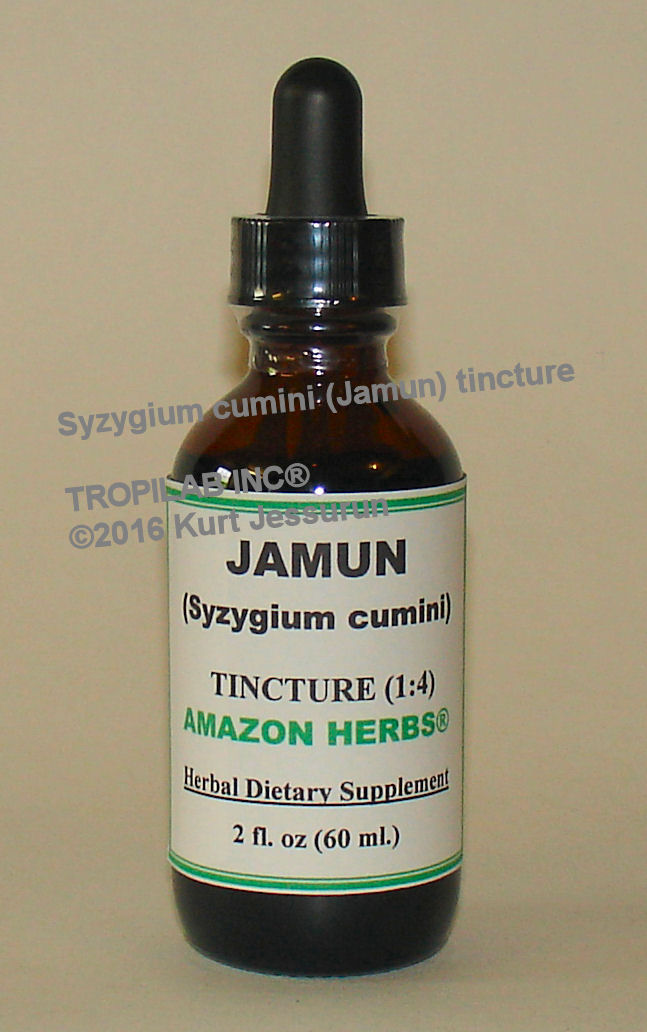 Overview

Jamun (Java plum) is a medium size tree, indigenous to India but also abundantly found in Surinam. It has applications as a carminative, against diarrhea, stomachache, astringent, diuretic and anti diabetic.
Also used in enlargement of the spleen and as a diuretic.
It has along tradition in the treatment of lung problems (bronchitis and asthma).
The leaves are antibacterial while the bark is used against inflammations.
Jamun may also be applied directly to the mouth and throat for reducing pain due to inflammation (swelling). It is also applied directly to the skin for skin ulcers and skin inflammation.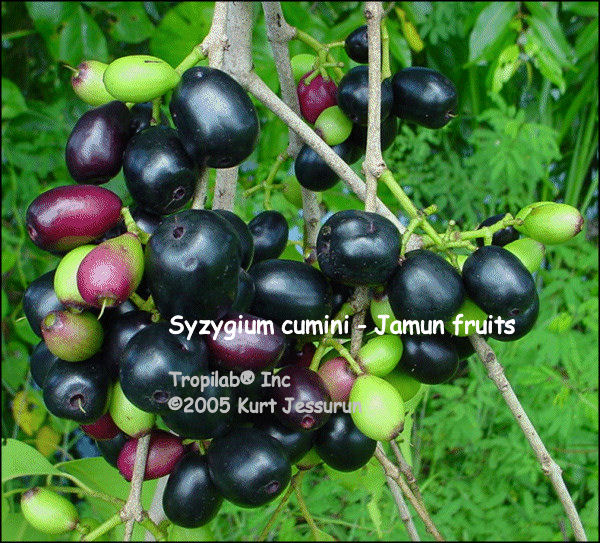 The herbal tincture and infusion (herbal tea) of the bark, fruit, seed and leaves are utilized in the treatment of insulin dependant diabetes mellitus (IDDM).
They are effective in diabetes as they quickly reduce sugar in the urine and it allays the unquenchable thirst in diabetes.
Glucoside Jamboline is said to have the power to check the pathological conversion of starch into sugar in cases of increased production of glucose.
Can be used against non-insulin-dependent diabetes mellitus (NIDDM/type 2), as a mono-therapy in oral antidiabetic drugs and in dietary herbal supplements.
Assisting in insulin-dependent diabetes mellitus (IDDM/type 1).


Constituents

Flavonoids and other polyphenolics. Lignan derivates from the bark: Cuminiresinol, Syzygiresinol A. Also present in the bark: Triterpens and Sterols.
Minerals & vitamins in the fruit (Calcium, iron, potassium, vitamin A, thiamin, riboflavin, nicotinic acid and ascorbic acid). Fatty acids in the seeds, Monoterpenoids in the seeds, gallic acid in the bark.


Pharmacology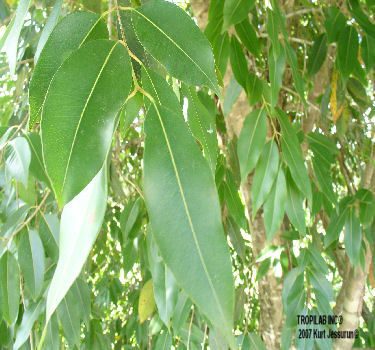 The ethanolic extract of the bark of Syzygium cumini was investigated for its anti- inflammatory activity.
The study demonstrated that the bark extract has a potent anti-inflammatory action against different phases of inflammation without any side effect on gastric mucosa.
The antimicrobial activity of Syzygium cumini leaves extract was evaluated.
The hydroalcoholic extract (tincture) was active against Candida krusei and multi-resistant strains of Pseudomonas aeruginosa, Klebsiella pneumoniae and Staphylococcus aureus.
The leaves have also a diuretic effect; without changes in sodium and potassium levels.

The dried bark of Syzygium cumini as an anti-diabetic agent, exhibit anti-hyperglycemic activities and shows significant decrease in blood glucose levels (BGLs).
Jamun may have effect upon the regeneration of insulin producing cells in the pancreatic duct wall.
Bark extract stimulates development of insulin positive cells from the pancreatic duct epithelial cells.

The antiamnesic effects of extracts from Syzygium cumini on spatial memory impairments were studied. Results indicate that these extracts may exert anti-amnesic activity via inhibition of acetylcholinesterase and antioxidant mechanisms in the brain.

Utilization of the fruit as a significant source of natural antioxidants is due to the presents of proanthocyanidins (PAC's). Tannins extracted from the fruit showed a very good radical scavenging activity and ferric reducing/antioxidant power.

The fruit phytochemicals decrease hepatic inflammation and oxidative stress; protects against hepatocellular injury.

The prophylactic hydroalcoholic extract treatment (herbal tincture) has a potent anti-septic effect; this is associated to a recruitment of activated neutrophils to the infectious site and to a diminished systemic inflammatory response. The extract may improve survival of lethal sepsis.
Bark extract has a potent anti-inflammatory action against different phases of inflammation without any side effect on gastric mucosa.


Dosage

Tincture: 1 - 3 ml daily. (bark, leaves and seeds)
Infusion (herbal tea): 1 - 2 cups daily. (bark and leaves)



Interaction and precautions

No interactions have been reported and no harmful effects are known


Reference

Syzygium cumini (L.) Skeels in the Treatment of Type 2 Diabetes
Results of a randomized, double-blind, double-dummy, controlled trial.
Claudio Coimbra Teixeira, MD, Letícia Schwerz Weinert, Daniel Cardoso Barbosa, Cristina Ricken, Jorge Freitas Esteves, MD2 and Flávio Danni Fuchs, MD, PHD3

Hypoglycaemic effect of defatted seeds and water soluble fibre from the seeds of Syzygium cumini (Linn.) skeels in alloxan diabetic rats.
Pandey M, Khan A.
Department of Biochemistry, LIT Premises, Nagpur University, Amravati Road, Nagpur 440010, India.

The effect of Syzygium cumini (L.) skeels on post-prandial blood glucose levels in non-diabetic rats and rats with streptozotocin-induced diabetes mellitus.
Teixeira CC, Pinto LP, Kessler FH, Knijnik L, Pinto CP, Gastaldo GJ, Fuchs FD.

Syzygium cumini (Jamun) reduces the radiation-induced DNA damage in the cultured human peripheral blood lymphocytes: a preliminary study.
Jagetia GC, Baliga MS.

Antiamnesic activity of Syzygium cumini against scopolamine induced spatial memory impairments in rats.
Alikatte KL, Aakondi BR, Yerragunta VG, Veerareddy PR, Palle S.
Dept. of Pharmacology, St. Peter's Institute of Pharmaceutical Sciences, Warangal, AP 506001, India.


The above presentation is for informational and educational purposes only.
It is based on scientific studies (human, animal, or in vitro), clinical experience, or traditional usage.
For many of the conditions discussed, treatment with prescribed (RX) or over - the - counter medication (OTC) is also available.
Consult your doctor, practitioner, and/or pharmacist for any health problem and before using dietary supplements or before making any changes in prescribed medications.