HYMENAEA COURBARIL L - JATOBA.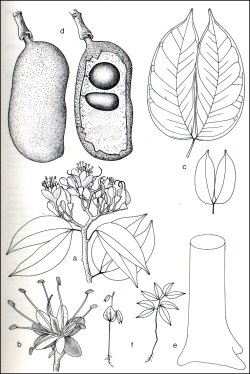 Common name
Jatoba, copal, red locus, locust, copinol, Brazilian cherry, stinking tree, kawanari, guapinol, algarrobo, rode locus, redi loksi.
Family
Leguminosae (Fabaceae).

Overview
Jatoba is a huge canopy tree growing up to 130 feet tall; the crown is spreading and sometimes the base develops buttresses. It produces small red flowers and an oblong brown pod containing 3 - 4 seeds with a pulp that is edible.
Red locus is also a very beautiful reddish-brown wood from the tropics. It is hard, heavy and very strong; bends well, glues well and therefore used for furniture, shipbuilding, cabinetwork, etc.
In traditional medicine, the smooth gray bark of the jatoba tree is regarded as a natural energy tonic.
It has anti-bacterial and anti-fungal properties.
At the base of the tree, a light natural yellow resin (copal) can be found; it is used in the production of varnish for the restoration of old paintings. Upon burning, it has the smell of pine and is also employed in traditional medicine.
Tea made from the bark is used against intestinal parasites and indigestion.

Suriname's Traditional Medicine
The bark of "redi loksi" as the tree is called in Suriname, is used in the treatment of dysentery, diarrhea, to cure urinary infections and against hypertension.
Visit also our APPLICATION & DOSAGE -, CHOLESTEROL -, DIABETES - , HYPERTENSION - and TINCTURE pages.

Hardiness
USDA zone 9B - 11.
Propagation
Seeds.
Culture
Full sun / partial shade, moist soil, needs humidity.
Plant in frost free locations.
Can be planted in large containers for a few years.