MANGIFERA INDICA L. - MANGO.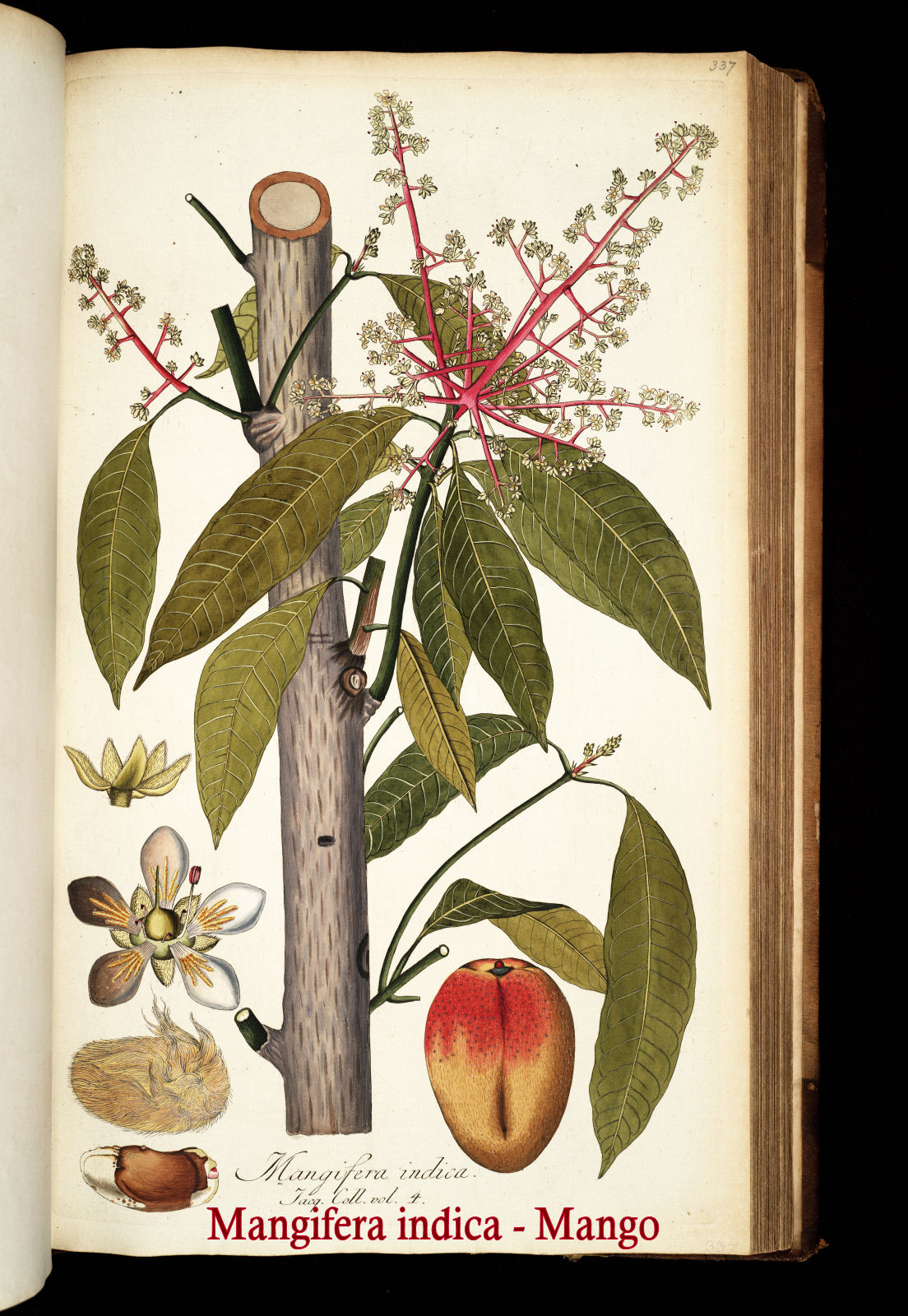 Synonyms
Mangifera domestica,
mangifera sativa.
Common name
Mango, manga, manja, mangot, manguier.
Family
Anacardiaceae (Poison ivy family).

Overview
Mango is a tall evergreen tropical tree growing up 30 - 100 feet tall with a dense, heavy crown.
The evergreen drooping leaves resemble those of the peach tree. Coppery to purplish-red at first but becoming green at maturity, they are lance-shaped and often slightly curved.
The male - and hermaphroditic flowers of mango, small ivory and very numerous, and fruit clusters hang outside the foliage canopy.
Mango flowers are visited by flies, bats, bees, wasps, butterflies and other insects.
The mango tree is long-lived, some specimens are more than 250 years old and are still fruit bearing.
Mango, in English and Spanish, or manja in Dutch has a great variety in species, forms, size, color, scent, taste and quality.
There are over 500 named varieties of the mango. The peach-like, juicy, flavorful fruit is known all over the world. Within each fruit there is a large flat elongated fibrous stone containing a single seed.
Dried unripe mango is used as a spice in the Southeast Asia cuisine. It is known locally as amchur (amchoor).

Suriname's Traditional Medicine
An infusion of the leaves or bark helps against hypertension and promotes a good blood circulation.

Hardiness
USDA zone 9B - 11.
Propagation
Seeds and grafting.
Due to recalcitrant nature of the seeds, they have a short viable life, can not be dried well and can not withstand low temperatures.
Culture
Full sun, good drainage, grows well on different types of soil.
Mango tolerates drought and salt tolerance.
Temperatures down to 26° F. are damaging and often killing for the plant.
Recalcitrant seeds are not refundable since they are prone to fungus and often difficult to germinate.