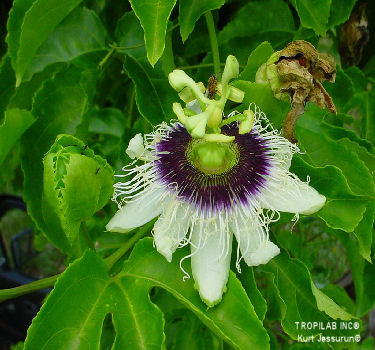 Overview
Passionflower (Maracuja) is used primarily for the treatment of mild- to moderate anxiety (worrying, restlessness, and insomnia).
It may be combined with other herbs that also possess sedative properties.
It is one of the best tranquilizing herbs for chronic insomnia.
Studies suggest that extracts from this herb are as effective as oxazepam (Serax®), a medication that is used for anxiety.
Passionflower is also used for asthma, attention deficit-hyperactivity disorder (ADHD), fibromyalgia, hysteria, nervousness and excitability, pain relief, seizures and symptoms of menopause.


Constituents
The main groups of phyto-chemicals are: alkaloids (harman, harmaline, harmalol, harmol, harmine), glycosides and flavonoids (including vitexin, isovitexin, isoorientin, schaftoside, and isoschaftoside), serotonin, maltol (a pyrone derivative).


Pharmacology
The pharmacological activity of Passiflora is attributed primarily to the alkaloids and flavonoids in this plant. The harmala alkaloids inhibit monoamine oxidase, which may account for part of their pharmacologic effect.
Monoamine oxidase is an enzyme involved in removing the neurotransmitters norepinephrine, serotonin and dopamine from the brain.
Leaves from several Passiflora species are employed in Brazilian folk medicine for its anxiolytic (antianxiety) and sedative properties.
The methanol extract of P. incarnata demonstrates anxiolytic properties at a dosage of 10 mg/kg of the purified methanol extract, the anxiolytic effects were comparable to 2 mg/kg of diazepam (Valium). The active constituent of this extract was identified as a benzoflavone, which binds to and inhibits the aromatase enzymes, thus preventing the oxidation of testosterone to produce estrogen.
To analyze the tranquillizer action of these species in behavioral studies, results showed that the active principles responsible for catalepsy are present in the extract.

Passiflora has been used for centuries to cure anxiety and insomnia.
Studies have shown that the possibility of a phyto-constituent having benzoflavone nucleus as the basic moiety being responsible for the bioactivity is highly anticipated.


For more information on Passiflora, go to the PASSIFLORA EDULIS page.


Applications
Passiflora herbal tincture can be classified as a natural relaxant.
It is used for its sedative, nervine, anti-spasmodic and analgesic effects.
There are beneficial effects on the nerves (toning the sympathetic nerve center, and improving circulation and nutrition to the nerves).
It has sedative and antispasmodic action, relaxing spasm and tension in the muscles; calming the nerves and lessening pain.
Passionflower is used to treat sleep disorders; in homeopathic medicine to treat pain, insomnia related to neurasthenia or hysteria and nervous exhaustion.


Dosage
Tincture: 1 - 4 ml. (1 - 4 full droppers) daily.
Infusion (herbal tea): 1 - 2 cups daily.


Precaution
Passionflower may potentiate the effects of pentobarbital (a short-acting barbiturate).
It may have additive anticoagulant effect.


Reference
Anti-anxiety studies on extracts of Passiflora incarnata Linneaus
Kamaldeep Dhawan, Suresh Kumar and Anupam Sharma,
Pharmacognosy Division, University Institute of Pharmaceutical Sciences, Panjab University, Chandigarh 160014, India

Passiflora actinia Hooker extracts and fractions induce catalepsy in mice
K.C. Santos¹, C.A.M. Santos¹ and R.M.W. de Oliveira²
¹Laboratory of Pharmacognosy, Department of Pharmacy, Federal University of Paraná, Rua Prefeito Lothario Meissner 3400, Jardim Botânico, 80210-170 Curitiba, Paraná, Brazil
²Laboratory of Psychopharmacology, Department of Pharmacy and Pharmacology, University of Maringá, Avenida Colombo 5790, 87020-900 Maringá, Paraná Brazil

Anticonvulsant effects of aerial parts of Passiflora incarnata extract in mice: involvement of benzodiazepine and opioid receptors
Marjan Nassiri-Asl¹, Schwann Shariati-Rad² and Farzaneh Zamansoltani³
¹Department of Pharmacology, School of Medical Sciences, Qazvin University, Qazvin, Iran
²School of Medical Sciences, Qazvin University, Qazvin, Iran
³Department of Anatomy, School of Medical Sciences, Qazvin University, Qazvin, Iran



The above presentation is for informational and educational purposes only.
It is based on scientific studies (human, animal, or in vitro), clinical experience, or traditional usage.
For many of the conditions discussed, treatment with prescribed (RX) or over - the - counter (OTC) medication is also available.
Consult your doctor, practitioner, and/or pharmacist for any health problem and before using dietary supplements or before making any changes in prescribed medications.