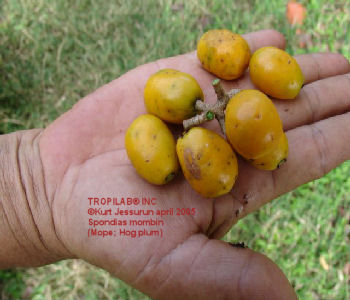 Overview

The bark and leaves of Hog plum (aka Ubos, Mope) are used for the herbal tincture and infusion (medicinal tea).
All parts of the tree are ethno-pharmacologically important. The tincture and tea of the flowers and leaves is taken to relieve various inflammatory conditions such as stomachache, digestive problems, diarrhea, dyspepsia, gastralgia, colic, and constipation. It also has potential wound healing properties and works against rashes, psoriasis and dermatitis.
Hog plum bark is with success, extensively used for issues of the female reproductive tracts. It is a common midwife's remedy to help induce labor, reduce bleeding and pain during and after childbirth. It is also used to stimulate the flow of breast milk.
Spondias mombin is a broad spectrum antiseptic and antibacterial and may be comparable to the antibiotics Ampicillin* and Gentamycin**.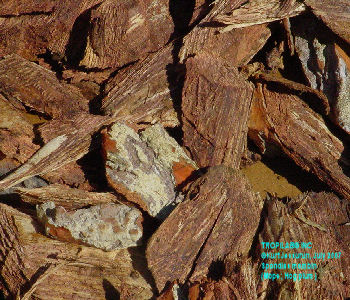 Constituents

The leaves and bark contain tannins, saponins, flavonoids, sterols, quinones, phenolics, antioxidants and other phyto-chemicals such as caryophyllene.
In addition, the leaves contain also salicylic acid derivatives and chlorogenic acid.

Pharmacology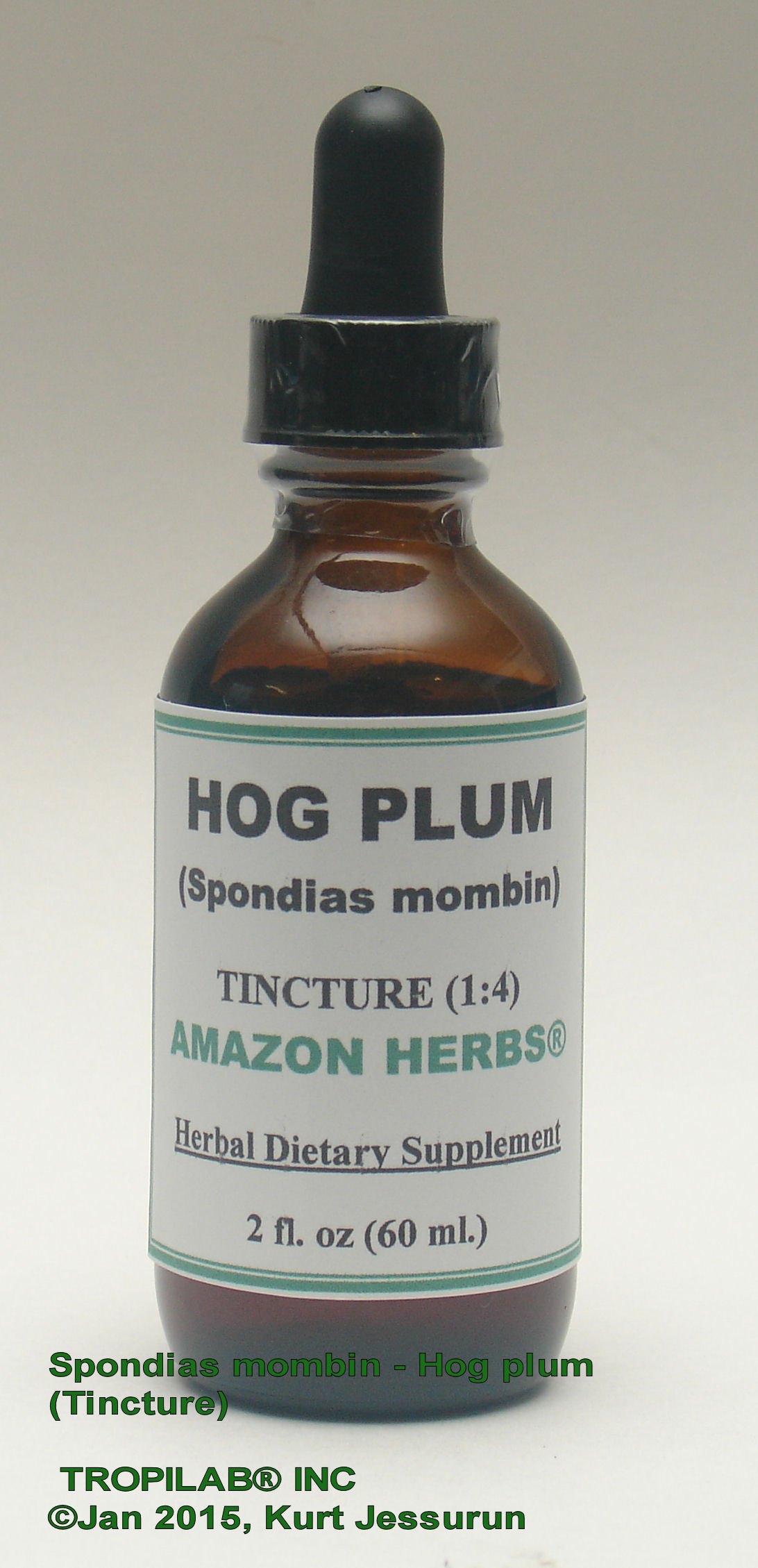 Sedative, anti-epileptic and antipsychotic effects of Spondias mombin leaves in methanol and ethanol solvents. Results suggest that the leaves extracts possess sedative and antidopaminergic properties.
This is an herbal drug which blocks dopamine receptors; this type of drugs is used to treat schizophrenia, bipolar disorder vomiting and stimulant psychosis.

Spondias mombin leaves, extracted with aqueous, methanol and ethanol decreased the amphetamine/apomorphine-induced stereotyped behavior, which suggest that these extracts possess antidopaminergic activity.
The effect of these extracts on hexobarbitone-induced sleeping time was blocked by flumazenil a GABAA antagonist, indicating that the extracts contain GABAA agonists. These results suggest that the extracts of the leaves possess sedative and anti-dopaminergic effects.

The activity of the extract of the stem bark against E. coli and K. pneumoniae was similar to that of Gentamycin.
There is justification for the use of this little studied medicinal plant as an excellent anti-infective agent in traditional medicine.


Applications

A decoction and extract of the astringent bark serves as an emetic, a remedy for diarrhea, dysentery, hemorrhoids and a treatment for gonorrhea and leucorrhea.
In Suriname Traditional Medicine, the bark is considered anti-inflammatory and analgesic. It is used for inflammations and painful conditions like rheumatism, menstrual pain, cramps and irregularity.
Further for use against tonsilitis, laryngitis, malaria, fever, erysipelas, bladder and kidney stones, and intestinal ulcers.
The leaves are used for digestive and female complaints and as an antimicrobial for infections.
Extracts from the leaves induce labor but are also used as an abortive (to end pregnancy).
Used as a nervine against anxiety and stress.

Dosage

Tincture: 1 - 4 ml. (1 - 4 full droppers) daily.
Infusion (herbal tea): 1 - 2 cups daily.


Precaution

Do not use when pregnant (unless under the supervision of a medical practitioner or herbalist).
If one is allergic to aspirin or salicylic acid, do not use the leaves tincture or infusion.
Drug interactions may occur, due to the sedative and anti-anxiety effects of the leaves. A tincture and infusion may enhance the effects of other sedative and anti-anxiety medications.

*Ampicillin is a penicillin-like antibiotic used to treat certain infections caused by bacteria such as pneumonia; bronchitis; and ear, lung, skin, and urinary tract infections.
Brand names: Principen®

**Gentamycin (or gentamicin) is an aminoglycoside antibiotic, and can treat many different types of bacterial infections, particularly Gram-negative infections.
Brand Name(s): Garamycin® ; Gentak® Spectro-Genta® Alcomicin® Genoptic®


Reference

Sedative, antiepileptic and antipsychotic effects of Spondias mombin L. (Anacardiaceae) in mice and rats.
Abiodun O. Ayoka1, Rufus O. Akomolafe1, Ezekiel O. Iwalewa2, Moses A. Akanmu2 and Otas E. Ukponmwan1.
1Department of Physiological Sciences, Obafemi Awolowo University, P.O. Box 1282, Ile-Ife, Osun State, Nigeria.
2Departments of Pharmacology, Obafemi Awolowo University, Ile-Ife, Osun State, Nigeria; Received 20 August 2004; revised 25 July 2005; accepted 27 July 2005. Available online 26 September 2005.

Antimicrobial potential of Spondias mombin, Croton zambesicus and Zygotritonia crocea.
Abo K.A., Ashidi J.S.


The above presentation is for informational and educational purposes only.
It is based on scientific studies (human, animal, or in vitro), clinical experience, or traditional usage.
For many of the conditions discussed, treatment with prescribed (RX) or over - the - counter medication (OTC) is also available.
Consult your doctor, practitioner, and/or pharmacist for any health problem and before using dietary supplements or before making any changes in prescribed medications.