Overview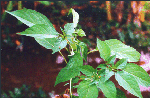 Mullaca (Cutleaf Ground-cherry), an herbaceous annual shrub, is widely used in folk medicine. It displays anticancerous - and antileukemic actions.
The parts that are uses are the whole plant included leaves and root.
It is used as a treatment for hepatitis B, bacterial infections, cancer (leukemia), mycoplasma and mycobacteria infections. Also used for dermatitis, psoriasis, skin- and viral infections.
It is a popular medicine used in Brazil and also well-known in traditional Chinese medicine.
Due to the anti-inflammatory effects; it exerts powerful anti-inflammatory and immuno-modulatory activities.
Widely used in the Amazon rainforest against asthma, female disorders, fevers and malaria.
In Taiwan it is used to treat diabetes, hepatitis, asthma and malaria.


Constituents

Flavonoids, alkaloids, plant steroids (withanolides, physagulins E, physalin B, F, D and G). Flavonol glycosides (myricetin 3-O-neohesperidoside)


Pharmacology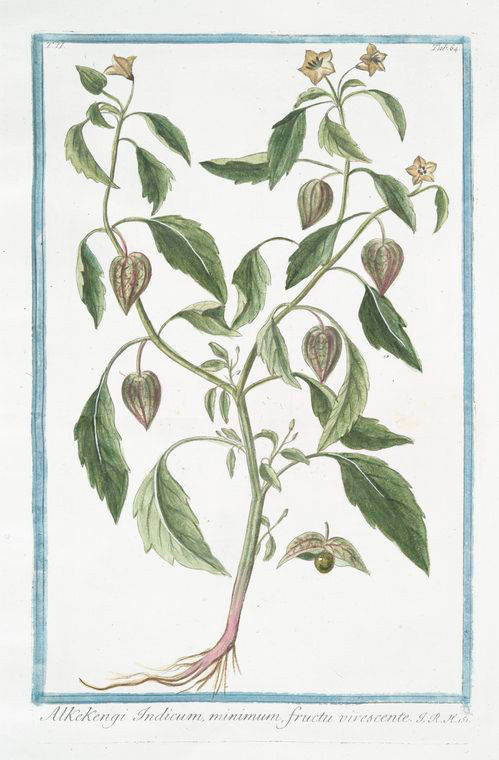 Mullaca's steroids show powerful immune-system support.
Cancer studies indicate it is capable of killing several different types of malignant cells in vitro. In one study Mullaca exhibited strong cytotoxicity against cancerous kidney cells. The plant extract was also shown to reduce the size of cancerous tumors in mice with lymphocytic leukemia.
A new flavonol glycoside, myricetin 3-O-neohesperidoside, isolated from leaves extract, showed remarkable cytotoxicity in vitro against murine leukemia cell line P-388, epidermoid carcinoma of the nasopharynx KB-16 cells, and lung adenocarcinoma.
Withanolides (a plant steroid) show considerable trypanocidal activity.

Physalins has immunomodulatory effects and physalins B, D and F have antileishmanial activity. Physalins B and F reduce the percentage of Leishmania-infected macrophages and the intracellular parasite number at concentrations non-cytotoxic to macrophages. Topical treatment with physalin F significantly reduced the lesion size, the parasite load and histopathological alterations in mice infected with L. amazonensis.
The foregoing demonstrates the potent antileishmanial activity of physalins, especially physalin F, and suggests the development of new therapeutic options for cutaneous leishmaniasis.

Mullaca has demonstrated effective antibacterial properties against many types of gram positive and gram negative bacteria, including Pseudomonas, Staphylococcus and Streptococcus. Researchers in Japan focused on the antiviral actions and studies show that it is active (in vitro) against Polio virus I, Herpes simplex virus and the measles virus.
Physalis angulata extracts and physalin-containing fractions displayed antimycobacterial activity against Mycobacterium tuberculosis, Mycobacterium avium, Mycobacterium kansasii, Mycobacterium malmoense and Mycobacterium intracellulare.


Dosage

Tincture: 1 - 3 ml daily (1 - 3 fuller droppers daily)
Infusion (herbal tea): 1 – 2 cups daily.


Contraindications

Contraindicated for patients with hemophilia.

Drug interaction:
May potentiate hypotensive medications.
May potentiate anticoagulant medications.

Side effects:
No known side effects.


Reference

Studies on antimicrobial activity, in vitro, of Physalis angulata L. (Solanaceae) fraction and physalin B bringing out the importance of assay determination.
Silva, M. T., et al.
Mem. Inst. Oswaldo Cruz. 2005 Nov; 100(7): 779-82.

Anticariogenic activity of some tropical medicinal plants against Streptococcus mutans.
Hwang, J. K., et al.
Fitoterapia. 2004 Sep; 75(6): 596-8.

In vitro antimycobacterial activities of Physalis angulata L.
Pietro, R. C., et al.
Phytomedicine 2000; 7(4): 335–38.

Antimycobacterial physalins from Physalis angulata L. (Solanaceae).
Januario, A. H., et al.
Phytother. Res. 2002; 16(5): 445-48.

Plants in Kano ethnomedicine; screening for antimicrobial activity and alkaloids.
Hussain, H., et al.
Int. J. Pharmacol. 1991; 29(1): 51–56.

Antitumor agent, physalin F from Physalis angulata L.
Chiang, H., et al.
Anticancer Res. 1992; 12(3): 837–43.

Inhibitory effects of physalin B and physalin F on various human leukemia cells in vitro.
Chiang, H. et al.
Anticancer Res. 1992; 12(4): 1155–62.

Inhibitory effect of Indonesian plant extracts on reverse transcriptase of an RNA tumour virus (I). Kusumoto, I., et al.
Phytother. Res. 1992; 6(5): 241–44.

Induction of heat-shock response and alterations of protein phosphorylation by a novel topoisomerase II inhibitor, with angulatin A, in 9L rat brain tumor cells.
Lee, W. C., et al.
Cell Physiol. 1991; 149(1): 66-67.

Withangulatin A, a new withanolide from Physalis angulata. Chen, C. M., et al.
Heterocycles. 1990; 31(7): 1371–75.

Phygrine, an alkaloid from Physalis species.
Basey, K., et al.
Phytochemistry. 1992; 31(12): 4173–76.

A new compound, withangulatin A, promotes type II DNA topoisomerasemediated DNA damage.
Juang, J. K., et al.
Biochem. Biophys. Res. Commun. 1989; 159(3): 1128–34

Activity of physalins purified from Physalis angulata in in vitro and in vivo models of cutaneous leishmaniasis.
Elisalva T. Guimarães, Milena S. Lima, Luana A. Santos, Ivone M. Ribeiro, Therezinha B.C. Tomassini, Ricardo Ribeiro dos Santos, Washington L.C. dos Santos and Milena B.P. Soares.


The above presentation is for informational and educational purposes only.
It is based on scientific studies (human, animal, or in vitro), clinical experience, or traditional usage.
For many of the conditions discussed, treatment with prescribed (RX) or over - the - counter medication is also available.
Consult your doctor, practitioner, and / or pharmacist for any health problem and before using dietary supplements or before making any changes in prescribed medications.



For the right freight rate, please visit our Webstore page!