Overview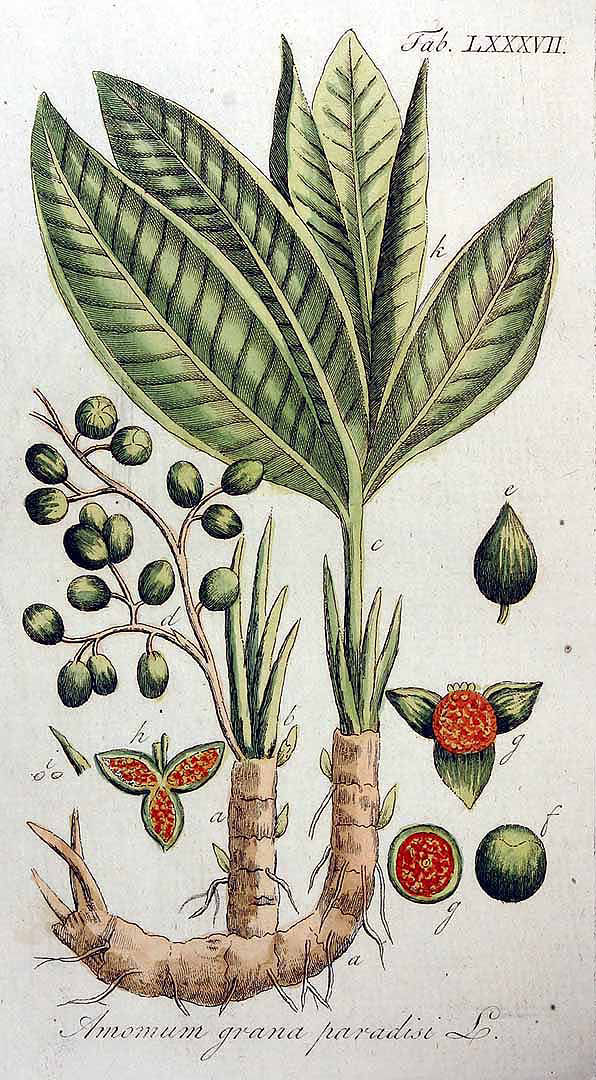 Aframomum Melegueta is an herbaceous perennial plant in the Ginger family; the seeds and rhizomes are used in West African and Surinamese Traditional Medicine.
The rhizomes show antimicrobial and antifungal activity and the herbal dietary supplement (tincture) is effective against schistosomiasis (bilharzia). The leaves are used for the treatment of measles.
It is used as a purgative, galactogogue (increases production of breast milk), anthelmintic- and hemostatic agent (purifies the blood). Also used against intestinal infections and infestations.
The seeds have anti-inflammatory activity with a favorable gastric tolerability profile. It works in a similar way as the well-known anti-inflammatory drugs.
In Africa it is also used for the treatment of leprosy, and to expel tapeworms.


Constituents

Essential oils (Gingerol, Shogaol, Paradol, Gingeredione, Zingerone), alkaloids, cardiac glycosides, tannins, flavonoids, sterols, triterpenes, oils, glycosides, tannins, flavonoids, sterols, resins.


Pharmacology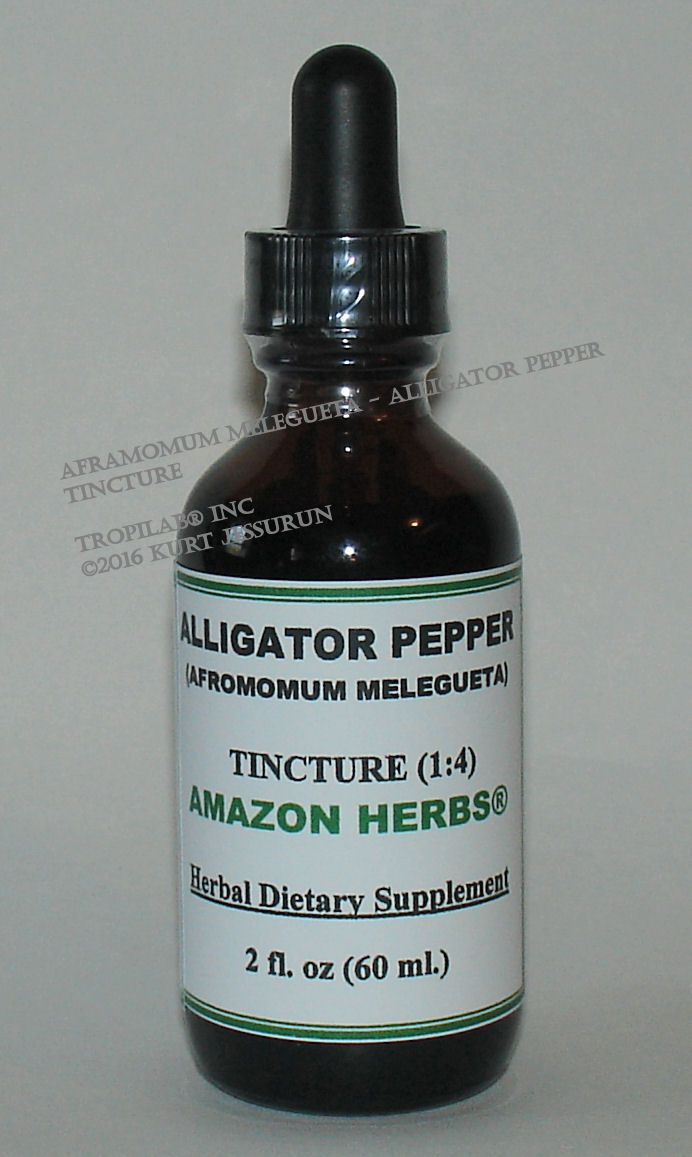 The seeds have general anti-microbial properties similar to many spices; they have molluscicidal and repellant properties as well.
The antimicrobial activity of Aframomum melegueta seed extract compared favorably with that of the drug Streptomycin (Streptomycin sulfate) on tested organisms. Streptomycin is an antibiotic (antimycobacterial) drug with serious side effects.

One study has noted that Aframomum melegueta methanolic and chloroform extracts held cytotoxic potential against PANC-1 pancreatic cancer cells in vitro with IC50 values of 13.8µg/mL and 47.8µg/mL, respectively.

A methanol extract and fractions (pet ether and methanol) of Aframomum melegueta K. Schum (Zingiberaceae) seeds were evaluated for anti-inflammatory activity. An acute toxicity test in mice was used to establish an i.p. LD50 of 2154 mg/kg for the methanol extract. The methanol extract and the pet ether fraction (oil) significantly (P < 0.05) inhibited xylene-induced topical edema in the mouse ear. In contrast, the methanol soluble fraction exhibited no topical anti- inflammatory activity. The methanol extract and the pet ether and methanol fractions had systemic anti-inflammatory activity, significantly (P < 0.05) inhibiting rat paw edema induced by egg albumin. An ulcerogenic assay in rats revealed zero ulcer incidences for the methanol extract and the pet ether and methanol fractions, suggesting a possible non-inhibition of prostaglandin synthesis. Phytochemical analysis of the methanol extract revealed the presence of alkaloids, glycosides, tannins, flavonoids, sterols, triterpenes, and oils, while the methanol fraction contained alkaloids, glycosides, tannins, flavonoids, sterols, and resins. The results indicate that the seeds possess potent anti-inflammatory activity with a favorable gastric tolerability profile.

The oleoresin obtained from Aframomum contains volatile oil, is rich in paradols, gingerols and shogaols (Ghana Herbal Pharmacopoiea). Grains of Paradise (Alligator pepper) is also included in most effective herbal mixes to shrink fibroids; these are non-cancerous (benign) tumors growing from the muscle layers of the uterus.

Biochemist Christopher Okunji of the National Institute of Allergy and Infectious Diseases research has shown that one species of Aframomum has significant antimicrobial activity in laboratory tests. In a published study involving cell cultures, he showed that the plant works against the microbe responsible for the hard-to-treat infection, Methicillin Resistant Staphylococcus Aureus (MRSA). It has reached epidemic levels in some hospitals and other confined places. It is impervious to every penicillin-like antibiotic now available.

Researchers of the Japanese Society of Nutrition have found that Aframomum melegueta has the ability to lower body fat percentage, and decreased waist-hip ratio without any harmful side effects.


Applications

In Ghana, seeds are chewed to cure dysentery, as a sedative against toothache, anti-rheumatism and migraine.
In African Traditional medicine, Atare (alligator pepper) is safely used for males having problems with erectile dysfunction, premature ejaculation and as an aphrodisiac.

Used successfully against MRSA, this is a bacterium resistant to many antibiotics. In the community, most MRSA infections are skin infections. In medical facilities, MRSA causes life-threatening bloodstream infections, pneumonia and surgical site infections.


Dosage

Herbal tincture: 1 - 1 ml. (1 - 2 full droppers daily).
Infusion (herbal tea): 1 - 2 cups daily.


Precaution

Large quantities of alligator pepper pose a health risk to women in their first trimester of pregnancy.
There is risk for adverse drug-drug interactions.


Reference

Phytochemical composition of Aframomum melegueta and Piper guineense seeds.
Ekpo IA, Osuagwu AN, Agbor RB, Okpako EC, Ekanem BE.

In situ Morphometric Characterization of Aframomum melegueta.
K. Schum Accessions in Ghana; J. Amponsah, N. Adamatey, W. Elegba, K. E. Danso.


The above presentation is for informational and educational purposes only.
It is based on scientific studies (human, animal, or in vitro), clinical experience, or traditional usage.
For many of the conditions discussed, treatment with prescription or over-the-counter medication (OTC) is also available.
Consult your doctor, practitioner, and/or pharmacist for any health problem and before using dietary supplements or before making any changes in prescribed medications.