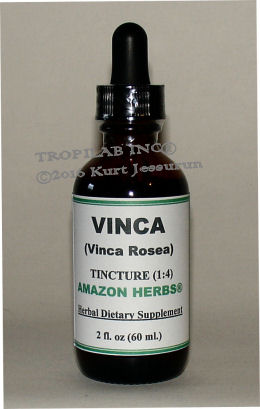 Overview

Vinca (Madagascar periwinkle) has more than 400 known alkaloids!
Some of these are successfully used by the pharmaceutical industry for the treatment of childhood leukemia, Hodgkin's disease, testicular cancer and cancerous tumors.
Taken as a daily herbal supplement, it improves the blood supply to the brain, increases oxygen and glucose for the brain to use. It helps prevent abnormal coagulation of blood and also raises brain levels of the neurotransmitter serotonin.
There are two classes of active compounds in Vinca: alkaloids and tannins.
The major alkaloid is known as vincamine.
A closely related semi-synthetic derivative of vincamine is widely used as medicine and is known as ethyl-apovincaminate or vinpocetine.
It has vasodilating (widens blood vessels), blood thinning, and memory-enhancing actions. It has been shown in double-blind studies to help alleviate a type of dementia known as vascular dementia, in which the arteries supplying blood to the brain develop atherosclerotic plaques.
Extracts of Vinca have significant anticancer activity against numerous cell types.
The greatest activity is seen against multi-drug resistant tumor types which suggest that there are compounds in Vinca rosea that are synergistic or additive with anti-neoplastic elements by inhibiting resistance to them.
In India, leaf extracts are also used for treating external wounds. It increases wound contraction and tensile strength along with antimicrobial activity.

Vinca herbal tincture is an extract from the whole plant and does not contain isolated alkaloids or tannins.


Constituents

The two classes of active natural compounds in Vinca are alkaloids and tannins.
Over 130 constituents with an indole or dihydroindole structure; including the principal component vindoline; vincaleukoblastine (vinblastine), 22 - oxovincaleukoblastine (vineristine), reserpine, serpentine, vincamine, alstonine, leurocristine, ajmalicine, vinine, vinomine, vinoxine, vintsine, leurosine.


Pharmacology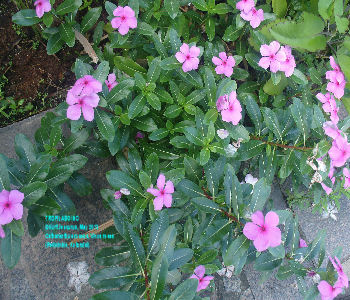 The hypoglycemic activity of alkaloids isolated from Catharanthus roseus have been studied pharmacologically and a natural remedy, derived from the plant, has been marketed under the proprietary name Vinculin® as a treatment for diabetes.
Alcoholic whole plant extracts at high dose (500 mg/kg) exhibited significant antihyperglycemic activity and has absence of acute toxicity. The extract effectively reverses the changes in the blood sugar level and the beta-cell population. The exact phyto-constituents responsible for the antidiabetic effect, are not known yet.

Two chemotherapy drugs are: Vinblastine (scientific name vincaleukoblastine) and Vincristine (scientific name 22-oxovincaleukoblastine) are marketed. These dimeric indole alkaloids are cytotoxic and target sites in cell division thus preventing mitosis to proceed. Although for a normal person, this action of the vinca alkaloids can be toxic but they are helpful agents in stopping the division of cancerous cells.

Vinca alkaloids are extensively used in the prevention and treatment of cancer. The two common cancer treatment drugs (chemotherapy) from Lilly Velban® and Oncovin® are produced from vinblastin and vincristine respectively.
The side effects when using these drugs can be serious though.


Applications

Vinca tincture has many health benefits!
Prevention of various forms of cancer, cancer treatment, anti-diabetic, stomachic, reduces high blood pressure and relieves anxiety. It has tranquilizing properties and is externally used against nose bleeding, sore throat and mouth ulcers.


For more information on Vinca, go to the "Vinca plant" page.


Precautions

Side effects from oral use are mild, only experienced by a small number of people, and disappear after the supplement has been taken for a while. These side effects may include: nausea, vomiting, and other stomach and intestinal symptoms.
Vinca should not be taken by women who are or may become pregnant or are breast feeding.
There are no well-known drug interactions with Vinca but cancer patients should avoid using St-John's wort with it.
Also, it should not be used continuously for any treatment.


Dosage

Tincture: 1 - 2 ml/ 3 times daily
Infusion (herbal tea): 2 - 3 cups daily.
Supervision of a trained herbalist is strongly advised.


References

A comparative evaluation of some blood sugar lowering agents of plant origin
J Ethnopharmacol 67:367–72, 1999.
Chattopadhyay RR, Sarkar SK, Ganguli S, et al. (1991)

Hypoglycemic and antihyperglycemic effect of leaves of Vinca rosea Linn
Indian J Physiol Pharmacol 35, 145-51.
Chattopadhyay RR, Sarkar SK, Ganguli S, et al. (1992)

Anti-inflammatory and acute toxicity studies with leaves of Vinca rosea Linn in experimental animals
Indian J Physiol Pharmacol 36:291–2.
Elgorashi EE, Taylor JLS, Maes A, et al. (2003)

Screening of medicinal plants used in South African traditional medicine for genotoxic effects.
Toxicol Lett 143:195-207
El-Sayed A, Cordell GA (1981)

Catharanthus alkaloids. XXXIV. Catharanthamine, a new antitumor bisindole alkaloid from Catharanthus roseus
J Nat Prod 44(3):289-293.
El-Sayed A, Handy GA, Cordell GA (1983)

Catharanthus alkaloids, XXXVIII. Confirming structural evidence and antineoplastic activity of the bisindole alkaloids leurosine-N'b-oxide (pleurosine), roseadine and vindolicine from Catharanthus roseus
J Nat Prod 46(4):517-527.
Ghosh RK, Gupta I (1980)

Effect of Vinca rosea and Ficus racemososus on hyperglycemia in rats.
Indian J Animal Health 19:145–8.
Haque N, Chowdhury SA, Nutan MT, et al. (2000)

Evaluation of antitumor activity of some medicinal plants of Bangladesh by potato disk bioassay
Fitoterapia 71(5):547-552.
Singh SN, Vats P, Suri S, et al. (2001)

Effect of an antidiabetic extract of Catharanthus roseus on enzymic activities in streptozotocin induced diabetic rats
J Ethnopharmacol 76:269-277
Ueda JY, Tezuka Y, Banskota AH, et al. (2002)

Antiproliferative activity of Vietnamese medicinal plants
Biol Pharm Bull 25(6):753-760.
Wang S, Zheng Z, Weng Y, et al. (2004)

Angiogenesis and anti-angiogenesis activity of Chinese medicinal herbal extracts
Life Sci 74(20):2467-478 .
Zheng W, Wang SY (2001)

Antioxidant Activity and Phenolic Compounds in Selected Herbs
J. Agric Food Chem 49:5165-5170.

A flavonol O-methyltransferase from Catharanthus roseus performing two sequential methylations Sabrina Cacacea.
Gudrun Schrödera, Elke Wehingera, Dieter Strack, Jürgen Schmidt and Joachim Schröder.
Institut für Biologie II, Universität Freiburg, Schänzlestr. 1, D-79104, Freiburg, Germany. ** Institut für Pflanzenbiochemie, Weinberg 3, D-06120, Halle (Saale), Germany.



The above presentation is for informational and educational purposes only.
It is based on scientific studies (human, animal, or in vitro), clinical experience, or traditional usage.
For many of the conditions discussed, treatment with prescribed (RX) or over - the - counter (OTC) medication is also available.
Consult your doctor, practitioner, and/or pharmacist for any health problem and before using dietary supplements or before making any changes in prescribed medications.




For the right freight rate, please visit our Webstore page!