Overview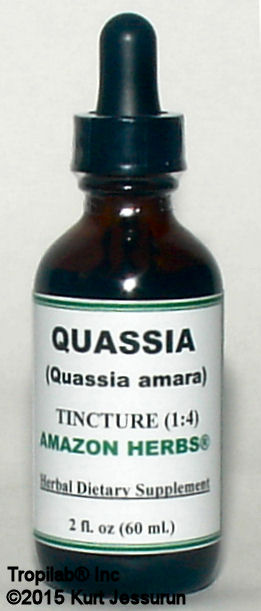 Quassia an indigenous plant from the Amazon rainforest, is used to treat nausea (stomach upset), loss of appetite, worm- and parasite infections as well parasite- and bacterial infections in the liver.
In Traditional Medicine in Suriname, Quassia is used for carcinoma, debility, dyspepsia, gout, fever, heptoses, hyperglycemia, malaria*, snakebite and spasms. The bark and wood are considered to be aperitif, depurative, insecticidal, laxative, stomachic, tonic, blood cleanser and vermifuge (destroys or expels parasitic worms).
One of its traditional uses is as a natural insecticide and it is effective against lice and skin parasites.
For many centuries Quassia was the most famous and effective fever remedy in the world, until the appearance of synthetic drugs.
Quassia effectively lowers fevers. It can also be used in such cases as anorexia nervosa and digestive sluggishness; it is also a powerful digestive bitter.
It has potential for use as a natural anti-fertility agent; extract of the bark has potential for use as a natural anti-fertility agent.
Quassia is very effective as a liver and pancreatic support.
It is useful in the treatment of liver cirrhoses with Aszitis, Icterus, and Cholangitis. Used against stomach, gallbladder and other digestive problems. Quassia amara promotes gallbladder, liver, and other digestive functions; used to treat liver and gallbladder diseases or intestinal parasites.
It is also very effective as an anti-malaria* remedy (curative and preventive).

Phytochemicals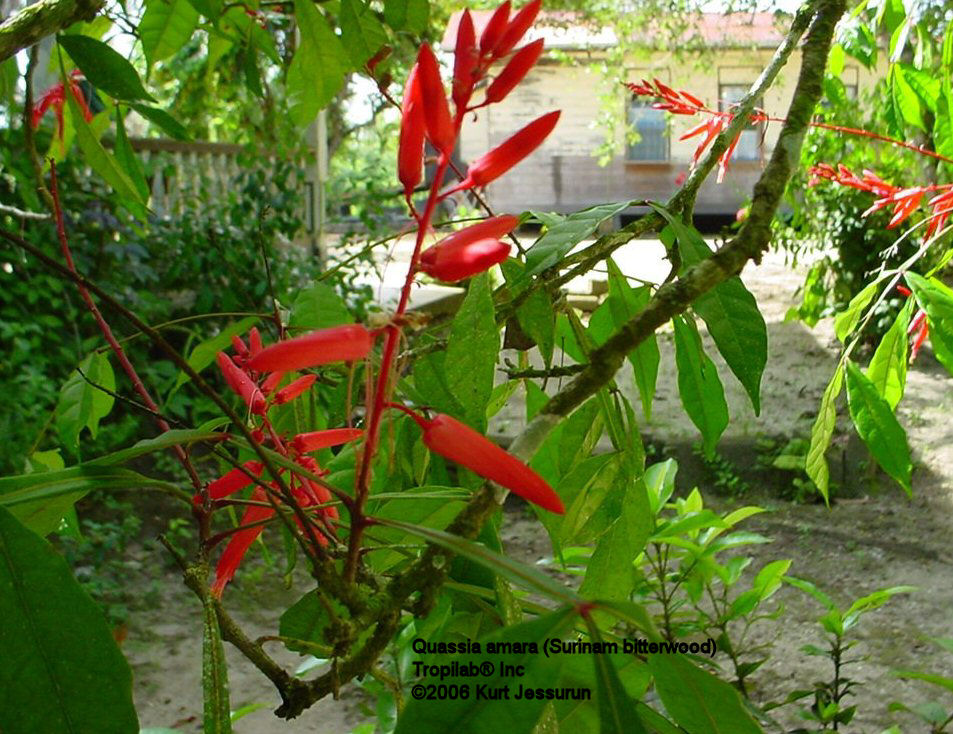 Quassinoids (quassimarin, quassol, quassin, neoquassin, isoquassin, 18- hydroxyquassin, quasinol), alkaloids, beta-sitostenone, beta-sitosterol,calcium tartrate, gallic acid, mallic acid, potassium acetate, simalikalactone D.,simalikalactone E (SkE), indole alkaloids. Also: coumarin, amarid 18-oxyquaxin, picrasin K, picrasin I, and picrasin J.
A novel compound from the wood bark also is an effective treatment for gastric ulcers (Toma et al., 2002).
Three ß-carboline alkaloids [1-vinyl-4,8-dimethoxy-ß-carboline (1), 1-methoxycarbonyl-ß-carboline (2), and 3-methylcantin-2,6-dione (3)].

Pharmacology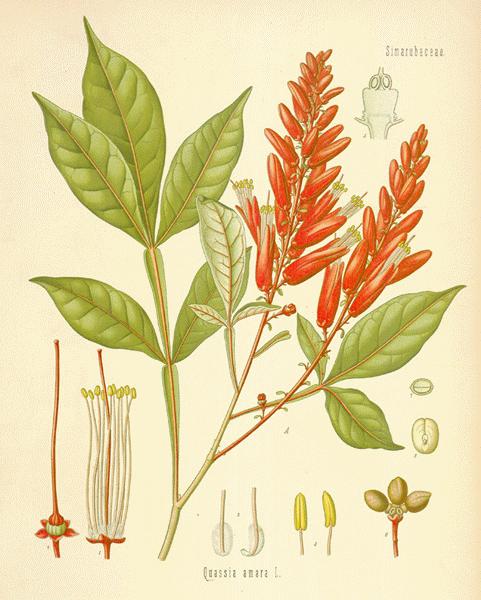 The bark contains many phytochemicals, which are 50 times bitterer than quinine. Amargo contains the phytochemical quassin, the bitterest substance found in nature. The bitterness threshold is 1:60.000! It is utilized for stomach, gallbladder, digestive problems.
Quassiamarin, a phytochemical that has demonstrated antileukemic - and anti-tumorous properties is also found in this plant. Antibacterial and antifungal properties of this plant are impressive and higher than the drugs Ampicillin (Principen) and Tioconazole (Vagistat-1).

Antifertility activity of Quassia amara in male rats - in vivo study.
In a crude methanol extract of the stem wood of Quassia amara. Quassin appears to be the antifertility principle.
Quassimarin and simalikalactone D. constituents from Quassia amara suppress the growth of a panel of human tumor cell lines. They are significantly active, with ED50 values in the range of 0.26-0.012 g/mL.
Simalikalactone D and E seem to be very effective as both an antimalarial and an anticancer agent.
SkE was found to be less toxic than simalikalactone D (SkD).
Its biological activity is comparable with Artemisinin (active constituent of the herb Artemisia annua), a very strong antimalarial agent.
Malaria is the world's most widespread disease.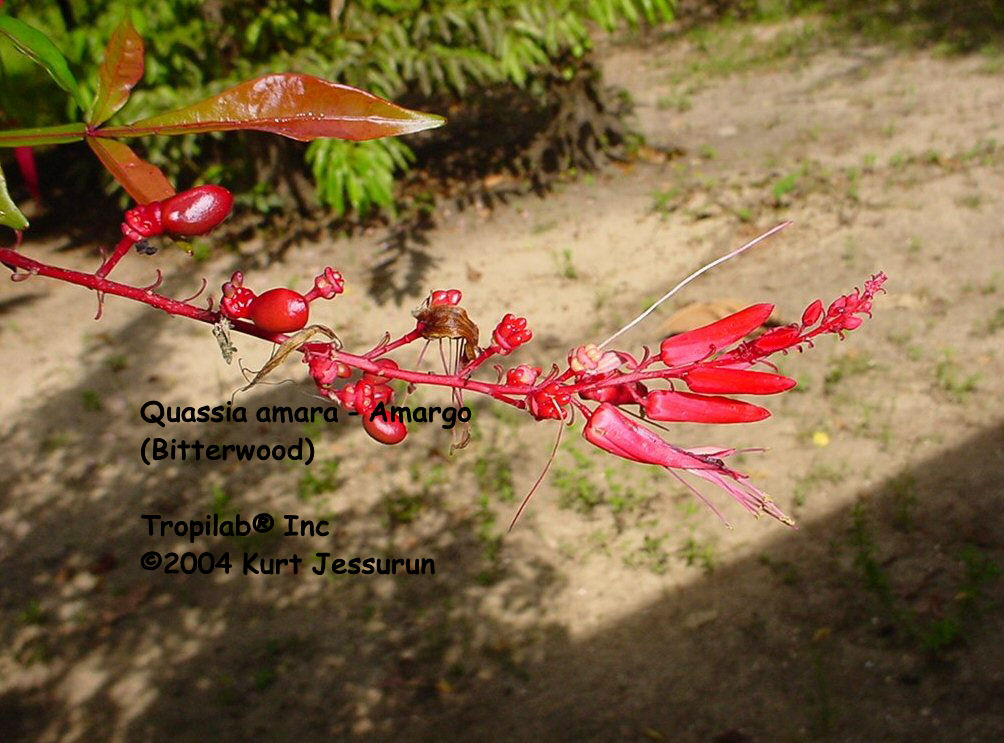 In some studies, an extract of the resin, quassimarin, has been reported by researchers to be of possible value against leukemia (blood cancer).

One of the most important active ingredients, quassine, accounts for 60% of the quassinoides (bitter taste) of its composition. Quassin activates the mucus and facilitates normal secretion; it stimulates the muscles of the digestive tube and bile secretion.

Anti-Ulcerogenic: extracts (Lipro(®) and Ligas(®)) showed an important anti-ulcerogenic effect in acute ulcer induction models. This effect was probably related to an increase in gastric barrier mucus and non-protein sulfhydril groups.

Dosage

Tincture: 0.5- 3 ml. twice a day (0.5 - 3 full pipettes in water)
Cold infusion: a whiskey shot-glass daily
Make 1 cup: 2 - 3 heaped tsp. with hot- but not boiling water; let stand for an hour and take from this.

Precaution

Quassia is listed as generally regarded as safe (GRAS) by the FDA.
Do not use during pregnancy (may cause uterine colic).
Large amounts can irritate the mucous membrane of the stomach; this can lead to nausea and vomiting.
Interactions with other drugs: none are reported but it may interfere with male fertility drugs.

For more information on Quassia, go to the "Quassia amara" page.

See also "Medicine from nature" page for more.


*Malaria: a mosquito-borne infectious disease caused by eukaryotic protists of the genus Plasmodium.
Severe disease is caused by Plasmodium falciparum; disease caused by Plasmodium vivax, Plasmodium ovale and Plasmodium malaria is milder and rarely fatal.


Reference

Antimalarial remedies in French Guiana: a knowledge attitudes and practices study.
Vigneron M, Deparis X, Deharo E, Bourdy G.

Antibacterial and antifungal activities of Quassia undulata and Quassia amara extracts in vitro.
Ajaiyeoba EO, Krebs HC.

DIRECT AND INDIRECT SOMATIC EMBRYOGENESIS ON COTYLEDON EXPLANTS OF QUASSIA AMARA L., AN ANTILEUKAEMIC DRUG PLANT.
K.P. MARTIN¹, JOSEPH MADASSERY¹,
Department of Pharmacognosy, Faculty of Pharmacy, University of Ibadan, Ibadan, Nigeria. cdajaiyc@yahoo.com

Quassinoid constituents of Quassia amara L. leaf herbal tea. Impact on its antimalarial activity and cytotoxicity.
Emeline Houël, Stéphane Bertani, Geneviève Bourdy, Eric Deharo, Valérie Jullian, Alexis Valentin, Séverine Chevalley and Didier Stien.

Antimalarial activity of simalikalactone E, a new quassinoid from Quassia amara L. (Simaroubaceae).
Cachet N, Hoakwie F, Bertani S, Bourdy G, Deharo E, Stien D, Houél E, Gornitzka H, Fillaux J, Chevalley S, Valentin A, Jullian V.
Laboratoire de Pharmacochimie des Substances Naturelles et Pharmacophores Redox, UMR 152, UPS, Université de Toulouse, 118 Route de Narbonne, F-31062 Toulouse Cedex 9, France.


The above presentation is for informational and educational purposes only.
It is based on scientific studies (human, animal, or in vitro), clinical experience, or traditional usage.
For many of the conditions discussed, treatment with prescribed (RX) or over - the - counter medication (OTC) is also available.
Consult your doctor, practitioner, and/or pharmacist for any health problem and before using dietary supplements or before making any changes in prescribed medications.



For the right freight rate, please visit our Webstore page!