MIMOSA PUDICA L. - SLEEPING GRASS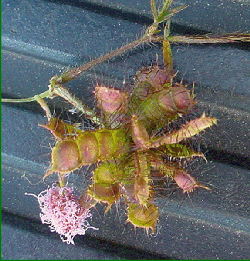 Common name
Tintar mani, Tottavati, Shame weed, Mustahi-yah, Lajjavati, Lajwanti, Chui-Mui, Adoribon, Nilajbon, Kajak, Lajak, Lajjabati, Lajjala, Lajjalu, Sensitiva, Hadergitte, Lojja, Lajjika, Mahabhita, Prasarini, Shamipatra, Sprikha, Tamra, Svagupta, Hinnidikumba, Nidikumba, Matavirgen, Mirame y no me togues, Kasirottam, Samangai, Totta churungi, Mumghutamara, Peddanidrakanti, Lajkur, Najuko, Dedhasurobarasuni, Anjalikaraka, Kandiri, Gondamalika, Asrarodhani, Lajouny, Tottasiningi, Lajalu, Lajri, Mudugudavara, Bash ful mimosa, Humble plant, Toddachimunki, Toddavodikkodi, Herbe Chaste, Herbe pudique, sensitive plant, sleeping grass, shame plant, dormilona.
Family
Fabaceae (Mimosaceae).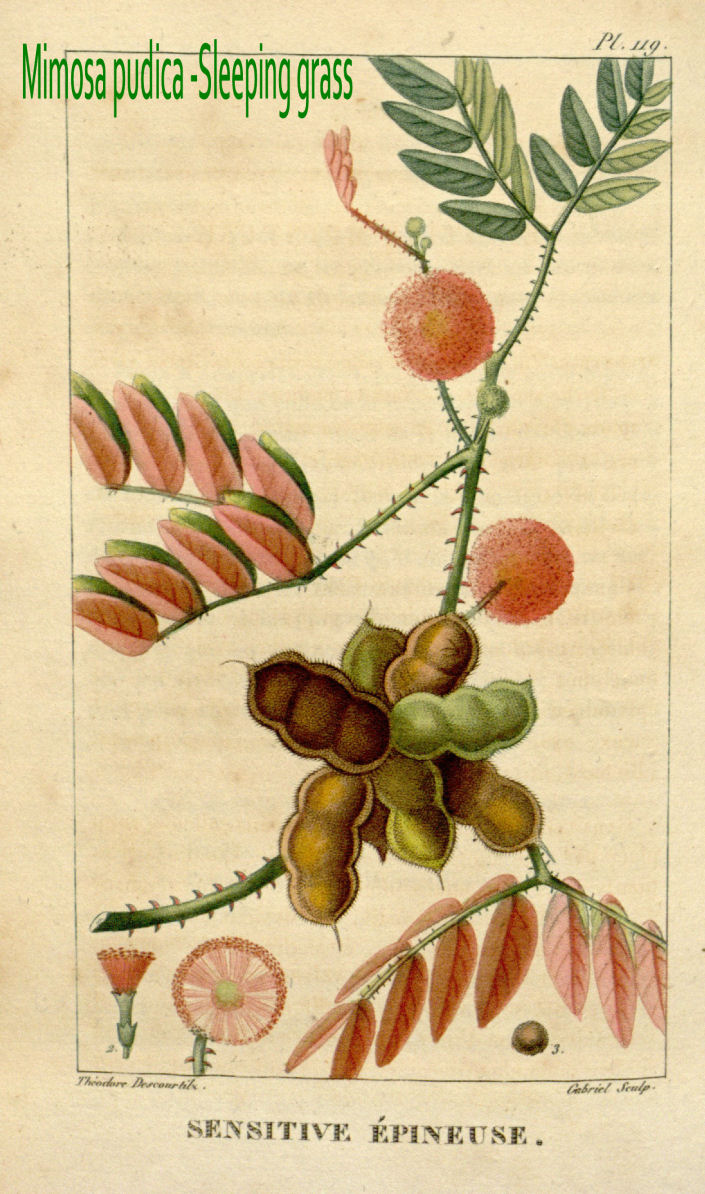 Overview
A tropical perennial, native to Surinam, growing up to a height of 6 feet.
Sleeping grass has seismonastic movements (the bipinnate leaves close-up and droop when touched but reopen after a few minutes).
The flowers are globose, yellow or purple.
The seeds are in seedpods (capsules) and contain small, rounded brown seeds.

For more information go to the APPLICATIONS & DOSAGE page.
Visit also our CHOLESTEROL -, DIABETES - , HYPERTENSION - and TINCTURE pages.


Hardiness
USDA zone 9 - 11.
Propagation
Seeds and cuttings.
Culture
Full sun / partial shade, well drained, moist soil, but also on poor soils.
An ornamental plant that can also be grown indoors in pots or outdoors as an annual in the cooler zones (zone 2 - 8).