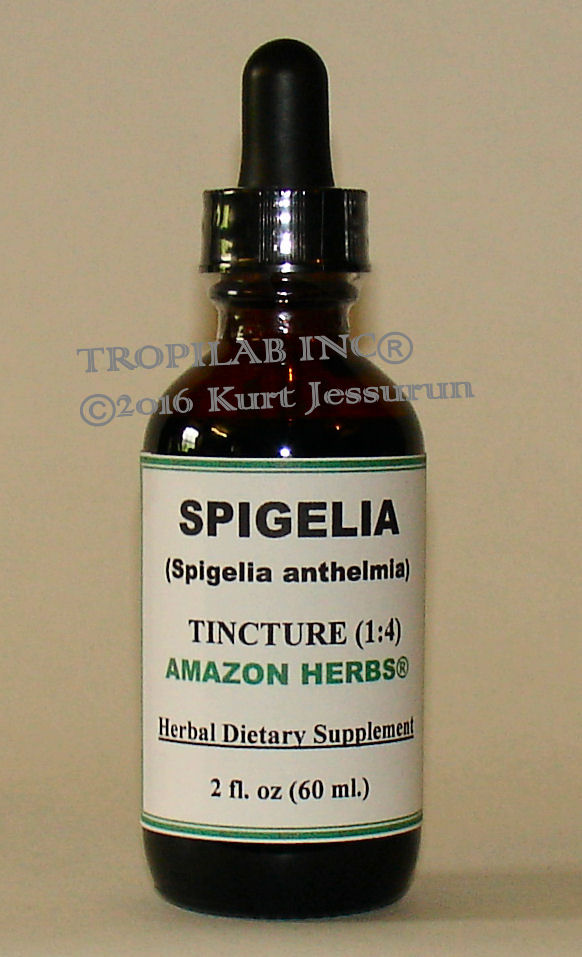 Overview

Spigelia (Demerara pinkroot) is a powerful natural anthelmintic (expel parasitic worms and other internal parasites from the body). It also exerts a powerful action on the nervous system and is known primarily in homeopathy as a medicine for left-sided face pain.
It has marked elective affinity for the eye, heart, and nervous system. Neuralgia of the fifth nerve is very prominent in its effects and is adapted to anemic, debilitated, rheumatic, and scrofulous subjects.
It also has an important role in cardiac remedy and it is a major natural drug for pericarditis*.


Constituents

General: alkaloids, tannins, saponins, steroids, phlobatannin, flavonoids, cardic-glucoside.
Spiganthine, ryanodine, 20-Deoxyspiganthine; 8a-Hydroxyspiganthine; 20-Norspiganthine-5-carboxylic acid; Ryanodine; 10-epi-Ryanodine; 8,9-Dehydro-10-epi-ryanodine; 20-Hydroxyryanodine
Detailed phytochemical analysis of extracts of the aerial parts of Spigelia anthelmia L. yielded 20 structurally related new compounds, besides spiganthine and ryanodine.


Pharmacology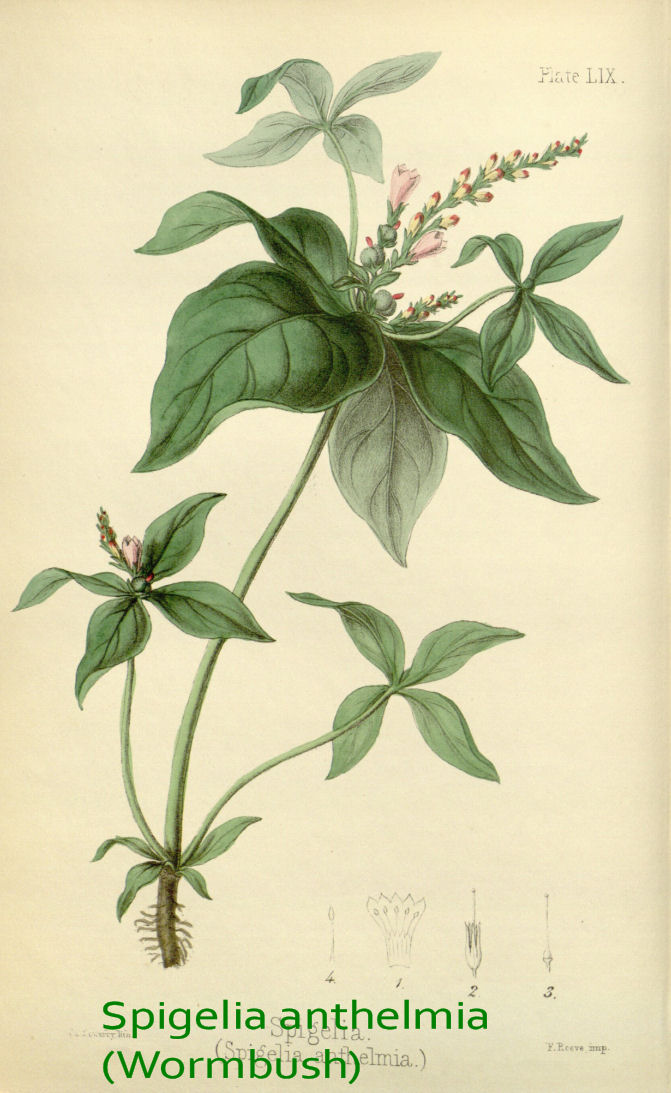 Spiganthine was isolated as the main cardioactive principle from medicinally used extracts of Spigelia anthelmia.
The biological effect of spiganthine is characterized by a delay in contraction development of the heart muscle.
Alkaloids from Demerara pinkroot make it an effective homeopathic drug against heart disease. Other heart problems, such as heart murmurs (abnormal heart sounds), rheumatic heart disease, angina (chest pain), and valve disorders have also been managed.
It can help relieve chest pain (angina pectoralis), especially that which extends into the chest, arms, and throat as well.


Applications

(Rheumatic) pericarditis, endocarditis, rheumatic ophthalmia and facial neuralgia.
Used in rheumatic fever, with little inflammatory swelling of the joints. Also in violent palpitations arising from mitral and aortic disease.
Spigelia has narcotic properties, and can help ease the pain associated with the eyes and teeth.
Used as a vermifuge (remedy for worms).


Dosage

Tincture: check with your homeopath or herbalist.
Infusion (herbal tea): same.


*The pericardium is a thin layer of tissue that covers the outer surfaces of the heart.
It helps to hold the heart in place; prevents excessive movement of the heart in the chest, protects the heart from infections and tumors that develop in it and may spread from adjacent tissues. It may help keeping the heart from enlarging. Inflammation of the pericardium is called pericarditis.

Precaution

As a remedy; only to be used under supervision of a homeopath or herbalist.



For more information on Spigelia, go to the "Spigelia plant" page.


Reference

Spiganthine, the cardioactive principle of Spigelia anthelmia.
Achenbach H, Hubner H, Vierling W, Brandt W, Reiter M.
Neuromuscular effects and acute toxicity of an ethyl acetate extract of Spigelis anthelmia Linn.
Camurca-Vasconcelos, A.L.F., Nascimento, N.R.F., Sousa, C.M., Melo, L.M., Morais, S.M., Bevilaqua, C.M.L., Rocha, M.F.G.
Journal of Ethnopharmacology
Minor constituents of Spigelia anthelmia and their cardiac activities.
Hubner H, Vierling W, Brandt W, Reiter M, Achenbach H.
Department of Pharmaceutical Chemistry, University of Erlangen, Germany. Huebner@pharmazie.uni-erlangen.de
Spiganthine, the cardioactive principle of Spigelia anthelmia.
Achenbach H, Hubner H, Vierling W, Brandt W, Reiter M.
Institut fur Pharmazie und Lebensmittelchemie der Universitat Erlangen, Germany.
Anthelmintic efficacy of extracts of Spigelia anthelmia Linn on experimental Nippostrongylus braziliensis in rats.
Olorunfemi Cornelius Jegede¹,*, Joseph Ologunja Ajanusi², Ambrose. O. Adaudi¹, Rowland I. S. Agbede²

The above presentation is for informational and educational purposes only.
It is based on scientific studies (human, animal, or in vitro), clinical experience, or traditional usage.
For many of the conditions discussed, treatment with prescribed (RX) or over - the - counter (OTC) medication is also available.
Consult your doctor, practitioner, and/or pharmacist for any health problem and before using dietary supplements or before making any changes in prescribed medications.



For the right freight rate, please visit our Webstore page!