PIPER ADUNCUM. - SPIKED PEPPER.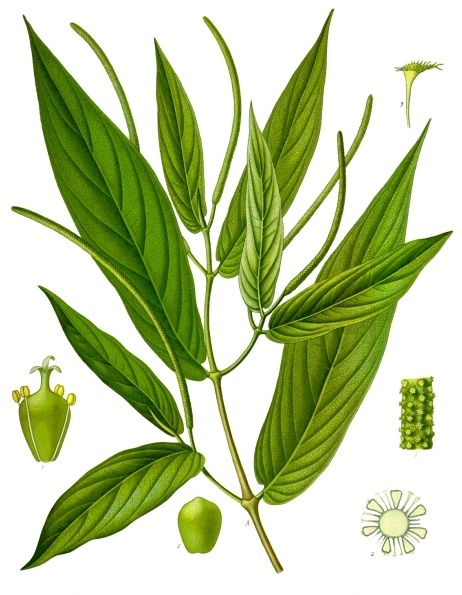 Common name
False matico, higuillo de hoja, man anesi wiwiri, matico, menuda, spiked pepper.
Family
Piperaceae (Pepper family).

Overview
This is a small, flowering tropical tree, erect branches with drooping twigs; indigenous to Suriname. It grows up to 21 feet tall.
Camphor and camphene are the main constituents.
The bright lance-shaped leaves are green and alternate elliptical, 4 - 10 inch long.
The spikes are flexible, 5 - 7 inches long.
The fruit is a one seeded berry; these small seeds are black.
Spiked pepper has a strong flavor, has the same chemical properties as Matico (Piper angustifolium) and is at sight almost identical.

Medicinal applications
Used as a aromatic bitter stimulant, against gonorrhea, leucorrhea, piles, hemorrhages and dyspepsia.
Locally, in South America, it is used as a styptic and astringent for wounds.
It is also applied to ulcers.
Visit also our APPLICATION & DOSAGE -, CHOLESTEROL -, DIABETES - , HYPERTENSION - and TINCTURE pages.

Hardiness
USDA zone 9 - 11.
Propagation
Seeds and cuttings.
Culture
Full sun / light shade, sandy loam soil, needs high humidity.
Plant in frost free areas.