Overview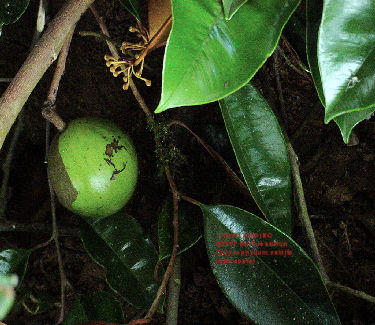 In Suriname's Traditional Medicine, an extract of the rind of the Star apple is taken as a pectoral. The peel (rind) may be red-purple, dark-purple, or pale-green. In purple fruits the inner rind is dark purple and in green fruits it is white.
An extract of the bark is used as a tonic and stimulant, and is taken to halt diarrhea and dysentery; the leaves and fruit are also used.
In Brazil, the latex of the tree is applied on wounds and when dried and powdered, is given to cure worm infestation in the body.


Constituents

The volatile constituents of the star apple, (E)-2-hexenal, 1-hexanol, limonene, linalool, a-copaene and hexadecanoic acid were found to be the major constituents.
Nine known polyphenolic antioxidants, (+)-catechin (1), (-)-epicatechin (2), (+)-gallocatechin (3), (-)-epigallocatechin (4), quercetin (5), quercitrin (6), isoquercitrin (7), myricitrin (8), and gallic acid, have been identified from the fruits. Of these nine antioxidants, 2 is present in the highest concentration in star apple fruits (7.3 mg/kg fresh weight), and 5 showed the highest antioxidant activity.
Extract from the dried leaves identified six substances: a-amirin, gallic acid, myricitrin, quercitrin, (-)-epigallocatechin and (-)-epigallocatechin-3-Ο-gallate.


Pharmacology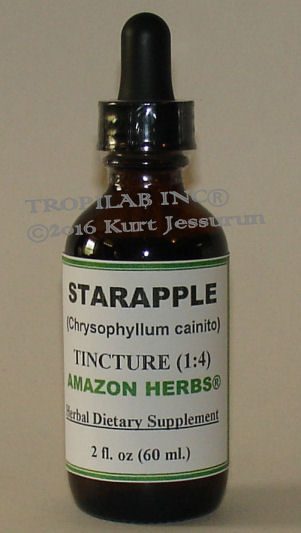 The edible fruit of star apple was extracted in methanol and subjected to solvent-solvent partitioning to yield three fractions, hexane, ethyl acetate, and aqueous. The semi-purified fractions exhibited high antioxidant capacity. Cyanidin-3-O-ß-glucopyranoside, an anthocyanin antioxidant, was identified from semi-purified aqueous fractions of the tropical fruit star apple (Chrysophyllum cainito).

A preliminary study on the relaxant effect of the crude extract and fractions of the bark in isolated rat thoracic aorta. Methanolic bark extract study on rats showed vasorelaxant activity (decrease of vascular pressure) on the smooth muscle.
The fruit has anti-oxidant properties.

Plant samples of 178 species and 62 families were studied for lectin activity. Potent lectins (carbohydrate-binding proteins), possessing more than 100,000 unites per gram, were found in the fruits extracts.
Lectins are protein type that bind to the membrane of cells. In plants they are a defense against microorganisms, pests, and insects. In humans they play a role in immune function, cell growth, cell death, and body fat regulation.


Applications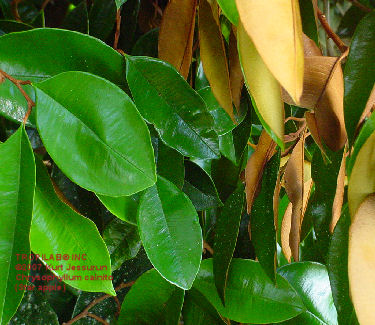 Infusions (herbal teas) of the leaf are used against diabetes and articular rheumatism (arthritis). A decoction of the rind, or of the leaves, is taken as a pectoral (medicine for relieving disorders of the chest or respiratory tract).


Dosage

Tincture: 1 - 4 ml. (1 - 4 full droppers) daily.
Infusion (herbal tea): 1 - 2 cups daily.


Precaution

None


Reference

Polyphenolic antioxidants from the fruits of Chrysophyllum cainito L. (star apple).
LUO Xiao-Dong; BASILE Margaret J.; KENNELLY Edward J.

Star Apple.
In: Fruits of warm climates; pp. 408–410. Julia F. Morton, Miami, FL.



The above presentation is for informational and educational purposes only.
It is based on scientific studies (human, animal, or in vitro), clinical experience, or traditional usage.
For many of the conditions discussed, treatment with prescribed (RX) or over - the - counter (OTC) medication is also available.
Consult your doctor, practitioner, and/or pharmacist for any health problem and before using dietary supplements or before making any changes in prescribed medications.