SCOPARIA DULCIS L. - BROOMWEED.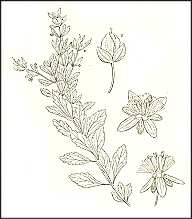 Common name
Broomweed, bitterbroom, riceweed, sweetbroom, vassourinha, licoriceweed, sibi wiwiri, ye gan cao.
Family
Scrophulariaceae (Figwort family).

Overview
Broomweed is a common annual herb in Suriname growing up to 2' in height.
It has serrated leaves and many small white flowers.
Vassourinha is used against menstrual disorders (stimulates menstruation), dysentery and fever.
It has many other applications in herbal medicine in tropical countries: abortifacient, contraceptive, analgesic, diabetes, expectorant, diarrhea, emmenagogue, stomach diseases, mucolytic, depurative and dysmenorrhea (painful mestruatrion).
Used in Brazilian folk medicine to treat bronchitis, gastric disorders, hemorrhoids, insect bites and skin wounds. An extract preparation is used for washing wounds.

Pharmacology
Resent research is done on a powerful phytochemical called scopadulcic acid B.
This phytochemical inhibit the growth of tumors in mice and in a test tube.

In Suriname's traditional medicine, a mixture of scoparia dulcis and casia alata is used against filariasis, dysentery; it is also used as an aphrodisiac.
Visit also our APPLICATION & DOSAGE, CHOLESTEROL -, DIABETES - , HYPERTENSION - and TINCTURE pages.

Hardiness
USDA zone 8 A - 11.
Propagation
Seeds and cuttings.
Culture
This plant needs full sun and well drained soil.
Plant in frost free spots or after the danger of frost has past.