STACHYTARPHETA CAYENNENSIS - VERBENA.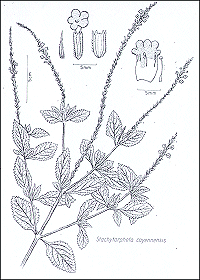 Synonym
Stachytarpheta indica, Marginata, verbena jamaicensis, stachytarpheta jamaicensis, stachytarpheta villosa.
Common name
Verbena, blue snakeweed, Brazilian tea, gervao, verbena azul, Cayenne snakeweed, blue porter weed, auoiuoi, yulong.
Family
Verbenaceae (Verbena family).



Overview
Verbena is a small weedy perennial herb growing up to no more than 3' high.
It has tiny purple flowers along a curled spike and a variable hair grow.
Blue porter weed attracts bees and butterflies.
Verbena, or gervao, has spasmogenic and vasodilator activity; also anthelmintic and lavacidal properties.
The plant is believed to be an emmenagogue (to stimulate menstruation)

Suriname's traditional medicine
The whole plant of verbena is used as a tea against bronchitis and also against gonorrhea.
The leaves are used as a styptic, a diuretic and a vermifuge.
Visit our APPLICATION & DOSAGE -, CHOLESTEROL -, DIABETES - , HYPERTENSION - and TINCTURE pages.

Hardiness
USDA zone 9 B - 11.
Propagation
Seeds and cuttings.
Culture
Full sun / partial shade, grows on moist sandy loam.
In the cooler zones, it can be kept as an annual.