Overview and Applications

Abuta, also called Velvet leaf, Patha or Laghu patha, is a woody vine (liana) indigenous to the Amazon rainforest. All parts of this plant are applied in Traditional Medicine of the indigenous people from the Amazon rainforest.
In South America it is referred to as "midwife's herb" since it is used to manage a variety of women's complaints during pregnancy and childbirth (easing childbirth).
Traditionally used by South American Indians against reproductive tract conditions such as an emmenagogue (menstrual flow stimulant) and antispasmodic (relieving menstrual cramps and pain).
Also used as an excellent herbal dietary supplement to halt abortion; it halts miscarriage; relieves heavy menstrual bleeding, and halts uterine hemorrhages (bleeding) after childbirth.
Other uses include: works against premenstrual syndrome (PMS), excessive bleeding, and fibroid tumors; maintaining hormonal balance, increasing urine flow (diuretic) and to loosen phlegm (expectorant).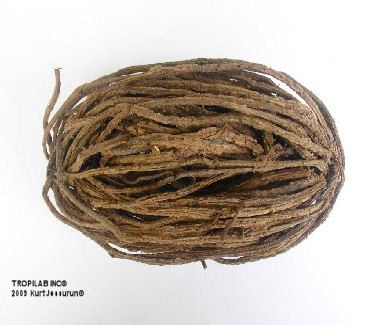 Constituents

This plant containes about 40 alkoloids.
Chalcone flavone (cissampeloflavone), non phenolic alkaloids (tropoloisoquinoline, isoimerubrine Pareirubrines A and B), skeleton alkaloids, (grandirubrine and isoimerubrine, hayatinin methochloride.
Roots contain protoberberine alkaloids (hayatidin and hayatin). Phenolic alkaloids (subsessiline, an oxoaporphine, and telitoxine, azafluoranthene) and one non-phenolic isoimerubrine, (a tropoloisoquinoline).


Pharmacology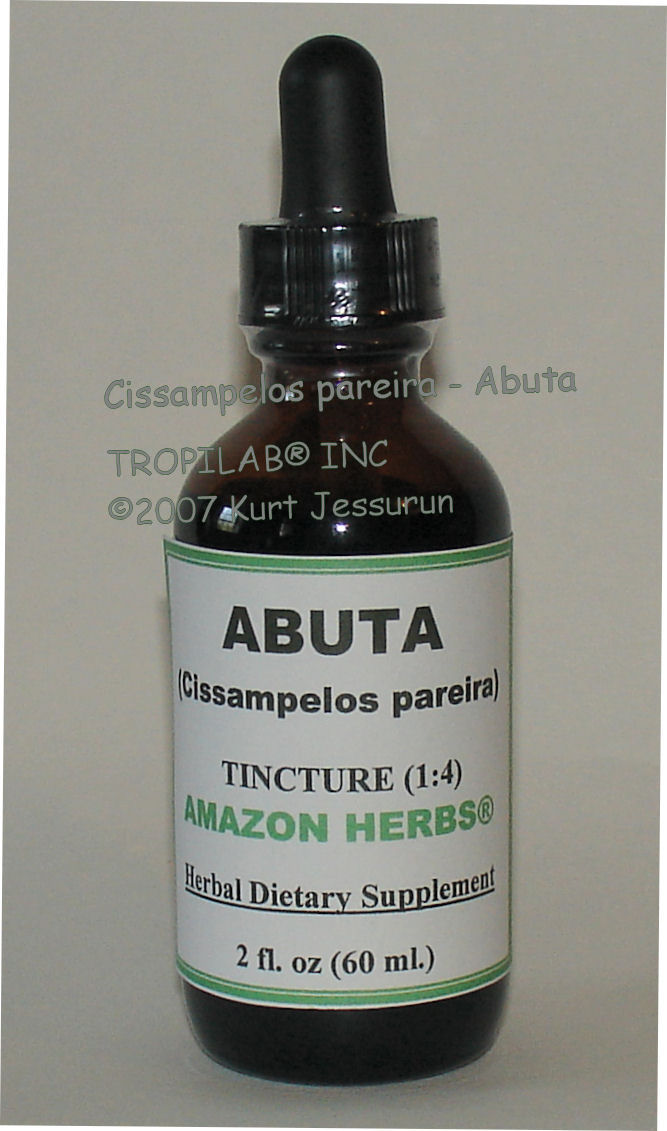 The enhanced GSH (glutathione) level and enzyme activities involved in xenobiotic metabolism and maintaining antioxidant status of cells, are suggestive of a chemopreventive efficacy of Cissampelos pareira (Abuta) against chemotoxicity, including carcinogenicity.

The use of C. pareira is almost limited to the halt of discharges from the urino-genital mucous membrane.
Sexually transmitted diseases (STD's) such as gonorrhea, syphilis, chlamydia and leucorrhoea (thick, whitish or yellowish vaginal discharge).
Chronic inflammation of the bladder (interstitial cystitis or IC) is also naturally handled with it.

Ethanolic extracts of Cissampelos pareira (Abuta) roots have been examined in various acute and chronic ulcers.
The flavonoid Quercetin isolated from C. pareira, showed significant antiulcer properties against gastric ulcers. In chronic ulcers, C. pareira significantly reduced naturally the ulcer index with decreased perforations after 5- and 10-day therapy. Abuta also greatly enhanced the defense factors while significantly reducing the ulcer index.

C. pareira handled liver samples, showed the ability of Abuta to naturally avoid hepatocellular necrosis (form of liver cell injury which results in the premature death of cells in living liver tissue).
The anti-hepatotoxic properties of Abuta should provide useful information in the possible application in hepatotoxicity (implies chemical-driven liver damage). Studies give scientific evidences to support the many traditional uses of this plant as claimed in folklore medicine.


Dosage

Tincture: 1 – 3 ml daily
Infusion (herbal tea): 1 - 3 cups per day


Side effects

Abuta may potentiate prescription heart medication.
It relaxes the uterus and is contraindicated in pregnancy; pregnant women should use only under the supervision of a qualified healthcare practitioner.


Reference

Acute toxicity and histo-pathological studies of liver of ethanolic extract of roots of cissampelos pareira in animals model.
Vinay Kumar Verma1; Dr. Zeashan Hussain2; Raziuddin Khan.
Journal of Drug Discovery and Therapeutics 2 (13) 2014, pp 13-19.

Evaluation of Cissampelos pareira Against Gastric Cancer and Enzymes Associated with Carcinogen Metabolism.
G. Amresh; Chandana Venkateswara Rao; Paras Nath Singh.

National survey of herbal preparation use by nurse-midwives for labor stimulation. Review of the literature and recommendations for practice.
McFarlin BL, Gibson MH, O'Rear J, Harman P.
West Virginia University School of Medicine, Dept of Obstetrics and Gynecology, Morgantown 26506, USA.




The above presentation is for informational and educational purposes only.
It is based on scientific studies (human, animal, or in vitro), clinical experience, or traditional usage.
For many of the conditions discussed, treatment with prescribed (RX) or over - the - counter (OTC) medication is also available.
Consult your doctor, practitioner, and/or pharmacist for any health problem and before using dietary supplements or before making any changes in prescribed medications.