Overview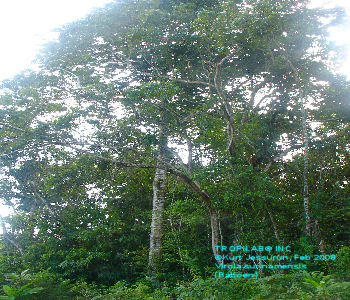 Virola (Wild nutmeg) is a common tree in the Amazon rainforest of Surinam growing up to 110 feet tall; the blood-red resin in the inner- bark has hallucinogenic effects.
The Amerindians use it as a snuff while the latex is used to treat ulcers and abscesses.
By Amazonian Peruvians and Colombians, it is commonly used for fungal diseases and scabies; also used for bladder- and stomach ailments.
It is also used by their Shamans as an ingredient in Ayahuasca (psychoactive infusions or decoctions, prepared from the Banisteriopsis vine from the Amazon rainforest).

Constituents
The resin contains hallucinogenic alkaloids: 5-MeO-DMT, 5-OH-DMT (Bufotenine), and also N,N-DMT (of the Dimethyltryptamine family).
DMT is the major constituent of the bark.
Further it contains beta-carboline harmala alkaloids, MAOIs,* that potentiate the effects of DMT.
Additional, leucanthocyanes, tannic acids, carbohydrates and 3-hydroxy-4-methyl-2-(11'-piperonyl-n-undecyl)-butenolide; 3-hydroxy-4-methyl-2-(7'-piperonyl-n-heptyl)-butanolide; 9'-(3,4-methylenedioxy-phenyl)-nonanoic acid and 13'-(3,4-methylene-dioxyphenyl)-tridecanoic acid are present.
The leaves contain the antitubercular compound galbacin; the anti-aggregant veraguensin, and the antischistosomal, Surinamensin (a neolignan).The lignans (such as grandisin) present in the plant, have the highest trypanosomicidal activity.
3-epi-juruenolide C and 2'-hydroxy-7, 4'-dimethoxyisoflavone, as well as various known steroids, lignans, isoflavones, flavonoids and diarylpropanes.

Pharmacology
The activity of the constituents is for the most part attributed to the tryptamine-like alkaloids in the inner bark.
The derivates of these may have a physiological function as neurotransmitters of the central nervous systems. The major tryptamines** possess psychoactive potency and produce central nervous system (CNS) effects in humans. These are similar to those of lysergic acid di-ethylamide.
Effects and side-effects depend on dosage, and concentration of this natural drug. It brings on an initial excitability, followed by numbness and tingling in various parts of the body, loss of somatic co-ordination, nausea, visual hallucinations, and finally a deep sleep.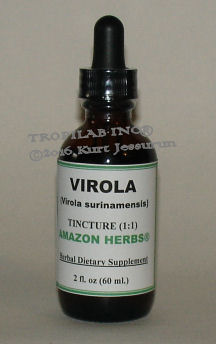 The dark red sap or resin from the bark has also antifungal properties; topically used against infected skin (cures ringworm and other dermatological conditions).
Very serious fungal infections of the skin are often difficult to cure with pharmaceuticals currently in use.
Virola works against a wide variety of yeasts and yeast-like fungi. It seems to be effective in the treatment of cutaneous or mucocutaneous mycotic infections caused by Candida (Monilia) albicans and other Candida species. The resin is spread over infected areas of the skin. This has no any relationship whatsoever to the hallucinogenic properties of the species.
Phytocehmicals (7-hydroxyflavanone and 7-hydroxy-4'-methoxyisoflavone) in the root of the Virola tree exhibited an antifungal activity, 10-fold higher than the positive control Nystatin brand name: Mycostatin (an antifungal agent).
Nystatin also goes by the brand name Bio-Statin in the US and Nyaderm in Canada.
Deep fungal infections of the skin are often very difficult to cure with medications currently used, so more research into this application of Virola is very desirable.

Aryltetralone lignans were isolated from seeds of Virola. Their antioxidant activities were evaluated. One lignan, was the most active compound. The catechol derivatives and all lignans were much more effective as antioxidants than alpha tocopherol (a common form of tocopherol added to food products).

The antinociceptive and anti-inflammatory properties of the neolignan, grandisin, isolated from Virola surinamensis were investigated.
Grandisin (GRA) is used in popular medicine for the treatment of disorders such as colic, inflammation, rheumatism, dyspepsia and liver dysfunction.
Results suggest that GRA has antinociceptive effects arising from antiinflammatory activity.


Applications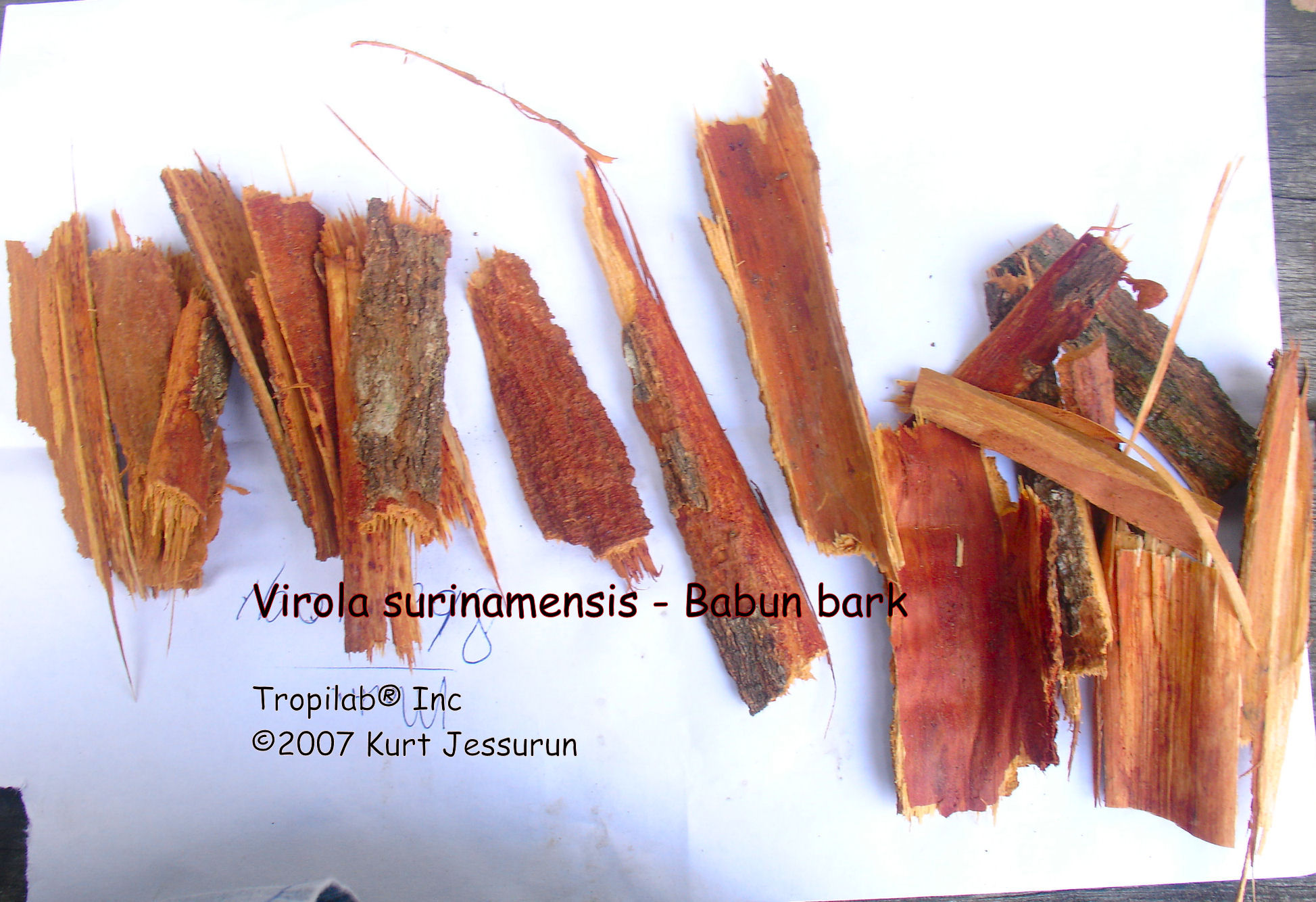 The cambium (inner bark) is used as a natural hallucinogen; this is a class of psychoactive drugs***.
It is also used as an ingredient for psychedelic snuffs; this is called Ebene, Epena or Yakawana.
When used, it gives a feeling of euphoria and a rushing sensation for several hours.
It is considered to induce a very powerful legal "high".

Other applications are against rheumatism, arthritis, stomach aches due to gasses, malaria, bladder problems, bacterial infections from wounds and dyspepsia.

Amerindians in Suriname, Guyana and Brazil use an infusion (medicinal tea) of the bark against hemorrhoids.
The Amazon Indians Waiãpi, treat malaria with an inhalation of vapor obtained from leaves.
Both Virola surinamensis and sebifera are also used in homeopathy.


For more information on Virola, go to the "VIROLA plant" page.


Dosage

Tincture: apply the herbal tincture on the infected skin against dermatological problems (ringworm, scabies) and for wound treatment.

For uses as a hallucinogenic, exacts amounts and dosage suggestions are not known and the dose is experimental.
Amerindians smoke it or use as a snuff. Effects are varied, depending on the dosage. Generally, it brings on initial excitability, followed by numbness and tingling in parts of the body, a loss of co-ordination, nausea, visual hallucinations and a deep sleep.


Safety And Warnings
The effects of the Virola species are very intense and unpleasant for many people.
Generally nausea, headache and related discomfort are reported.
These are accompanied with the states of dreaming, lucid dreaming and hallucinations.


* MAOIs (Monoamine oxidase inhibitors), powerful antidepressant drugs prescribed and used for treatment of depression.
** Tryptamines: monoamine alkaloid found in plants and animals. It is believed to play a role as a neuromodulator or neurotransmitter.
***Psychoactive drugs: cause subjective changes in perception, emotion and consciousness. However, unlike other psychoactive drugs (stimulants, opioids), hallucinogens do not only amplify states of mind but induce experiences that are different from those of ordinary consciousness.
These experiences are often compared to non-other forms of consciousness (trance, meditation, conversion experiences, and dreams).


Reference

Antinociceptive and antiinflammatory activities of grandisin extracted from Virola surinamensis
Adryano A. V. Carvalho, Pablinny M. Galdino, Marcus V.M. Nascimento, Massuo J. Kato, Marize C. Valadares, Luiz C. Cunha, Elson A. Costa

Anti-leishmanial activity of neolignans from Virola species and synthetic analogues
Barata LE, Santos LS, Ferri PH, Phillipson JD, Paine A, Croft SL.
Instituto de Química-Universidade Estadual de Campinas (UNICAMP), SP, Brazil. lbarata@iqm.unicamp.br

Antioxidant activity of aryltetralone lignans and derivatives from Virola sebifera (Aubl.)
Kênnia R. Rezende a, Solange C. Davino, Sílvia B.M. Barros, Massuo J. Kato.
Faculdade de Farmácia, Universidade Federal de Goiás, Goiánia, GOBrazil

Antifungal constituents from roots of Virola surinamensis
Norberto P. Lopes¹, Massuo J. Kato¹, *and Massayoshi Yoshida²
¹Instituto de Química, Universidade de São Paulo, C.P. 26077, Av.Prof. Lineu Prestes, CEP 05599-970, São Paulo SP, Brazil
²Instituto de Química, Universidade Estadual Paulista, C.P. 355, CEP 14800-900, Araraquara SP, Brazil

Virola: a promising genus for ethnopharmacological investigation.
Plotkin MJ, Schultes RE.
Plant Conservation, Conservation International, Washington, D.C. 20036.

Antiulcerogenic action of ethanolic extract of the resin from Virola surinamensis Warb. (Myristicaceae).
Hiruma-Lima CA, Batista LM, de Almeida AB, de Pietro Magri L, dos Santos LC, Vilegas W, Souza Brito AR.
Physiology Department, Biosciences Institute, São Paulo State University-UNESP, c.p. 510, 18618-000, Botucatu, SP, Brazil. hiruma@ibb.unesp.br


The above presentation is for informational and educational purposes only.
It is based on scientific studies (human, animal, or in vitro), clinical experience, or traditional usage.
For many of the conditions discussed, treatment with prescription or over - the - counter (OTC) medication is also available.
Consult your doctor, practitioner, and/or pharmacist for any health problem and before using dietary supplements or before making any changes in prescribed medications.