Overview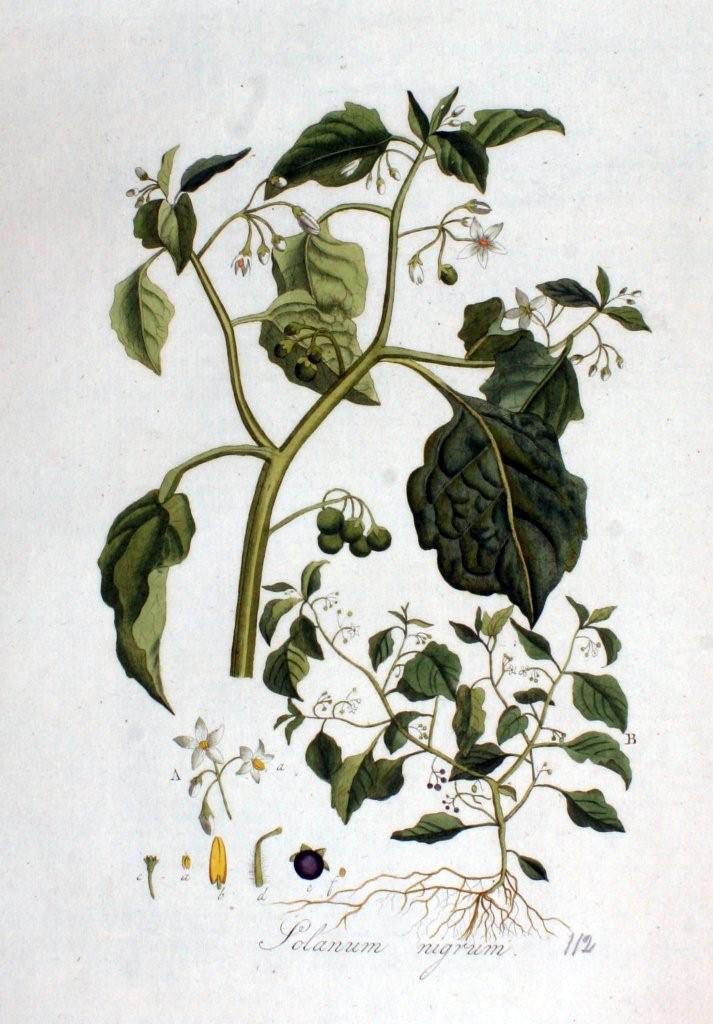 The leaves are eaten as a tropical vegetable in Surinam and the West Indies.
In Surinam Traditional Medicine, an infusion (herbal tea) is used as an antispasmodic, emetic and to treat liver problems.
The glycoprotein in this plant is a potential natural anticancer agent because of its ability to induce apoptosis (programmed cell death occurring in multi-cellular organisms) in MCF-7 cells.
The leaf juice is used for oral inflammation, especially in children.
This plant is also used in homeopathic applications and is believed to have antipyretic, diuretic, anticancer, and hepatoprotective effects.


Constituents

Steroidal glycosides, steroid alkaloid, steroidal saponins, glycoprotein.


Pharmacology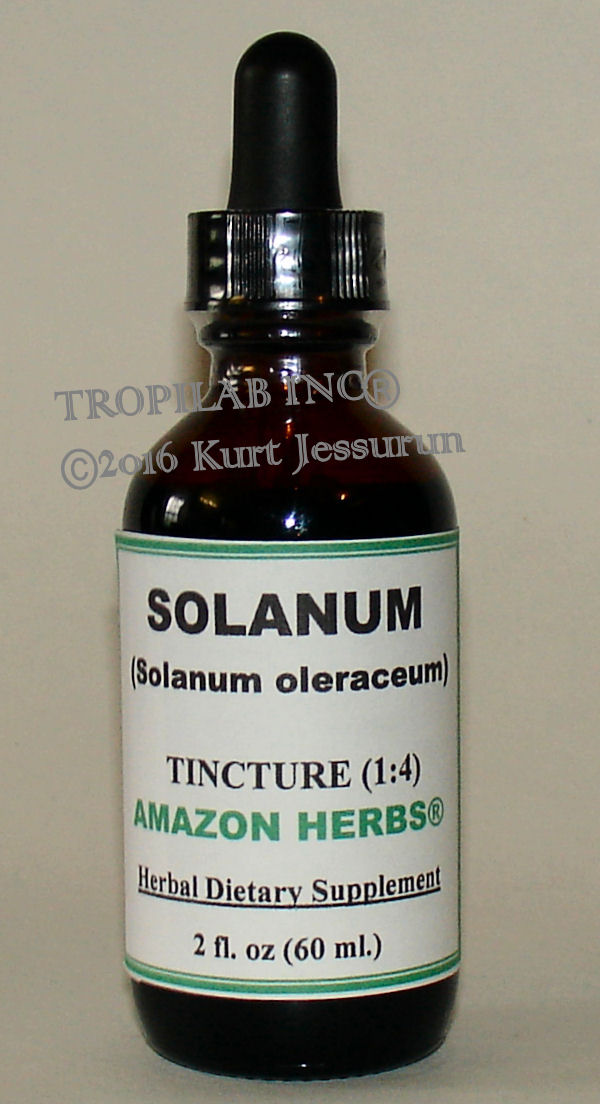 Anti-herpes simplex virus type 1 (HSV-1) activity of typical steroidal glycosides with the frameworks of spirostane (including nuatigenin glycoside), furostane, solasodane, tomatidane and ergostane (including dimer) obtained from Solanum plants. Among these steroidal glycosides, the spirostanol glycosides were most effective.
An inclination was observed for the potency of activity to decrease in the order of spirostane, tomatidane, ergostane, solasodane, nuatigenin type, dimer of ergostane and furostane.
It was also suggested that the activity depends on the kind of oligosacchride moiety.

Used in the treatment of epilepsy in Nigeria.
This anticonvulsant property was potentiated by amphetamine, thus, the activity may probably be through the dopaminergic pathway.

In a study, the polyphenols and anthocyanidin in various parts of this plant were analyzed. Results showed that AU565 breast cancer cells were sensitive to the extract; the results demonstrated a significant cytotoxic effect of the leaf extract on these cells. Findings indicate that the extract induced cell death in breast cells via two distinct antineoplastic activities, the abilities to induce apoptosis and autophagy (natural, regulated, destructive mechanism of the cell), therefore suggesting that it may provide a useful remedy to treat breast cancer.


Applications

The swelling of breasts with profuse effusion of milk (breast engorgement).
The swelling of glands (lymphadenopathy).
Extracts are used as a tonic against colds, fever and dizziness.


Dosage

Herbal tincture: 1 - 4 ml. (1 - 4 full droppers) daily.
Infusion (herbal tea): 1 - 2 cups daily.


Precaution

None.


For more information on Solanum, go to the "Solanum plant" page.


Reference

Anti-herpes virus activity of Solanum steroidal.
Ikeda T., Ando ,J., Miyazono A., Zhu X-H, Tsumagari H., Nohara T., Yokomizo K., Uyeda M.

Chemical composition of Solanum nigrum linn extract and induction of autophagy by leaf water extract and its major flavonoids in AU565 breast cancer cells.
Huang HC, Syu KY, Lin JK.
Graduate Institute of Biochemistry and Molecular Biology, College of Medicine, National Taiwan University, Taipei, Taiwan.

Glycoprotein isolated from Solanum nigrum L. modulates the apoptotic-related signals in 12-O-tetradecanoylphorbol 13-acetate-stimulated MCF-7 cells.
Heo KS, Lim KT.
Molecular Biochemistry Laboratory and Biodefensive Substances Group, Institute of Biotechnology, Chonnam National University, Kwangju, Korea

The above presentation is for informational and educational purposes only.
It is based on scientific studies (human, animal, or in vitro), clinical experience, or traditional usage.
For many of the conditions discussed, treatment with prescribed (RX) or over - the - counter (OTC) medication is also available.
Consult your doctor, practitioner, and/or pharmacist for any health problem and before using dietary supplements or before making any changes in prescribed medications.



For the right freight rate, please visit our Webstore page!