PIPER MARGINATUM - CAKE BUSH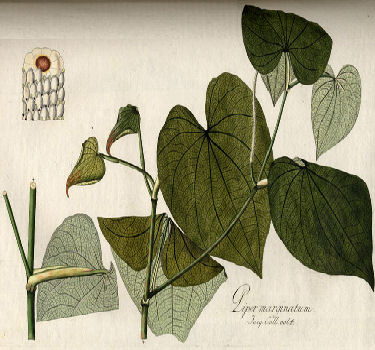 Common name
Anesi wiwiri, Anijsblad, Cake bush, Hinojo, Marigold pepper.

Family
Piperaceae (Pepper family).


Overview
Cake bush is a perennial bushy shrub growing in moist, shady spots in the Amazon rainforest in Surinam.
Unlike other Piperaceae species, this one is easy to recognize due to the typical heart-shaped leaves with 7 - 8 nerves which end in one point at the base.
It is also easy to recognize for the strong licorice (anise) smell.
The leaves contain flavonoids (vitexin, marginatoside).

Suriname's Traditional Medicine
Cake bush is used against colic. The Amazon Indians use it against liver and vesicle diseases.
Other uses are: against flu, against skin wounds, carminative and depurative.
This plant has reputed haemostatic properties when applied topically to bleeding skin wounds.

Visit also our CHOLESTEROL -, DIABETES - , HYPERTENSION - and TINCTURE pages.

Hardiness
USDA zone 9 - 11.

Propagation
Seeds and cuttings.

Culture
Full sun / light shade and moist soil.