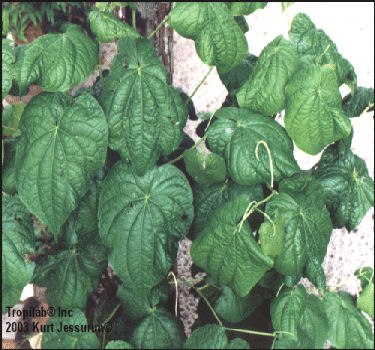 Overview

Piper marginatum (Marigold pepper) is a medicinal plant from the Amazon rainforest; used to relieve pain, swelling and fever. It is haemostatic (substance used to stem internal bleeding), repellent, antibiotic and antifungal.
Herbal dietary supplements (tincture and tea) are used.
It has a strong licorice (anise) smell and can be used to treat skin infections and wounds.
It has carminative (prevents or relieves gas in the gastrointestinal tract) and antispasmodic action (suppresses muscle spasms).
Oils from this plant have strong cercaricidal (an agent lethal to cercaria) activity.
Traditional medicinal use in the Amazon rainforest includes against liver and vesicles (small fluid-filled blister) disease.

Constituents

It has 39 constituents of the essential oils.
Phenylpropanoids, and a new phenyloctanoid were isolated from Piper marginatum.
The compounds: 3,4-methylenedioxy-1-(2E-octenyl)-benzene 2,6-dimethoxy-3,4-methylenedioxy- 1-(2-propenyl)-benzene, 1 -(1E-propenyl)-2,4,6-trimethoxybenzene: apiole; isoasarone.
Croweacin (2-methoxy-3,4-methylenedioxyallylbenzene).
1-(1Z-propenyl)-2,4,6-trimethoxybenzene, 3-farnesyl-4-hydroxybenzoic acid, caryo-phylene oxide.

Pharmacology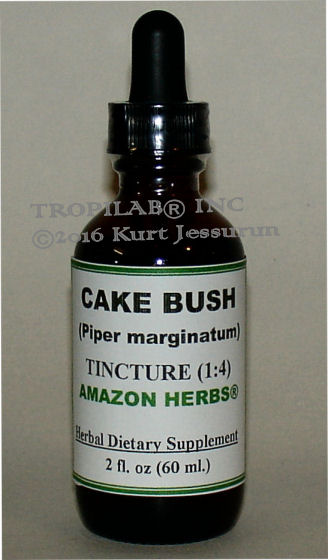 In Brazilian folk medicine, this plant is reputed for its analgesic/anti- inflammatory properties.
The roots are used as diuretic; extract of the leaves prepared in hot water is used to treat toothache, rheumatism, tumor and bleeding skin wounds (when applied topically).
From the roots of Piper marginatum, cioweacin, apiole, isoasarone, pipern~argine, marginatine and N-isobutyl-2-trans-4-trans-octadienaniide were isolated (the only amide detected in this plant).
Since 2,4,5-trioxiphenylpropanoids as y-asarone, a-asarone and asaricin has been reported to have antimicrobial activities against Escherichia coli and Bacillus subtilis 11, 2-methoxy- 4,5-metylenedioxypropiophenonem, may be an explanation for some activities showed by Piper marginatum.
The predominant vasoconstrictor component of P. marginatum detected is noradrenaline, whose activity is apparently preserved in the crude extract and produces vasoconstriction after oral administration. Due to the forgoing Cake bush works against edema (excessive build up of fluid in body tissues or an increase in tissue mass).

Visit also the Cakebush plant page.

Dosage

Tincture: 1 - 3 ml (1 – 3 full droppers), daily.

Precaution

None.

Reference

Croweacin from Piper marginatum*¹
Bárbara Viviana de Oliveira Santos± Emidio V. L. Da-Cunha±, Maria Célia de Oliveira Chaves± and Alexander I. Gray

W. Baker, A. R. Penfold and J. L, Simonsen, J. Chem. Soc., 439 (1939)
A. J. Birch and M. Slaytor, Chem, Ind. (London), 1524 (1956)
A. T. Shulgin, Nature, 197, 379 (1963)
A. T. Shulgin, Can. J. Chem., 43, 3437 (1965) F. Mauthner, J. Prakt. Chem., 102, 41 (1921); T. Takahashi, J. Chem. Soc. Japan, 50, 356 (1929)
W. N. White and C. D. Slater, J. Org. Chem., 26, 3631 (1961)

Pharmacology of Pipermarginatum Jacq. a folk medicinal plant used as an analgesic, anti-inflammatory and hemostatic
L.C.A. D'Angelo, H.S. Xavier, L.M.B. Torres, A.J. Lapa, C. Souccar


The above presentation is for informational and educational purposes only.
It is based on scientific studies (human, animal, or in vitro), clinical experience, or traditional usage.
For many of the conditions discussed, treatment with prescribed (RX) or over - the - counter medication (OTC) is also available.
Consult your doctor, practitioner, and/or pharmacist for any health problem and before using dietary supplements or before making any changes in prescribed medications.