Overview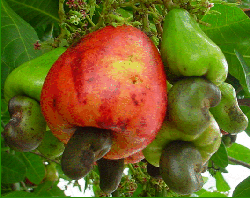 Cashew-nut is a small tree, indigenous to Suriname and Brazil. The bark and leaves of this tropical tree, used as an herbal tincture and medicinal tea, have medicinal applications. The fruit (actual: the false fruit) is eaten fresh or as a juice. Within the true fruit is a single seed, the cashew nut and these nuts are consumed roasted.
However, the raw nuts are toxic.
The bark is the part used for medicinal applications though.
The "cashew-apple" is the enlarged juicy peduncle which bears the nut. When ripe, it is of a golden-yellow or reddish color; pear shaped, and has a pleasant, acid flavor. It is much sought after and eaten, fresh out of hand.


Constituents

Ascorbic acid, mineral salts, tannins, anacardic acid, quercitin glycoside, phytosterols, steapic acid, tryptophan, anacardol, cardol.


Pharmacology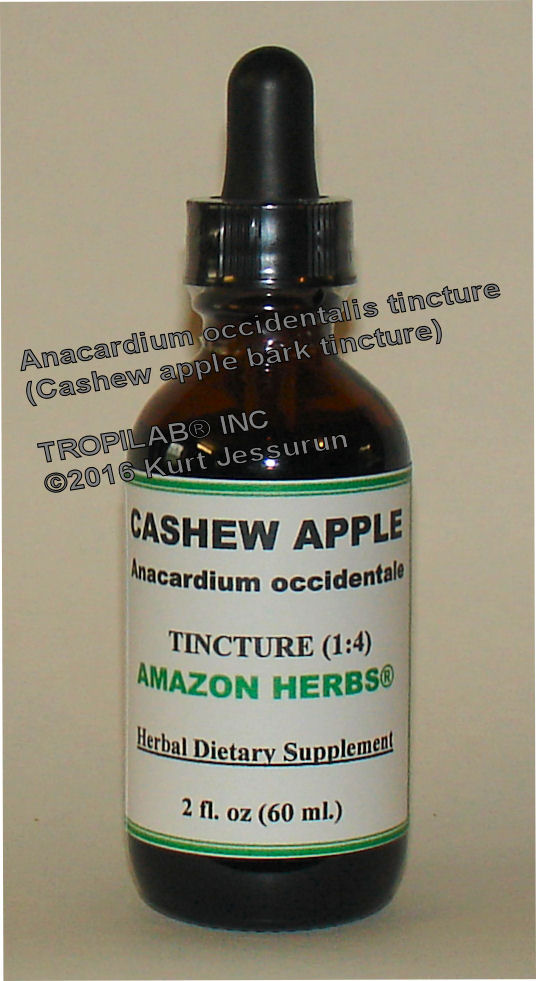 The leaves are a source of saponins (amphipathic glycosides).
Leaf extracts inhibit the growth of several species of bacteria and fungi.
The tannins from the bark have anti-inflammatory action.
The nutshell contains a liquid (cashew nut shell liquid; CNSL), this is a very acrid and irritant oil.
The phenolic constituents are: anacardic acid, cardol and cardanol.
Anacardol and anacardic acid have shown some activity against Walker carcinosarcoma 256.
The juice of the cashew possesses besides nutritional benefits also antibacterial and anti-tumor potential.
A methanolic extract of the bark exhibited antimicrobial activity against bacterial isolates
The anti-inflammatory effect of the plant's stem-bark aqueous extract was examined. Although stem-bark aqueous extract is less potent than Diclofenac, a nonsteroidal anti-inflammatory drug (NSAID), used as an anti-inflammatory agent. The results indicates that the plant extract possesses anti- inflammatory activity, and thus lends pharmacological support to the folkloric use of the plant in the management and/or control of arthritis and other inflammatory conditions.

The hypoglycemic effect of stem-bark extracts of Anacardium occidentale was studied. Although the stem-bark aqueous or methanolic extract is less potent than insulin as an antidiabetic agent, the results of this experimental animal study indicate that it possesses hypoglycemic activity, and thus lends credence to the folkloric use of the plant in the management and/or control of adult-onset, type-2 diabetes mellitus.

Extract of Cashew apple stem bark was evaluated for activities against the lipopolysaccharide (LPS)-induced septic shock, as well as LPS-induced microvascular permeability.
The highest dose of the extract studied (200 mg/kg) produced a 100% management against death from sepsis.
This is a potentially life-threatening condition, caused by the body's response to an infection.


Applications

Calluses, corns and warts, ringworms, (external) cancerous ulcers, stomach ulcers, colds, congestion, fever reducer, lowers body temperature against bacterial infections.
In West Africa the leaves and bark are used against tootache. Abdominal pains, inflammation and diabetes.
Used against diarrhea and as a colic remedy for infants.
A bark infusion is used as an antiseptic vaginal douche.


Dosage

Tincture: 1 - 3 ml (internal).
Apply external 2 times / day.

Precaution

No information for interactions.



Reference

Anti-inflammatory actions of tannins isolated from the bark of Anacardium occidentale L.
Mota ML, Thomas G, Barbosa Filho JM.

Effects of Anacardium occidentale stem bark extract on in vivo inflammatory models.
Olumayokun A. Olajidea, Mutallib A. Aderogbab, Aduragbenro D.A. Adedapo and Janet M. Makindea.
Department of Pharmacology and Therapeutics, College of Medicine, University of Ibadan, Ibadan, Nigeria.

Mutagenicity, antioxidant potential, and antimutagenic activity against hydrogen peroxide of cashew (Anacardium occidentale) apple juice and cajuina.
Melo Cavalcante AA, Rubensam G, Picada JN, Gomes da Silva E, Fonseca Moreira JC, Henriques JA.
Centro Federal de Educacao Tecnologica do Piaui, CEFET-PI, Teresina, PI, Brasil.

Novel method for isolation of major phenolic constituents from cashew (Anacardium occidentale L.) nut shell liquid.
Paramashivappa R, Kumar PP, Vithayathil PJ, Rao AS.
Vittal Mallya Scientific Research Foundation, P.O. Box 406, K. R. Road, Bangalore - 560 004, India.



The above presentation is for informational and educational purposes only.
It is based on scientific studies (human, animal, or in vitro), clinical experience, or traditional usage.
For many of the conditions discussed, treatment with prescribed (RX) or over - the - counter medication (OTC) is also available.
Consult your doctor, practitioner, and/or pharmacist for any health problem and before using dietary supplements or before making any changes in prescribed medications.