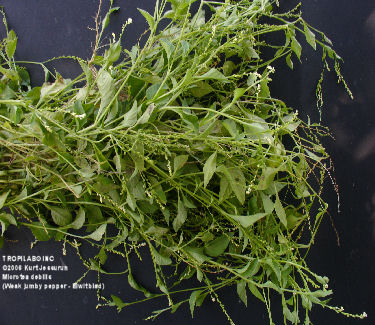 Overview

Microtea debilis is a small creeping annual weed, sometimes shrubby at the base; it is indigenous to Suriname.
The whole weed is applied in the herbal tincture.
It is very effective against Proteinuria (urine albumin) and gives leads to new therapeutics in acute renal failure (aka acute kidney injury). Microtea is also used as a fat burner and in body building supplements. It may cause effective fat deposition and weight loss; this can be beneficial to athletes as a natural performance enhancer.


Constituents

Flavone Glycosides* (such as Cirsimarin, Cirsimaritin).
Two new 5-O-glucosylflavones, 5-O-ß-d-glucopyranosyl cirsimaritin and 5, 4'-O-ß-d-diglucopyranosyl cirsimaritin, four known flavonoids, cirsimarin, cirsimaritin (4), salvigenin, 4', 5-dihydroxy-7-methoxyflavone, and a norisoprenoid, vomifoliol, have been isolated from the aerial parts of Microtes debilis.

*Glycosides with potential anti-mutagenicity and antioxidant activity.


Pharmacology

Proteinuria is defined as urinary protein excretion of greater than 150 mg per day.
This means that protein that should remain in circulation in the blood comes into the urine and is excreted by the kidneys.
However, Proteinuria is not a specific disease; its treatment depends on identifying and managing the underlying cause(s). This can be kidney (renal) disease.
There are conditions such as strenuous exercise, heat or cold exposure, that may cause a temporary rise in protein levels in urine but do not necessarily indicate kidney damage.
The use of Microtea debilis against "proteinuria" in Traditional Medicine in Suriname may be explained by the adenosine A1 antagonistic action of cirsimarin.

Cirsimarin inhibits phosphodiesterase, the enzyme that modulates cyclic nucleotide signaling. Cirsimarin exerts strong lipolytic properties being 20 times more potent than caffeine** to stimulate lipolysis*** in fat cells, at least in part through cyclic nucleotide preservation.

Persons with type two diabetes need to be tested regularly for proteinuria.
Controlling blood pressure and diabetes, through diet and medicine, are the main ways to treat this disease.

** Caffeine: a common ingredient in the majority of diet pills on the market.

***Lipolysis: the breakdown of fat stored in the fat cells.
During this process, triglycerides are broken down into glycerol and fatty acids. When released in the blood, the fatty acids are transported to tissues that require energy.

For more information on Microtea, go to the "Microtea page".


Applications

Against acute kidney failure (acute renal failure).
Working against Proteinuria (excess appearance of protein in the urine). This should normally not appear in the urine in detectable quantities. It is usually kept in the blood by the filtering units within the kidney. Proteinuria is an indicator that the kidneys are damaged in some way.
It is not a disease but rather a symptom of the disease!
Diseases that affect the filtering units themselves are the most common cause of heavy proteinuria. When the blood vessels of the kidneys are damaged, protein can leak from the blood into the urine.
High levels of proteinuria are always important, however when that is small in amount and comes and goes; it is not that significant.
Foamy urine and swelling (edema) are two signs of proteinuria that become more evident as the disease progresses. Excess protein can cause the urine to foam in water.
Patients with edema should have salt and water restrictions. If left untreated, it can lead to more serious kidney problems and the kidneys can even stop working.

In formula for weight loss, fat burners and body building supplements; some companies are substituting caffeine with Microtea debilis.
Microtea gives a highly energized feeling to people who use it.



Dosage

Tincture: 0.5 - 4 ml (0.5 - 4 full droppers) daily.
Infusion (herbal tea): 1 - 4 cups daily.


Reference

Cirsimarin and cirsimaritin, flavonoids of Microtea debilis (Phytolaccaceae) with adenosine antagonistic properties in rats: leads for new therapeutics in acute renal failure.
Hasrat JA, De Bruyne T, De Backer JP, Vauquelin G, Vlietinck AJ.
Department of Pharmaceutical Sciences, University of Antwerp, Belgium.

Flavonoids: Promising anticancer agents.
Wenying Ren, Zhenhua Qiao, Hongwei Wang *, Lei Zhu, Li Zhang.
Department of Hematology, 2nd Hospital of Shanxi Medical University, Taiyuan, Shanxi 030001, P. R. China.

Evaluating Proteinuria in Children (American Family Physician October 1, 1998).

Proteinuria in Adults: A Diagnostic Approach MICHAEL F. CARROLL, M.D., and JONATHAN L. TEMTE, M.D., PH.D.

University of Wisconsin-Madison Medical School, Madison.

Ahmed Z and Lee J. Asymptomatic Urinary Abnormalities: Hematuria and Proteinuria. Medical Clinics of North America. 1997; 81(3):641-652.

Cruz, Carmina and Spitzer, Adrian. When you find protein or blood in the urine. Contemporary Pediatrics. September 1998.

Mahan JD, Turman MA and Mentser MI. Evaluation of Hematuria, Proteinuria and Hypertension in Adolescents. Pediatric Clinics of North America. 1997; 44(6):1573-1589.

Hogg.,R Evaluation and Management of Proteinuria and Nephrotic Syndrome. Pediatrics June 2000.

The above presentation is for informational and educational purposes only.
It is based on scientific studies (human, animal, or in vitro), clinical experience, or traditional usage.
For many of the conditions discussed, treatment with prescribed (RX) or over - the - counter medication is also available.
Consult your doctor, practitioner, and / or pharmacist for any health problem and before using dietary supplements or before making any changes in prescribed medications.



For the right freight rate, please visit our Webstore page!