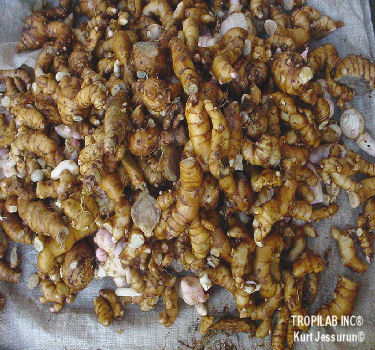 Overview

Chinese ginger or Fingerroot is an effective medicinal and culinary herb from Southeast Asia. The rhizome of this plant is a flavonoid inducer of chemo-protective- and antioxidant enzymes.
According to ongoing research, fingerroot (Boesenbergia pandurata) is an excellent candidate for the development of a remedy for opportunistic fungal infections in AIDS patients.
Since it is carminative it helps to expel gas from the intestinal tract.


Phytochemicals

Fingerroot is rich in boesenbergin, krachaizin, panduratin, and pinostrobin.
Aroma components have been identified: 1-8 cineol, camphor, d-borneol- and methyl cinnamate are the most important.
Trace components: d-pinene, zingiberene, zingiberone, curcumin, zedoarin and some others. Rose-flavored monoterpenoid alkohols (geraniol & nerol).
Antioxidant compounds are: 5-hydroxy-7-methoxyflavanone, panduratin A, 5,7-dihydroxyflavanone, 2',6'-dihydroxy-4'-methoxychalcone, 2',4'-dihydroxy-6'-methoxychalcone, and 4-hydroxypanduratin A. Panduratin A, 4-hydroxypanduratin A, and 2',6'-dihydroxy-4'-methoxychalcone.
These compounds also exert neuroprotective effects.


Pharmacology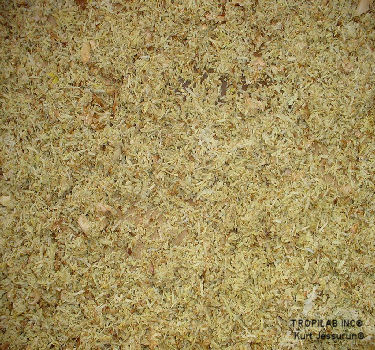 The active constituent Cardamonin, (2',4'-dihydroxy-6'-methoxychalcone) is identified as a potently active constituent of Boesenbergia pandurata which, suggests that may be an effective anti-tumor promoter.
The rhizomes also possess potent antioxidant activity.

Active constituents in B. pandurata rhizomes, hydroxypanduratin A (3) and panduratin A (2), are active principles against HIV-1 PR.
Panduratin A (a chalcone derivative) may also be an effective chemopreventive or therapeutic agent against prostate cancer. Inhibits the growth of MCF-7 human breast cancer and HT-29 human colon adenocarcinoma cells (it has a protective effect against colon cancer).
Panduratin A, 4-hydroxypanduratin A, and 2',6'-dihydroxy-4'-methoxychalcone were also found to exert neuroprotective effects.

Fingerroot is a very rich source of Pinostrobin; a flavonoid inducer of mammalian phase 2 chemoprotective antioxidant enzymes and has extremely high QR inducing potency. The potency of fingerroot oils, tinctures and powdered rhizomes rivals that of broccoli sprouts, elevating the activity of quinone reductase (QR) by about 500,000 units per gram. Quinone reductase is an enzyme that catalyzes a certain chemical reaction.

Ethanolic extract of B. pandurata (herbal tincture) showed strong inhibitory effects on the growth of cancer cells, similar to the ethanolic extract of Curcuma longa.
Five flavonoid derivatives, (pinostrobin, pinocembrin, alpinetin, cardamonin and boesenbergin) were isolated from the rhizomes of Boesenbergia pandurata.
Cytotoxic screening showed most of the extracts and pure compounds were active against HL-60 cancer cell line. The chloroform extract and boesenbergin A showed the most potent cytotoxic activity.
Extracts of parts of B. rotunda have been found to be active inducing aphrodisiac activity.


Properties & Applications

Relieves flatulence and indigestion, strengthen energy and stimulate nerves.
It seems to have a blood-clot dissolving effect and possesses antimicrobial- and antifungal activity.
Fingerroot is effective against gastric complaints (treatment of diarrhea and worms).
It also prevents the infection of Helicobacter pylori (a gram-negative bacterium usually found in the stomach).
May accelerate the wound healing process.


Dosage

Tincture: 1 - 3 ml daily (1 - 3 full droppers).
Infusion (herbal tea): 1 - 2 cups daily.


Reference

Anti-inflammatory cyclohexenyl chalcone derivatives in Boesenbergia pandurata.
Tuchinda P, Reutrakul V, Claeson P, Pongprayoon U, Sematong T, Santisuk T, Taylor WC

Cytotoxic constituents from Boesenbergia pandurata (Roxb.) Schltr
Sukari, Mohd Aspollah and Ching, Amy Yap Li and Ee, Gwendoline Cheng Lian and Rahmani, Mawardi and Khalid, Kaida
Natural Product Sciences, 13 (2007)

Fingerroot, Boesenbergia rotunda and its Aphrodisiac Activity.
Oranun Ongwisespaiboon and Wannee Jiraungkoorskul1.

Induction of apoptosis and cell cycle arrest by a chalcone panduratin A isolated from Kaempferia pandurata in androgen-independent human prostate cancer cells PC3 and DU145
Jung-Mi Yun, Mee-Hyang Kweon, Hoonjeong Kwon, Jae-Kwan Hwang, and Hasan Mukhtar

Pinostrobin from Honey and Thai Ginger (Boesenbergia pandurata): A Potent Flavonoid Inducer of Mammalian Phase 2 Chemoprotective and Antioxidant Enzymes
Jed W. Fahey and Katherine K. Stephenson


The above presentation is for informational and educational purposes only.
It is based on scientific studies (human, animal, or in vitro), clinical experience, or traditional usage.
For many of the conditions discussed, treatment with prescription or over - the - counter medication (OTC) is also available.
Consult your doctor, practitioner, and/or pharmacist for any health problem and before using dietary supplements or before making any changes in prescribed medications.



For the right freight rate, please visit our Webstore page!