Overview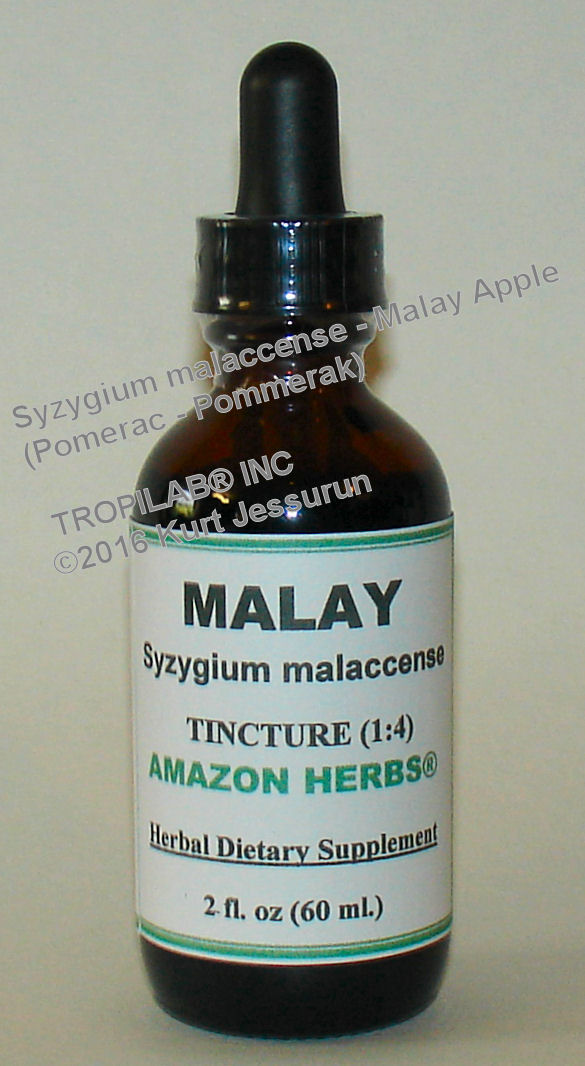 The Malay Apple tree is a fast-growing tree with an erect trunk; original from India and Malaysia.
For sore throat the inner bark is scraped, or the whole bark can be decocted.
In Brazil and Surinam, various parts of the plant are used as natural remedies for constipation, diabetes, coughs, pulmonary catarrh, headache and other ailments.
The seeds, bark and leaves have also shown antibiotic activity and may have effect on blood pressure and respiration.
The part of the tree used for the herbal tincture is the bark; used in the mouth for lesions and lacerations.


Constituents

Flavonoids, volatile phyto chemicals (133 compounds are identified in the aroma concentrate), cyanidin 3-glucoside, delphinidin 3-glucoside, ellagic acid, kaempferol, myricetin, quercetin, quercitrin, rutin, beta-sitosterol, beta-D-sitosterylglucoside, oleanic acid (a triterpenoid).


Pharmacology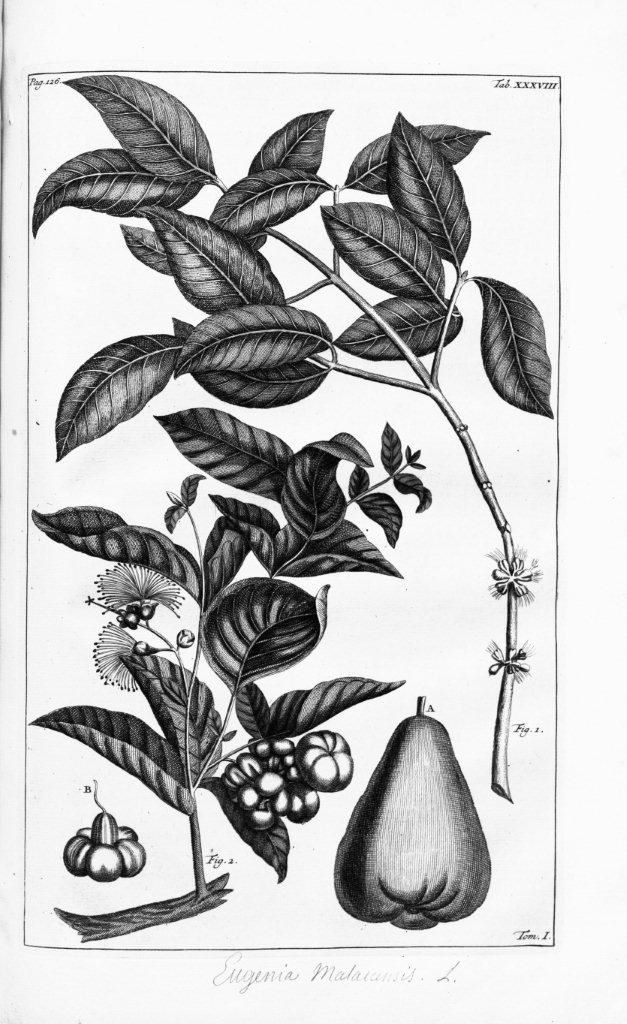 A study was conducted about the effect of S. malaccense bark on serum glucose, lipid profile and liver glycogen content in both normal and hyperglycemic rats. The extracts were compared with Glibenclamide (Glyburide) for their influence on fasting blood sugar, lipid profile and liver glycogen in both normoglycemic and to streptozotocin induced hyperglycemic rats. In normoglycemic rats, even for chronic treatment.
In the hyperglycemic rats on chronic treatment both the extracts caused reduction in FBS and significantly reversed the diabetes induced hyperlipidemia and liver glycogen depletion. The alcoholic extract (tincture) was found to be more active than aqueous and equivalent to that of glibenclamide. The extracts with their beneficial effects on blood sugar and hyperlipidemia associated with diabetes, could serve as good adjuvant to other oral hypoglycemic agents.

Oleanolic acid is relatively non-toxic, hepatoprotective and exhibits antitumor and antiviral properties.
It was found to exhibit weak anti-HIV and weak anti-HCV activities in vitro. An extremely potent synthetic triterpenoid analog of oleanolic acid was found in 2005, that is a powerful inhibitor of cellular inflammatory processes.

Cycloartenyl stearate, lupenyl stearate, sitosteryl stearate and 24-methylenecycloartanyl stearate from the dried leaves of Syzygium samarangense exhibited potent analgesic and anti-inflammatory activities.


Applications

Against stomachache, thrush, high blood sugar, sore throat, vaginal infection, venereal diseases, diarrhea and deep cuts.
In Brazil, parts of the plant are used against constipation, diabetes, coughs, pulmonary catarrh and headache.


Dosage

Tincture: 1 – 3 ml daily
Infusion (herbal tea): 1 – 3 cups daily


Precaution

None


Reference

Quantitative analysis of antiradical phenolic constituents from fourteen edible Myrtaceae fruits.
Kurt A. Reynertson¹, Hui Yang¹, Bei Jiang¹, Margaret J. Basile² and Edward J. Kennelly¹
References and further reading may be available for this article. To view references and further reading you must purchase this article.
¹Department of Biological Sciences, Lehman College and the Graduate Center, City University of New York, 250 Bedford Park Boulevard West, Bronx, NY 10468, United States
²Department of Neurology, University of Miami Miller School of Medicine, 1501 NW 9th Avenue, Miami, FL 33136, United States.

Phytochemical analysis of bioactive constituents from edible Myrtaceae fruits.
Reynertson, Kurt Allerslev, Ph.D.
CITY UNIVERSITY OF NEW YORK, 2007, 141 pages; 3245032.

Bioactivities of triterpenes and a sterol from Syzygium samarangense.
Raga DD, Cheng CL, Lee KC, Olaziman WZ, De Guzman VJ, Shen CC, Franco FC Jr, Ragasa CY.
Biology Department and Center for Natural Sciences and Ecological Research, De La Salle University, 2401 Taft Avenue, Manila 1004, Philippines.
dennis.raga@dlsu.edu.ph


The above presentation is for informational and educational purposes only.
It is based on scientific studies (human, animal, or in vitro), clinical experience, or traditional usage.
For many of the conditions discussed, treatment with prescribed (RX) or over - the - counter (OTC) medication is also available.
Consult your doctor, practitioner, and/or pharmacist for any health problem and before using dietary supplements or before making any changes in prescribed medications.