Overview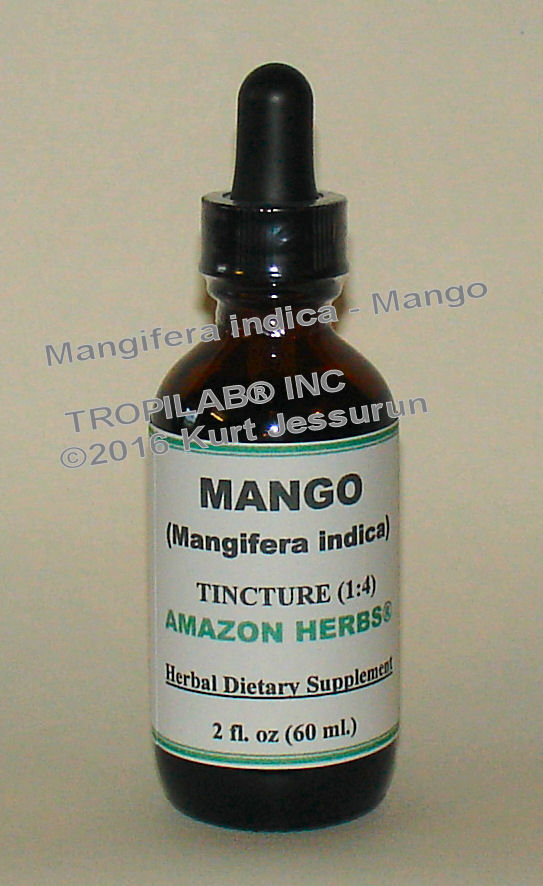 Mango is a commonly used plant in Ayurvedic medicine for thousands of years.
Roots, bark, leaves, fruits, seeds, flowers and kernels, all are medicinally used.
The bark contains mangiferin (a phyto-chemical), it is astringent employed in India against rheumatism and diphtheria (serious bacterial infection caused by the bacterium Corynebacterium diphtheriae).
The green fruit is used in many applications. Vitamins in green mango such as vitamins C, K, A, B6 and folate provide many healing benefits such as treating digestive issues, promoting healthy vision and weight loss. Essential B vitamin niacin for lowering cholesterol levels, improving blood circulation and prevention of the risk from cardiovascular diseases.

The resinous gum from the trunk is applied on cracks in the skin of the feet and on scabies. It may also be helpful in cases of syphilis.


Constituents

The bark contains protocatechic acid, catechin, mangiferin, alanine, glycine, Ý-aminobutyric acid, kinic acid, shikimic acid and tetracyclic triterpenoids.
Indicoside A and B, manghopanal, mangoleanone, friedelin, cycloartan-3ß-30-diol and derivatives, mangsterol, manglupenone, mangocoumarin, n-tetacosane, n-heneicosane, n-triacontane and mangiferolic acid methyl ester, Mangostin, 29-hydroxy mangiferonic acid and mangiferin, common flavonoids.


Pharmacology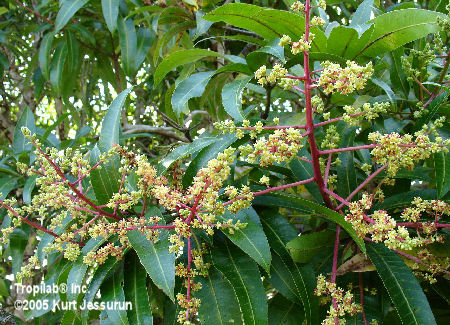 Mango is an important source of many pharmacologically and medicinally important chemicals such as mangiferin, mangiferonic acid, hydroxymangiferin, polyphenols and carotenes.
It has many different pharmacological activities. Antioxidant, radioprotective, immunomodulatory, anti-allergic, anti-inflammatory, antitumor, antidiabetic, lipolytic, antibone resorption, monoamine oxidase-inhibiting, antimicrobial and antiparasitic, have been reported for mangiferin.
Studies indicate that a wide part of activities, acknowledged to preparation based on Mango bark could be attributed to this C-glucosyl-xanthone (mangiferin).
Based on the knowledge of the many properties of mangiferin, phyto-medicines should be adequately standardized regarding this active compound. Mango has been used successfully in Asia for centuries but more clinical trials should be conducted to support its therapeutic use.

Mangiferin is a polyphenolic antioxidant with strong antioxidant, anti lipid peroxidation, immunomodulation, cardiotonic, hypotensive, wound healing, antidegenerative and antidiabetic activities.

Anti-tumor

The significant cytotoxic activities has been demonstrated by the stem bark extract of mango against the breast cancer cell lines MCF 7, MDA-MB-435 and MDA-N, as well as against a colon cancer cell line (SW-620) and a renal cancer cell line (786-0). In vitro, mangiferin dose- and time-dependently inhibited the proliferation of K562 leukemia cells and induced apoptosis in K563 cells line, probably through down-regulation of bcr/abl gene expression. These results suggest that mangiferin has a potential as a naturally-occurring chemo-preventive agent (inhibit, delay, or reverse cancer from developing).


Applications

Mangifera indica is used to treat ailments such as asthma, cough, diarrhea, dysentery, leucorrhoea, jaundice, pains, malaria, diabetes, infertility, lupus, prostatic hyperplasia, gastric disorders, mouth sores.


Dosage

Tincture: 1 - 3 ml daily.
Infusion (herbal tea): 1 - 2 cups daily.
Naturally caffeine free.


Reference

Mangifera indica (Mango).
K.A. Shah; M.B. Patel; R.J. Patel; and P.K. Parmar.


The above presentation is for informational and educational purposes only.
It is based on scientific studies (human, animal, or in vitro), clinical experience, or traditional usage.
For many of the conditions discussed, treatment with prescribed (RX) or over - the - counter (OTC) medication is also available.
Consult your doctor, practitioner, and/or pharmacist for any health problem and before using dietary supplements or before making any changes in prescribed medications.