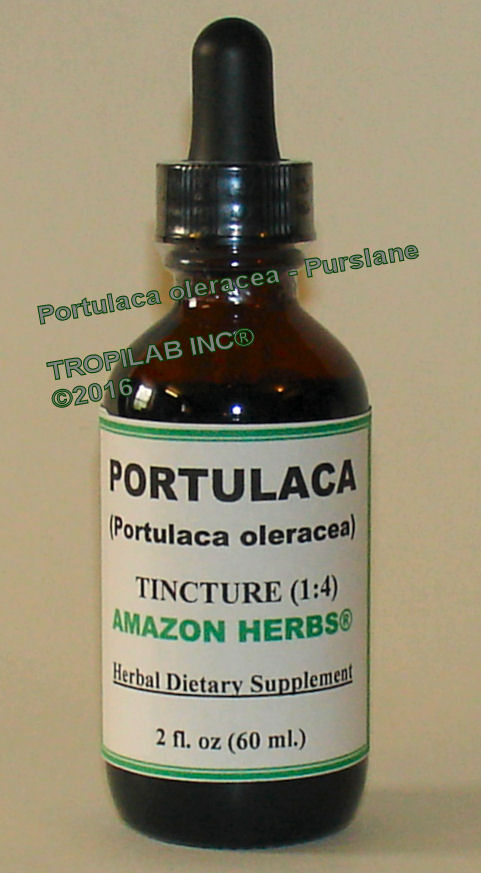 Overview

Portulaca (Purslane) has many biologically active compounds and nutrients such as: Vitamins A, C, B-complex and E (α-tocopherol) and the minerals: calcium and potassium salts, phosphorus, manganese, silicone, copper; and also high levels of potassium and iron.
Also: glutathione* and lots of Omega 3 fatty acids**. It is also a good source of Co-enzyme Q10***.
All this makes the plant a great source of anti-oxidants!
This plant is rich in pectin, which lowers cholesterol and it is also used as a hyperlipidemia agent.
It also lowers the fat content (triglycerides) of the blood.


Applications

For inflamed skin conditions (boils, cuts, dermatitis and psoriasis).
As an anti-oxidant (both as a preventative of age-related illnesses and treatment (people with chronic health problems)).
Other applications are against chronic cough, ulcerative colitis, urinary tract infections (UTI), mastitis, diarrhea and for boosting the immune system.
Portulaca is used in Chinese Traditional Medicine against herpes; also to treat infections and/or bleeding of the urinary tract (hematuria).


Constituents

Fatty acids (linoleic acid, palmitic acid) have also been evaluated. Also contains carbohydrates, lipids, glycosides, alkaloids (including dopa, dopamine, and noradrenalin), sterols, triterpenes, and flavonoids. Phenolic constituents include: scopoletin, bergapten, melatonin, portulacerebroside A, catechol, isopimpinellin, lonchocarpic acid, robustin, genistein.
Plant acids include citric, malic, ascorbic, succinic, fumaric, and acetic acids, betalain alkaloid pigments.
The volatile oil of P. oleracea contains linalool and 3,7,11,15-tetramethyl-2-hexadecen-1-ol.


Pharmacology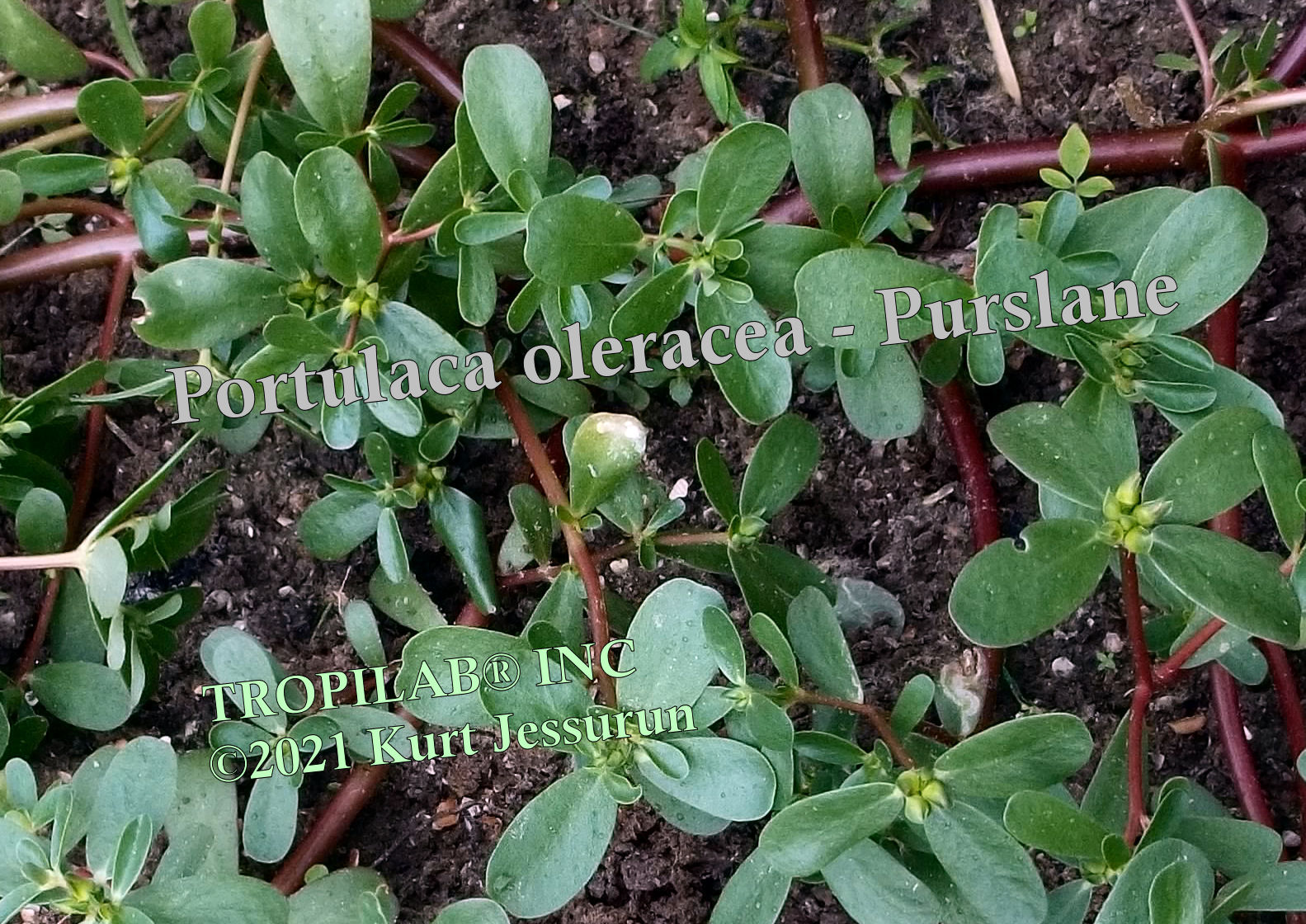 Therapeutic effects of Portulaca oleracea for respiratory diseases were already indicated in ancient Iranian medical books.
The relaxant effect of this plant has also been observed on smooth muscle tissue. The bronchodilatory effect of the boiled extract of Portulaca oleracea in the airway of asthmatic patients was examined.
The results of the present study showed that Portulaca oleracea has a relatively potent but transient bronchodilatory effect on asthmatic airways.
Portulaca oleracea has been used throughout history for many different medicinal purposes.
The novel use of P. oleracea for the treatment of cancer is only one of many. This invention is directed to the novel use of P. oleracea for the treatment of cancer.
More specifically, it is disclosed that P. oleracea has a specific and distinct effect on the inhibition and/or suppression of gastric tumor cell growth in vitro and in vivo.
An aqueous extract of P. oleracea showed a tumoricidal activity against KATO III (human gastric carcinoma cell line) and COLO 320 HSR cells (human colon adenoma cell line) in a dose and time-dependent manner, but not against the non-tumorous cell lines, L929 (murine lung connective tissue) and W138 (human lung diploid cell) cells. Subcutaneous injection of six week old CD1 nude mice with COLO 320 HSR cells and subsequently.
Portulaca oleracea extract showed a clear inhibition of tumor growth as compared to the control nude mice which received only COLO 320 HSR cells.

Omega-3 Fatty Acid may help to lower the risk of prostate cancer.

Folk applications
In Palestine, purslane has a history of use for renal failure. On the African continent, it has been traditionally used in Nigeria as a fertility aid; in Sierra Leone to treat hernias, stop bleeding, and induce abortion; and in the Democratic Republic of the Congo as a treatment for gonorrhea.

In Western Herbal Medicine, purslane has been indicated topically for burns, eczema, insect bites, and boils, and internally for edema. In addition, it is considered a febrifuge and antiseptic. The leaves, stems, and flowers have been used for edema, atherosclerosis, liver disorders, ulcerative colitis, eye disorders, and muscle spasms. The seeds have been used for restless sleep, cholecystitis (gallbladder inflammation), joint pain, syphilis, arthritis, and psoriasis, while the juice has been used as an adjunct treatment for dysentery, intestinal worms, sexually transmitted infections, and warts.


Improving vision and overall eye health
Vitamin A and beta-carotene (antioxidant), present in portulaca, have both been linked to improved eye health and vision.
May help to prevent macular degeneration and cataract.


For more information on Portulaca, go to the "PURSLANE page".


Dosage

The whole plant is utilized in the manufacturing.
Tincture: 1 - 4 ml daily
Infusion: 1 - 2 cups daily

Side effects

No side effects are known


* Glutathione: an antioxidant, fighting diseases by maintaining intracellular health.
** Omega 3 fatty acids (α-linolenic acid): prevent the blood clots that trigger a heart attack.
*** Co-enzyme Q10: (CoQ10), necessary for the basic functioning of human cells.


Reference

The analgesic and anti-inflammatory effects of Portulaca oleracea L. subsp. Sativa (Haw.) Celak. Chan K, Islam MW, Kamil M, Radhakrishnan R, Zakaria MN, Habibullah M, Attas A.

1. Simopoulos AP, Norman HA, Gillaspy JE, Duke JA. Common purslane: a source of omega-3 fatty acids and antioxidants J Am Coll Nutr. 1992 Aug;11(4):374-82.

2. Rashed AN, Afifi FU, Disi AM. Simple evaluation of the wound healing activity of a crude extract off Portulaca oleracea L. (growing in Jordan) in Mus musculus JVI-1. J Ethnopharmacol. 2003 Oct;88(2-3):131-6

3. Anandi S, Thangavel P, Subburam V. Influence of aluminium on the restoration potential of a terrestrial vascular plant, Portulaca oleracea L. as a biomonitoring tool of fresh water aquatic environments Environ Monit Assess. 2002 Aug;78(1):19-294. Mohamed AI, Hussein AS. Chemical composition of purslane (Portulaca oleracea). Plant Foods Hum Nutr. 1994 Jan;45(1):1-9.5. Liu L, Howe P, Zhou YF, Xu ZQ, Hocart C, Zhan R. Fatty acids and beta-carotene in australian purslane (Portulaca oleracea) varieties J Chromatogr A. 2000 Sep 29;893(1):207-13.6. Habtemariam S, Harvey AL, Waterman PG The muscle relaxant properties of Portulaca oleracea are associated with high concentrations of potassium ions. J Ethnopharmacol. 1993 Dec;40(3):195-200.7. Oh KB, Chang IM, Hwang KJ, Mar W. Detection of antifungal activity in Portulaca Oleracea by a single-cell bioassay system.Phytother Res. 2000 Aug;14(5):329-32.8. Chen J, Shi YP, Liu JY. Determination of noradrenaline and dopamine in Chinese herbal extracts from Portulaca olearacea L. by high-performance liquid chromatography J Chromatogr A. 2003 Jun 27;1003(1-2):127-32.9. Khader V, Rama S. Effect of maturity on macromineral content of selected leafy vegetables. Asia Pac J Clin Nutr. 2003;12(1):45-9.10. Charlotte Erichsen-Brown. Medicinal and Other Uses of North American Plants. Dover 1979.11. Culpepper N. Culpeppers Complete Herbal. Foulsham, London12. Chevallier A. Encyclopedia of Medicinal Plants. Dorling Kindersley.200113. Duke J.A. Handbook of Edible Weeds. CRC Press 1992.14. Duke J.A. The Green Pharmacy. Rodale 1997.15. Duke J.A. Anti-Ageing Prescriptions. Rodale 2001



The above presentation is for informational and educational purposes only.
It is based on scientific studies (human, animal, or in vitro), clinical experience, or traditional usage.
For many of the conditions discussed, treatment with prescribed (RX) or over - the - counter (OTC) medication is also available.
Consult your doctor, practitioner, and/or pharmacist for any health problem and before using dietary supplements or before making any changes in prescribed medications.