Overview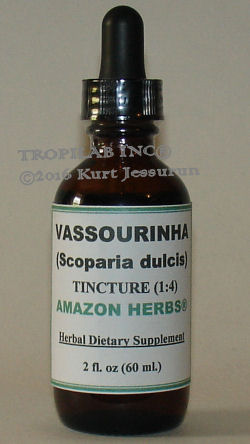 Vassourinha (Scoparia dulcis, Sweet broom) inhibits tumors; anti-viral, reduces inflammation, reduces swellings and pain. Also used as a blood purifier and for liver - and stomach disorders, hypoglycemic properties.
It has been documented as an effective traditional treatment of diabetes.
It showed cytotoxicity against a panel of six human stomach cancer cell lines and has been used as a natural remedy for treating diabetes mellitus in India and hypertension in Taiwan.
Used in Brazilian Traditional Medicine to treat bronchitis, gastric disorders, hemorrhoids, insect bites and skin wounds.
An extract preparation is used for washing wounds.



Phyto - chemicals

Chemical constituents include: coumarins, phenols, saponins, tannins, amino acids, flavonoids, terpenoids and catecholamines.
Plant chemicals include: acacetin, amyrin, apigenin, benzoxazin, benzoxazolin, benzoxazolinone, betulinic acid, cirsimarin, cirsitakaoside, coixol, coumaric acid, cynaroside, daucosterol, dulcinol, dulcioic acid, friedelin, gentisic acid, glutinol, hymenoxin, ifflaionic acid, linarin, luteolin, mannitol, scopadiol, scopadulcic acid A & B, scopadulciol, scopadulin, scoparic acid A thru C, scoparinol, scutellarein, scutellarin, sitosterol, stigmasterol, taraxerol, vicenin, and vitexin.


Pharmacology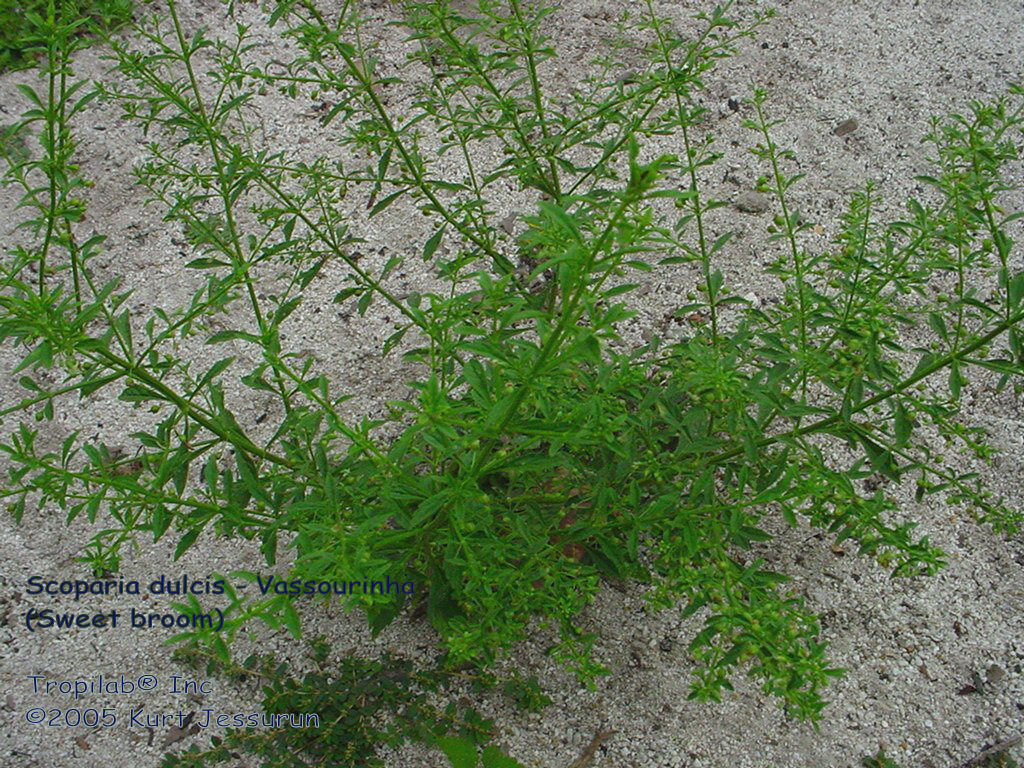 An aqueous extract of Scoparia dulcis showed marked antioxidative activity which supports the therapeutic effects claimed by traditional practitioners.
An investigation of the effect of aqueous extract of Scoparia dulcis on the occurrence of oxidative stress in the brain of rats during diabetes lead to the following conclusion: findings suggest a possible antiperoxidative role for this plant extract.
In addition to the antidiabetic effect, this plant possesses antioxidant potential that may be used for therapeutic purposes.
Studies shows that water extracts of Vassourinha showed dose-dependent inhibition of indomethacin-induced gastric damage in rats, validating its use in traditional medicine as an antacid and anti-ulcer agent.
Significant decrease was detected in blood glucose with significantly increased plasma insulin level with use of aqueous extract of Scoparia in STZ-induced diabetic rats. Other results showed its insulin secretagogue activity and protection against STZ-mediated cytotoxicity (being toxic to cells). The glucose lowering effect was associated with potentiating of insulin release from the pancreatic islet.
Effect of an aqueous extract of this plant on blood glucose, plasma insulin and some polyol pathway enzymes in experimental rat diabetes: Study showed it was effective in attenuating hyperglycemia in rats, possibly due to the decreased influx of glucose into the polyol pathway with increased activities of antioxidant enzymes and plasma insulin and decreased activity of sorbitol dehydrogenase. Studies also showed the aqueous extract exhibited antihyperglycemic effect by attenuating biochemical alterations in streptozotocin-induced diabetic rats.

Extracts of S. dulcis have analgesic and anti-inflammatory properties. The presence of both noradrenaline and adrenaline (catecholamines) in the plant extract was revealed; this may explain its effectiveness upon topical application in the healing of mucosal and skin wounds.


For more information on Vassourinha, go to the Scoparia dulcis page.


Properties/Actions

Analgesic, antibacterial, against diabetes, antifungal; used for respiratory - and urinary tract infections.
It has effectiveness upon topical application in the healing of mucosal and skin wounds.


Dosage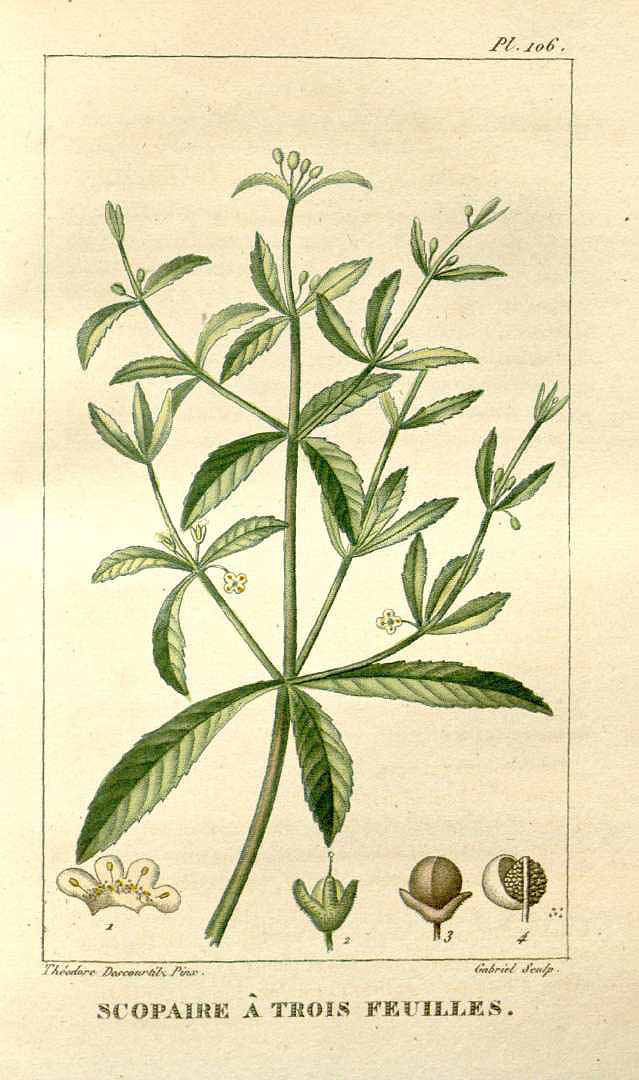 Tinctures: 1 - 3 ml. daily
Infusion (herbal tea): 1 - 2 cups daily

Precaution

Do not use in combination with antidepressants.


References

Protective role of Scoparia dulcis plant extract on brain antioxidant status and lipidperoxidation in STZ diabetic male Wistar rats.
Leelavinothan Pari and Muniappan Latha
Department of Biochemistry, Faculty of Science, Annamalai University, Annamalai Nagar, Tamil Nadu-608 002, India

Effect of an aqueous extract of Scoparia dulcis on blood glucose, plasma insulin and some polyol pathway enzymes in experimental rat diabetes.
Braz J Med Biol Res, April 2004, Volume 37(4) pp. 577-586.

Monira Ahsan,* SK. N. Islam, Alexander I. Gray, and William H. Stimson
Department of Pharmacy and Institute of Nutrition and Food Science, University of Dhaka, Dhaka-1000, Bangladesh, and Department of Pharmaceutical Sciences and Department of Immunology, University of Strathclyde, SIBS Building, 27 Taylor Street, Glasgow, G4 ONR, U.K.

Efficacy of scopadulcic acid A against Plasmodium falciparum in vitro.
Riel MA, Kyle DE, Milhous WK.
J Nat Prod. 2002;65:614-615.

Reversible inhibitions of gastric H+,K(+)-ATPase by scopadulcic acid B and diacetyl scopadol. New biochemical tools of H+,K(+)-ATPase.
Asano S, Mizutani M, Hayashi T, Morita N, Takeguchi N.
J Biol Chem. 1990;265:22167-22173



The above presentation is for informational and educational purposes only.
It is based on scientific studies (human, animal, or in vitro), clinical experience, or traditional usage.
For many of the conditions discussed, treatment with prescribed (RX) or over - the - counter (OTC) medication is also available.
Consult your doctor, practitioner, and/or pharmacist for any health problem and before using dietary supplements or before making any changes in prescribed medications.



For the right freight rate, please visit our Webstore page!