Overview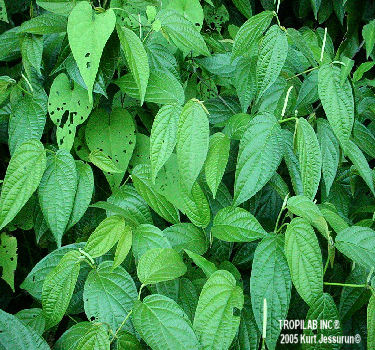 Matico, from the Piperaceae family, has medicinal benefits such as antimicrobial and cytotoxic (toxic to cells including cancer cells) activities.
It is a large tropical shrub; used as an aromatic bitter stimulant. It is useful to arrest discharges from mucous surfaces, leucorrhoea, gonorrhea, and catarrh (build-up of mucus) of the bladder.
Effective against: gynecological maladies and vaginitis (inflammation of the vagina that can result in discharge).
As a topical agent, for stanching blood, it is excellent and is used to arrest venous hemorrhage but its greatest use and efficacy is exhibited in nasal catarrh (build up of mucus in the back of the nose or sinuses).
The fruit and leaves are brewed into a natural aphrodisiac tea. The leaves are also used against syphilis.


Constituents

Essential oils (Camphor, camphene, asarol, linalool), flavonoids, sequiterpenes, monoterpenes, heterocycles, phenylpropanoids, alkaloids, benzenoids, chromenes, safrol, virdiflorol, phenylpropanoids.


Pharmacology

Matico has broad spectrum antimicrobial actions for infectious diseases.
It has styptic properties (due to the volatile oil), arresting hemorrhages, used as a local application to ulcers, in genito-urinary complaints, works against diarrhea and dysentery. Used by the Indians as an aphrodisiac.
Effective as a topical application to slight wounds, bites of leeches.
The essential oils of Piper angustifolium (Camphor and camphene are the main constituents) exhibits bacteriostatic and fungistatic activities against Trichophyton mentagrophytes, Pseudomonas aeruginosa, Candida albicans, Cryptococcus neoformans, Aspergillus flavus, Aspergillus fumigatus, an Escherichia coli.


Applications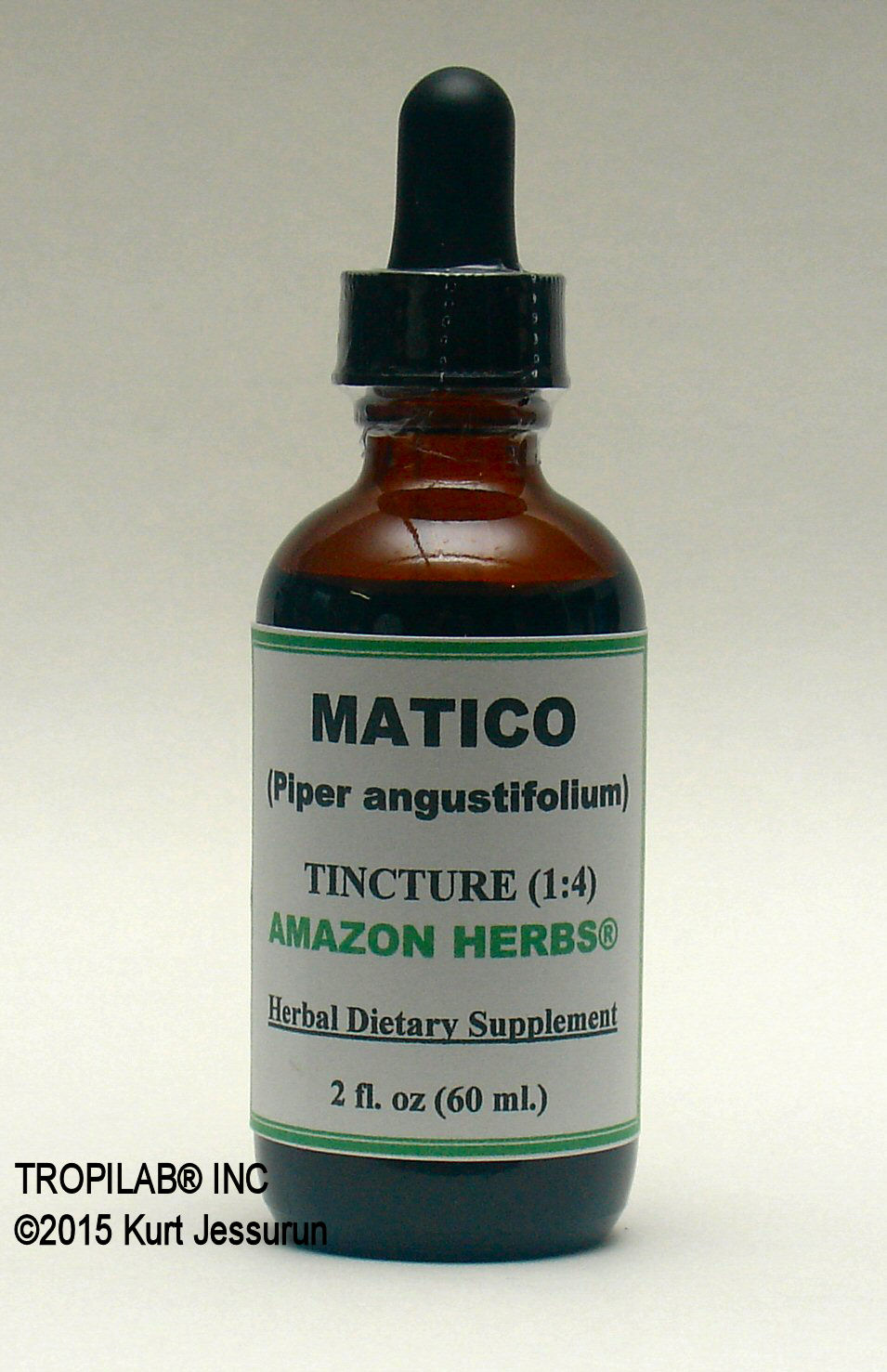 Natural remedy for digestive disorders such as stomachaches, vomiting, dyspepsia, diarrhea, gastric ulcers, intestinal gas and even stomach cancer.
Used in Traditional Medicine of the Amazon Rainforest; as a natural antiseptic and remedy for all types of digestive disorders.
Externally, Matico is used for wounds and cuts, to stop the bleeding.


Dosage

Tincture: 1 - 3 ml. daily
Infusion (herbal tea): 1 cup daily
The tea is a strong flavored herbal infusion.


Precaution

None.


References

Chemical composition and antimicrobial activity of essential oil of Piper angustifolium.
Tirillini B, Velasquez ER, Pellegrino R.

Composition and antifungal activity of essential oils from Piper aduncum, Piper arboreum and Piper tuberculatum.
Hosana M. Debonsi Navickiene¹ Andréia de A. Morandim² Alberto C. Alécio² Luís O. Regasini² Debora Cristina B. Bergamo² Marcelo Telascrea² Alberto J. Cavalheiro² Márcia N. Lopes² Vanderlan da S. Bolzani² Maysa Furlan*, ² Márcia O. M. Marques² Maria C. M. Young² Massuo J. KatoV


The above presentation is for informational and educational purposes only.
It is based on scientific studies (human, animal, or in vitro), clinical experience, or traditional usage.
For many of the conditions discussed, treatment with prescribed (RX) or over - the - counter (OTC) medication is also available.
Consult your doctor, practitioner, and/or pharmacist for any health problem and before using dietary supplements or before making any changes in prescribed medications.